1264 Affirming the trekking tradition
Destination Hikes In and Around Southwestern British Columbia: swimming holes, mountain peaks, waterfalls and more
by Stephen Hui, with a foreword by Cecilia Point
Vancouver: Greystone Books, 2021
$24.95 / 9781771645300
Reviewed by Ron Dart
*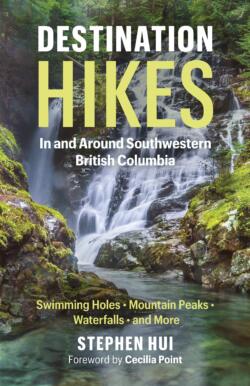 I have before me a few first edition books (collectors' items I assume) that were pioneering guide books in their day: Mt. Garibaldi: Vancouver's Alpine Playground (1922) by Don Munday; a signed edition of Dick Culbert's 1960s A Climber's Guide to the Coastal Ranges of British Columbia; a splendid 1967 copy of Glenn Woodsworth's A Climber's Guide to the Squamish Chief and Surrounding Areas (signed by the superb climber and search and rescue legend Tim Auger — we spent some lovely time in Lake O'Hara many a year ago); and the many editions of 103 Hikes in Southwestern British Columbia by, initially, David & Mary Macaree, then Jack Bryceland. The more recent stepping on the stage by Stephen Hui has enriched and enlarged, updated and revealed yet a greater variety of more and less demanding treks for the trekker to take.
The publication of Destination Hikes In and Around Southwestern British Columbia is a fit and fine companion to Stephen's earlier book, 105 Hikes In and Around Southwestern British Columbia, which I reviewed in these pages two years ago. The style of both books is much the same, but this new book adds to the possibilities of trails yet to take and destinations yet to see. The book is divided into four regions: i. Hikes North of Vancouver; ii. Hikes East of Vancouver; iii Hikes West of Vancouver; and iv. Hikes South of Vancouver (in the adjacent United States). Each hike is replete with superb photographs and headings that include distance, time, elevation gain, high point, difficulty, maps, and trailhead. Photographs also include a variety of animals, waterfalls, scenic sights, thick forests, carpeted forest floors, signs, alpine flowers, wooden cabins, richly coloured clouds, and various types of glaciers.
There are also many "Stop of Interest" sections that make a trip to the mountains yet more attractive and worth the effort in doing. Rightly so, Stephen makes it clear that — for those keen to take to the mountains for shorter or longer trips — preparation and precautions are needful and necessary. He has a fine few pages that cover the basics of outdoor rambling to assure his readers that one and all return safely and in good form.
The 55 hikes included in Destination Hikes do, as the subtitle suggests, point to "Swimming Holes, Mountain Peaks, Waterfalls and More." The "More" opens up enchanted trails worth the trekking. Nineteen of the hikes are north of Vancouver, 20 are east of Vancouver, a mere 7 are west of Vancouver, and another 9 are south of the city in Washington State. So, the bulk of the hikes in this timely beauty and bounty of a well-crafted book are north and east of Vancouver.
The foreword by Cecilia Point is a keeper not to miss. Cecilia has an evocative way of inviting those keen to take to sacred and time-tried Indigenous landscapes to realize that many have gone before us — whose footprints remain for those with eyes to see and hearts to feel. The foreword is, indeed, worth a few meditative readings and much inward digesting.
The "Overview Maps" (pp. 30-37) are well worth pondering as trekkers make plans for trips into the backcountry. Mountain weather and group dynamics are always, of course, variable and unpredictable elements in any mountain and rambling trip, and maps are an essential part of evaluating and anticipating the expectations and demands of such journeys.
I have done most of the trips that Stephen so well describes and there can be no doubt that Destination Hikes is a must-have book for those eager to take to the mountains, alpine lakes, peaks, ridges and much else in southwestern British Columbia and further south into Washington State. The book provides most of the information needed for safe trips there and back again and this accessible publication continues the unfolding tradition of solid and reliable guidebooks for those interested and committed to mature trips into the bounty of beautiful British Columbia.
*
Ron Dart has taught in the Department of Political Science, Philosophy, and Religious Studies at the University of the Fraser Valley since 1990. He was on staff with Amnesty International in the 1980s. Ron has published 40 books including Erasmus: Wild Bird (Create Space, 2017) and The North American High Tory Tradition (American Anglican Press, 2016). Editor's note: Ron Dart has reviewed books by Stephen Hui (foreword by Cease Wyss-T'uy't'tanat), David Crerar, Harry Crerar, & Bill Maurer, Doug Beardsley, Mike Doyle, George Mercer, Bernadette McDonald, Pat Morrow, Jeremy Schmidt, & Art Twomey, Doug Sarti & Dan McLeod, Jordan B. Peterson, and Rafe Mair for The Ormsby Review. He has also contributed two essays: "From Jalna to timber baron: reflections  on the life of H.R. MacMillan" and "Haig-Brown & Al Purdy."
*
The Ormsby Review. More Books. More Reviews. More Often.
Publisher and Editor: Richard Mackie
The Ormsby Review is a journal service for in-depth coverage of BC books and authors. The Advisory Board consists of Jean Barman, Wade Davis, Robin Fisher, Cole Harris, Hugh Johnston, Kathy Mezei, Patricia Roy, Maria Tippett, and Graeme Wynn. Scholarly Patron: SFU Graduate Liberal Studies. Honorary Patron: Yosef Wosk. Provincial Government Patron since September 2018: Creative BC
"Only connect." – E.M. Forster