Contact
Contact names and addresses for The British Columbia Review:
After working continuously since September 2016 as editor of The British Columbia Review, Richard Mackie is taking a year off between May 1, 2023 and May 1, 2024. He's pleased to announce that two interim editors will step in for the duration of his sabbatical, Trevor Marc Hughes, who will be in charge of reviews of non-fiction, and Brett Josef Grubisic, who will manage the fiction side of the journal.
Specifically, Brett will manage our general fiction, poetry, drama, children, and teen & young adult lists; Trevor will manage our general non-fiction, Indigenous, health & self-help, and cookbook lists.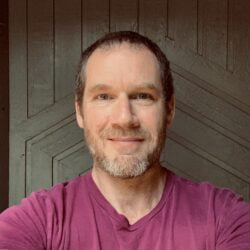 To contact Trevor and Brett at The British Columbia Review:
Trevor Marc Hughes:    nonfiction[at]thebcreview.ca
Brett Josef Grubisic:    fiction[at]thebcreview.ca
For a better introduction to Brett and Trevor, please follow this link.
Trevor and Brett are both now posting reviews at the  journal's front end.
For questions about, and renewals of, advertising, donations, grant applications, and finances generally you can still contact the publisher, Richard Mackie, at:    ormsbyreview[at]gmail.com
Send snail mail to:
The British Columbia Review
1865 Kitchener Street
Vancouver, BC
Canada, V5L 2W5
A note to publishers: We like to receive book page links, sell sheets, book catalogues, and any other paper or digital marketing information — but please do not send physical copies of your books to The British Columbia Review at this address. We have no budget for postage. We are purely a digital intermediary between publishers, authors, reviewers, bookstores, and readers. Once we have found a willing reviewer for your book, we will ask you to send a review copy directly to the reviewer at their mailing address.  — Thanks!
*
The British Columbia Review
Publisher: Richard Mackie
Formerly The Ormsby Review, The British Columbia Review is an on-line book review and journal service for BC writers and readers. The Advisory Board consists of Jean Barman, Wade Davis, Robin Fisher, Barry Gough, Hugh Johnston, Kathy Mezei, Patricia Roy, Maria Tippett, and Graeme Wynn. Provincial Government Patron (since September 2018): Creative BC. Honorary Patron: Yosef Wosk. Scholarly Patron: SFU Graduate Liberal Studies.
"Only connect." – E.M. Forster