1578 Guns N' Poses
They Don't Pay Me To Say No: my life in film and television props
by Dean Goodine
Victoria: FriesenPress Publishing, 2022
$24.99 / 9781039144316
Reviewed by Valerie Green
*
If you were asked what a "property master" does for a living, you would most likely assume the job was connected to real estate in some way.
Such is the case for Dean Goodine when people ask him what he does. Most people who don't know him think he must be in real estate, and this is how he begins his story of a 36-year career he has enjoyed in "props," an occupation where he supplies the necessary properties for every scene in a film or television production.
His memoir They Don't Pay Me to Say No gives readers an intriguing behind-the-scenes look into that industry where prop masters supply the props for movies and television.
His numerous captivating stories are told here in over 300 hundred pages. Many are hair-raising, riveting and almost spellbinding. Other stories explain Goodine's dedication to perfection when supplying a precisely correct prop for a particular scene. You soon realize that Goodine is an expert on many subjects, most especially on firearms, He has worked in many genres but perhaps his favourite is Westerns, where he needs to find and supply the correct rifles or guns.
The book also tells of the many exceptional characters and stars Goodine has worked with: Ray Bradbury, Kurt Vonnegut, Christopher Plummer, Eva Marie Saint, Clint Eastwood, Kevin Costner, Robert Duvall, and James Brolin, to name but a few. And he relates interesting tales about Barbara Streisand and Kate Winslet.
His list of movies include Legends of the Fall, The Assassination of Jesse James by the Coward Robert Ford, Unforgiven, The Mountain Between Us and The Legend of Butch Cassidy and the Sundance Kid, as well as a couple of television seasons of A Series of Unfortunate Events. He has supplied a complete list of his credits as both Property Master and Assistant Property Master, Buyer and Second Unit, at the back of the book. He has also presented his readers with an excellent glossary of the film and television roles and departments — from Armourer and Art Department Coordinator to Video Playback and Visual Effects Supervisor.
Goodine is married to Janice Blackie-Goodine, an Academy-Award-nominated and Genie-Award winning set decorator, so he had the opportunity to attend the Oscars with her the night when Clint Eastwood won an Oscar for Unforgiven.
In Goodine's own words:
I have had a fortunate career in props which started early enough to allow me to work with legends from Hollywood's golden age. I was also able to work with so many gifted masters of their crafts including directors, actors, prop masters, production designers, set decorators, stunt performers and mechanical-effects masters.
And although Goodine has worked mainly in British Columbia and Alberta Canada, his career has enabled him to "travel to fifteenth-century Japan." He has also, he writes, travelled
…. to the WWI battlefields of Europe and in the western parts of Wyoming and Kansas in the 1880s. I have travelled with Lewis and Clark and spent time with various First Nations in the West in the 1880s. I've been to the Olympics and I've gone to Mars … I have flown in countless spaceships and been in the Space Shuttle….
What an incredible career! My only criticism of Dean Goodine's book is the fact that he tended to jump back and forth with some of his stories, and it might have been better to have a more chronological order of events. I preferred his shorter chapters, whereas I feel readers might get bogged down in some of the longer passages — especially those that intricately describe the ammunition and weaponry used on set.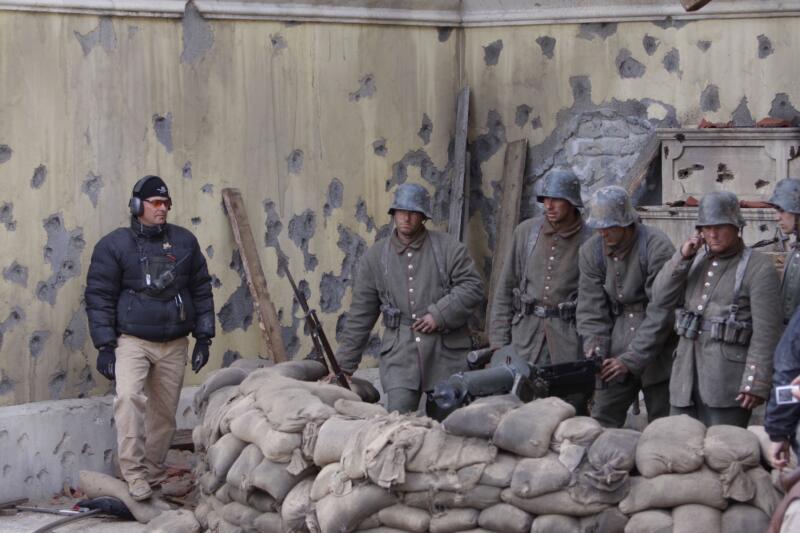 As an obvious expert on all firearms, Goodine spends time at the end of the book to provide his own comments on the tragedy that happened in October, 2021 on the set of Rust when the life of cinematographer Halyna Hutchins was taken while filming in Santa Fe, New Mexico. He talks about how he felt the night he heard the terrible news, and how it made him question all of the safety precautions that had been instigated in the film industry since the tragic death of Brandon Lee years earlier. That night he also thought about all the safety measures he always insisted on set whenever firearms were used. "My job as a Prop Master is to send you all home safely tonight, and for that to happen you have to listen to me. I will have the final say as to whether it is safe or not." This was always the speech he gave, and he expected those around him to listen and follow all instructions.
It is well worth reading Goodine's Epilogue on the subject of firearms. "I thought we as a group have to figure out how to never let this happen again," he concludes.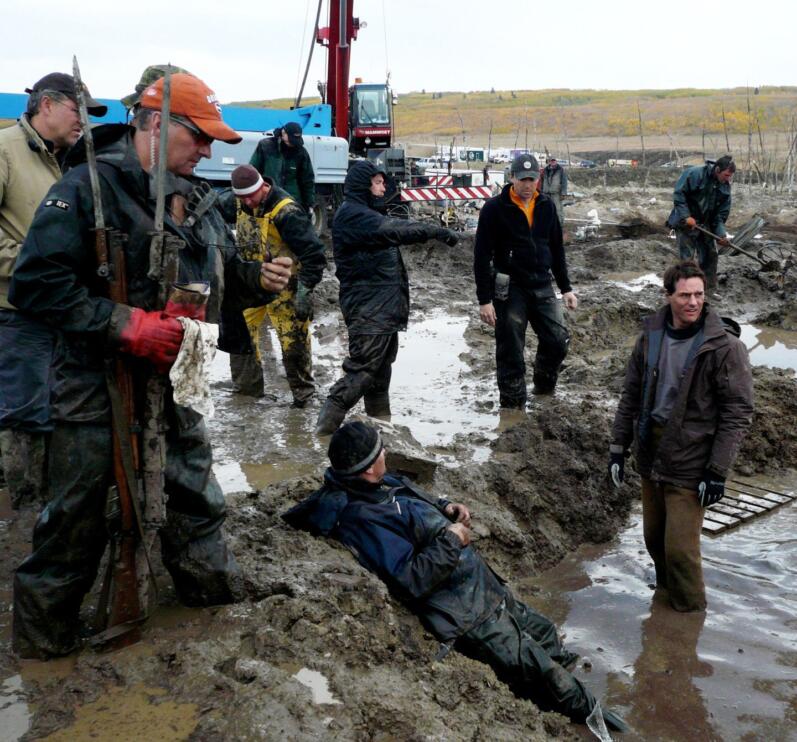 Goodine was once asked to describe his craft in one sentence. His reply was: "We bring the set to life with the items we place in a performer's hands or around the set for the performers to interact with during a scene."
A Property Master certainly does this in spades, and it makes me wonder, having read Goodine's book, why "best property master" is never a category for an award at the Oscars? Probably this is because of the obvious lack of knowledge of all that is involved in this important craft without reward or acclamation. Maybe this informative book can change that.
Goodine's wife Janice, to whom he dedicates They Don't Pay Me To Say No, encouraged him to write his story of a 36-year career in "props." I'm glad she did — and I think readers will concur. The author and his wife now live in Summerland, BC.
*
Valerie Green was born and educated in England where she studied journalism and law. Her passion was always writing from the moment she first held a pen in her hand. After working at the world-famous Foyles Books on Charing Cross Road, London, followed by a brief stint with M15 and legal firms, she moved to Canada in 1968 where she married and raised a family, while embarking on a long career as a freelance writer, columnist, and author of over twenty non-fiction historical and true-crime books. Her debut novel Providence has recently been published by Hancock House as the first of The McBride Chronicles, an historical four-generational family saga bringing early BC history alive. Now semi-retired (although writers never really retire!) she enjoys taking short road trips around BC with her husband, watching their two beloved grandsons grow up and, of course, writing. Editor's note: Valerie Green has recently reviewed books by Winona Kent, Michael Kluckner, Jennifer Manuel, Barbara Smith, Ian Gibbs, and Helen Edwards for The British Columbia Review.
*
The British Columbia Review
Publisher and Editor: Richard Mackie
Formerly The Ormsby Review, The British Columbia Review is an on-line journal service for BC writers and readers. The Advisory Board consists of Jean Barman, Wade Davis, Robin Fisher, Cole Harris, Hugh Johnston, Kathy Mezei, Patricia Roy, Maria Tippett, and Graeme Wynn. Provincial Government Patron (since September 2018): Creative BC. Honorary Patron: Yosef Wosk. Scholarly Patron: SFU Graduate Liberal Studies.
"Only connect." – E.M. Forster
Please follow and like us: