1560 Return of Figgis Green
Ticket to Ride (Volume 4 of the Jason Davey Mysteries)
by Winona Kent
Winona Kent and St Ives, UK: Blue Devil Books, 2022
$19.99  /  9781777329433
Reviewed by Valerie Green
*
I must admit that I was not expecting to enjoy Winona Kent's book Ticket to Ride as much as I did. A story about a touring rock band did not particularly sound like a topic that would appeal to me. But I was pleasantly surprised.
The author has managed to intertwine the tale of a band touring England in 2018 with mystery, history, murder, a ghost and even a Guardian Angel thrown in for good measure. This bizarre combination makes for a page-turning book which holds your attention until the very end.
The protagonist, Jason Davey, is the son of Amanda Green and Tony Figgis, a couple who had once formed the band "Figgis Green" (popularly known as "The Figs") and described by the author as "a folksy pop group that was huge in the 1960s and 1970s and less huge — but still touring regularly and putting out albums — in the 80's and early 90's."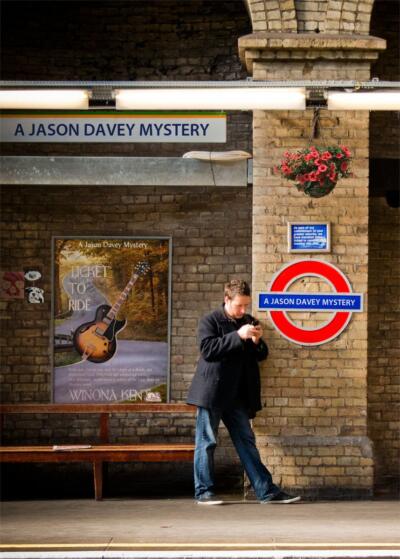 Amanda (Mandy) was the main singer and her husband Tony shared vocals and played lead guitar. When Mitch Green, Mandy's brother and the bass guitarist in the band, suggests they should perhaps now do an anniversary tour in 2018, there was just one obstacle to this plan. Tony Figgis had died back in 1995.
So Jason, a musician who also played guitar, was asked to replace his dad on the anniversary tour. He already had a regular gig in Soho in London under his professional name Jason Davey and, in addition, he was an amateur sleuth awaiting his certification as a private investigator. Nonetheless, he agreed to join "The Figs" with his mother's approval. In September of 2018, the band started rehearsals for a "thirty-four-day, eighteen-stop Lost Time Tour of England"
Ticket To Ride is part of the Jason Davey Mystery series, but in this particular book Jason, the private eye rock star, becomes the target for a killer or killers who are out for revenge on the band in general and Mandy Green in particular.
As the band begins its tour through England, strange incidents start to occur — food poisoning, false fire alarms, a theft and a physical attack on Jason while punting on a river in Cambridge — all of which unnerve Jason and the other band members.
I particularly enjoyed the author's descriptive passages of the cities and theatres where the band stayed and her in-depth detail to the surroundings. For instance, on September 21 they began the tour at the Duke of York Theatre in Leeds which was where, states Jason, "we were very nearly killed by a gargoyle."
The Duke of York, Kent writes, "was built roundabout 1880…. Outside its high Victorian red brick and inside its red velvet and Gothic plasterwork and gold leaf, were all lovingly restored." Unfortunately the stability of three stone figureheads perched high over the stage door had not been checked, and it was one of those that fell to the ground missing Jason by inches. He had stopped to tie up a shoelace, an action that might well have saved his life.
From then on, things grow worse and it becomes obvious that someone is trying to harm Jason or Mandy. At every stop on the tour, coincidences happened which could not be dismissed so Jason begins to research places and people to find answers. He was also being warned on an account he has online by his "Guardian Angel" that he was in danger — a fact he is already well aware of.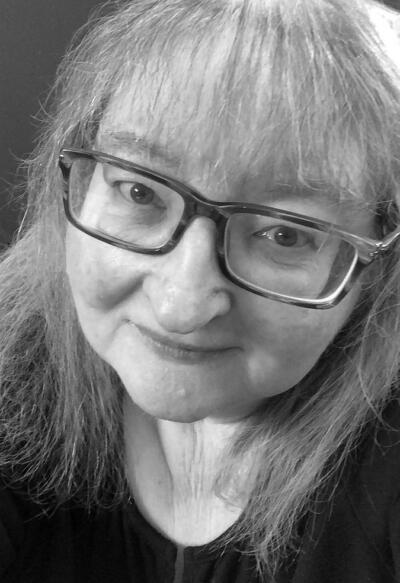 Through arduous detective work and a website called Generations, Jason also researches his own ancestry which puzzles him, only to be left with more questions than answers. A wartime ghost appears to him on occasion and he discovers this apparition might also share his DNA. He begins to wonder if all these things are connected somehow with what has been happening on the tour.
Winona Kent manages to delightfully combine these events and historic English places through the voice of Jason Davey with both humour and concern. Despite suffering a bad case of influenza which turns into pneumonia, Jason manages to tell the story of the band tour which almost ends with his own death by the time they reach Tunbridge Wells.
There are so many twists and turns in the book, all of which are integral to the complicated plot, but Kent's characters are strong and hold the reader's attention throughout, offering delightful fast-paced scenes to digest.
Winona Kent was born in England but immigrated to Canada with her parents at age three. She now lives in New Westminster and is the author of many novels, including The Jason Davey Mystery series which she began writing in 2017 (Editor's note: see Miranda Marini's review of Lost Time). They are well worth reading if you enjoy mystery and intrigue.
*
Valerie Green was born and educated in England where she studied journalism and law. Her passion was always writing from the moment she first held a pen in her hand. After working at the world-famous Foyles Books on Charing Cross Road, London, followed by a brief stint with M15 and legal firms, she moved to Canada in 1968 where she married and raised a family, while embarking on a long career as a freelance writer, columnist, and author of over twenty non-fiction  historical and true-crime books. Her debut novel Providence has recently been published by Hancock House as the first of The McBride Chronicles, an historical four-generational family saga bringing early BC history alive. Now semi-retired (although writers never really retire!) she enjoys taking short road trips around BC with her husband, watching their two beloved grandsons grow up and, of course, writing. Editor's note: Valerie Green has recently reviewed books by Michael Kluckner, Jennifer Manuel, Barbara Smith, Ian Gibbs, Helen Edwards, and Michelle Barker for The British Columbia Review.
*
The British Columbia Review
Publisher and Editor: Richard Mackie
Formerly The Ormsby Review, The British Columbia Review is an on-line journal service for BC writers and readers. The Advisory Board consists of Jean Barman, Wade Davis, Robin Fisher, Cole Harris, Hugh Johnston, Kathy Mezei, Patricia Roy, Maria Tippett, and Graeme Wynn. Provincial Government Patron (since September 2018): Creative BC. Honorary Patron: Yosef Wosk. Scholarly Patron: SFU Graduate Liberal Studies.
"Only connect." – E.M. Forster
Please follow and like us: