1451 Intrigue at the Savoy Hotel
Death at the Savoy: A Priscilla Tempest Mystery
by Ron Base and Prudence Emery
Madeira Park: Douglas & McIntyre, 2022
$18.95 / 9781771623216
Reviewed by Ginny Ratsoy
*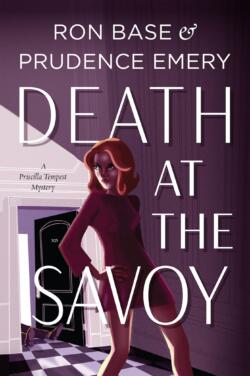 Star-struck readers will likely savour Death at the Savoy. Tony Bennett, Louis Armstrong and Claude Monet are name-dropped, Luciano Pavarotti and Bob Hope put in brief appearances, the Royal Family is lurking near the surface, and slightly more extended roles are played by Elizabeth Taylor, Richard Burton, and, especially, Noël Coward. This romantic/comedic mystery, a veritable smorgasbord of the rich and famous, is rife with suitors, side-tracking misadventures, political intrigue, and possible conspiracies, as well as serving up several courses of death and multiple rounds of Buck's Fizzes.
It is 1968 in Swinging London, and our Canadian heroine, mini-skirted and impulsive Priscilla Tempest, has found herself in the press office of the Savoy. The fit is awkward — placing a 20-something inexperienced foreigner in a critical position in the world's most prestigious hotel might seem a recipe for disaster, and, in fact, the tension between the outsider and the establishment fuels the action. But while calamities abound, Priscilla's tenure always seems precarious, and imposter syndrome sometimes surfaces, Priscilla, with her down-to-earth charm and good looks — requisite in a bastion of male privilege — makes inroads into cracking that establishment. Her determination and street smarts don't hurt, either.
Hung over after taking in one of Pavarotti's less auspicious performances, Priscilla is called to a guest room she knows well — having been there the evening before — only to find her concert date, a middleman in the arms trade, dead — apparently poisoned. Dating playboy Amir Abrahim, part of a notorious and powerful family, has proven unwise, but then foolish decisions where men are concerned are par for the course for Priscilla.
Not only is the hallowed Savoy soon crawling with police, but also, somehow, the press has grabbed on to the suspicious death, and Percy Hoskins, star reporter for the Evening Standard, is tenacious. Priscilla is not succeeding at one of the key tasks of her job — keeping unwanted attention away from the hotel — never mind that she herself, along with that gadabout Princess Margaret, is a suspect.
Coward provides solace in the form of insider's knowledge of the steely circle that rules London and Buck's Fizz — a 25-75 percent mélange of orange juice and champagne — in the hotel's bar. Coward and Hoskins separately become Priscilla's partners in crime solving — the former distracting attention of the royals' security from Priscilla, and the latter whether she likes it or not.
Preserving her position soon takes second fiddle to keeping herself out of prison. After introducing Hope to the fawning press, Priscilla follows his directive to do a double check that all is well in his suite, only to enter the wrong suite and walk in on a nude dying man.
Now linked to two deaths, Priscilla grapples with a host of questions. Was Princess Margaret really seen leaving the first crime scene? Did Amir's last words really accuse Priscilla of his murder? Who was the woman Priscilla glimpsed leaving the second crime scene? What role does the KGB play in these crimes? How can she avoid Amir's brother, who is adamant Priscilla will marry him? And what of the charismatic Mark Ryde, who rides into her life in an MGB and may be a hero, spy, suitor or villain?
Coward again provides relief — comic relief, as he introduces Priscilla to Taylor and Burton, with whom he is shooting an ill-fated movie. In booze-fuelled dialogue as bitter as that in Who's Afraid of Virginia Woolf, the duo provide Priscilla with welcome temporary respite from the crimes.
But the establishment's diversionary tactics become Priscilla's biggest impediment to proving her innocence and solving the mysteries. Security are dead set on distracting her attention from the royal family, and her boss orders her to entertain his visiting eccentric American mother-in-law, who, it turns out, is high-maintenance, elusive, and at least an equal to Princess Margaret in the gadabout category. Yet, despite repeated Scotland Yard questioning and warnings from her boss, Priscilla persists.
Opening more doors only reveals more mysteries. Entering yet another Savoy suite, Priscilla encounters a drunken Princess Margaret and clues to the role of Ryde. In an even greater surprise when she returns to her own flat, she discovers yet another crime — this time, a stabbing. When the inevitable further police questioning ensues, the unlikely Percy comes to her rescue. The refuge he offers is short-lived, however, when she awakens at his flat the following morning to find Ryde, who leaves her with more questions.
Still undeterred by yet more interrogation and further establishment scandal, Priscilla proceeds to find answers. That involves digging into the Savoy's archives, destroying the photos of a dangerous blackmailer, outsmarting the constabulary, yet another round of Buck's Fizzes with Coward (who, it turns out, has not been a true ally) and risking her life to rescue a former hotel employee from the clutches of the KGB.
Tearing apart the establishment proves a daunting endeavour, indeed. Although Priscilla finds her answers, she reaches only an uneasy truce with the establishment, and Percy is forced into a compromise with the newspaper powers-that-be. However, the two stand their ground and vow to fight again, so stay tuned for Book II in the Priscilla Tempest Mystery series.
Appropriately, the frothy mystery wraps up with a final round of Buck's Fizzes (Priscilla has forgiven Coward) and more nonsense from Taylor and Burton. The novel succeeds in capturing a heady zeitgeist, its verisimilitude abetted by the fact that Prudence Emery herself occupied a position at the Savoy very like Priscilla Tempest's from 1968 to 1973. Death at the Savoy may not satiate those who like deep, psychological character studies, but it will likely satisfy the appetites of those who fancy whimsical, action-driven mysteries with a tantalizing array of the glitterati served on the side.
*
Ginny Ratsoy is Professor Emerita at Thompson Rivers University. Her scholarly publications (co-authored and edited and co-edited books and numerous peer-reviewed articles) have focused on Canadian fiction, theatre, small cities, third-age learning, and the scholarship of teaching and learning. Her recent focus has been on maintaining a growth mindset and promoting third-age learning as a corrective to societal ageism. She was last in London in 2017, and, although her experiences in London differ markedly from those of Priscilla Tempest's, she longs to return soon. Editor's note: Ginny Ratsoy has recently reviewed books by Maureen Brownlee, Maria Reva, Elizabeth Haynes, Alice Munro, R.M. Greenaway, Barbara Black, and J.G. Toews.
*
The British Columbia Review
Publisher and Editor: Richard Mackie
Formerly The Ormsby Review, The British Columbia Review is an on-line journal service for in-depth coverage of BC books and writers. The Advisory Board consists of Jean Barman, Wade Davis, Robin Fisher, Cole Harris, Hugh Johnston, Kathy Mezei, Patricia Roy, Maria Tippett, and Graeme Wynn. Provincial Government Patron (since September 2018): Creative BC. Honorary Patron: Yosef Wosk. Scholarly Patron: SFU Graduate Liberal Studies.
"Only connect." – E.M. Forster
Please follow and like us: