1492 Postwar Kootenay intrigue
Framed in Fire: A Lane Winslow Mystery
by Iona Whishaw
Victoria: Touchwood Editions, 2022
$16.95 / 9781771513807
Reviewed by Ginny Ratsoy
*
The past is still, for us, a place that is not yet safely settled. — Michael Ondaatje, from The Faber Book of Contemporary Canadian Short Stories (1990)
In the nine Lane Winslow mysteries published to date, Iona Whishaw has proven that — even in a remote BC setting — the period immediately following the Second World War is rich mystery fodder. The late 1940s have flux, transition and both carry-over trauma and relief going for them. Things are becoming something else, but the past looms. Lane, like many of the other characters in Framed by Fire – including Inspector Darling of the Nelson Police, her husband; Terrell, the new Black constable; and Tom Simpson, a young Indigenous (Sinixt) man who becomes Lane's guide to the history of the land she has recently settled on – was directly involved in, and is still unsettled by, the war effort. Even characters who didn't serve were influenced; what lessons they took varied.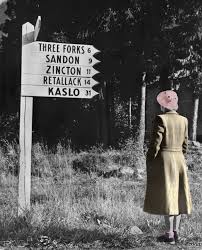 Things are moving apace for our English immigrant: in two short years Lane has become ensconced in her remote Kootenay cottage with Darling, and despite his feigned disparagement, is playing instrumental roles in solving myriad crimes – from petty theft to murder. After a recent winter stint as a substitute teacher (in Lane Winslow no. 8, A Lethal Lesson) she finds herself in spring 1948 confronting human remains in a shallow grave in her Doukhobor friend Barisoff's New Denver garden, but not before she befriends Simpson, who rides by on horseback from his current home in the US, on a quest to reconnect to his ancestral home. While the three collaborate to identify the body (with the assistance of the Nelson Police Department, of course) Simpson becomes Barisoff's houseguest. Lane's insatiable sleuthing leads to her being the target of two armed villains, and the scarcity of phones in New Denver as well as the considerable distance and rough roads that separate it from Nelson add to the suspense.
Darling and his officers have challenges of their own in downtown Nelson. Most concerning is a crime Terrell investigates – arson at the Italian restaurant so dear to Lane and Darling. It appears the Vitalis, twice denied membership in the Chamber of Commerce, were targeted by bigots – a hangover of the war although Lorenzo and Olivia arrived in Canada much earlier. Terrell can empathize. The shrewder-on-the-job-than-in-the-realm-of-romance sergeant Ames wonders if a bookstore theft – particularly puzzling because of the odd literary taste of the thief: a coffee table book, novels, mysteries, and multiple copies of a biography of an area pioneer – is connected. After the restaurant is set on fire a second time, Terrell saves a citizen, but Ames is a victim of mistaken identity that endangers his life – but helps him out in the romance department.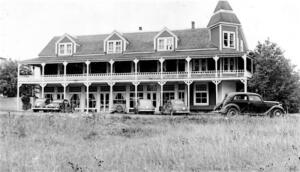 The three NPD investigations play out against a backdrop of uncertainty, as the seemingly unimpeachable Darling (and, by extension, his team) are the subject of an RCMP investigation – the result of a citizen's report based in both bigotry and jealousy.
Framed by Fire is the weightiest book in the Lane Winslow Mystery series to date – in terms of length (just under 500 pages) and subject matter. Inequality is rife. Along with racism and anti-Italian sentiment, the book underscores sexism and corruption in high places: the Chamber of Commerce is a bastion of male privilege and hotbed of manipulation. As Terrell observes when the mysteries are solved and court decisions are pending, "Unfortunately, it is my experience that some people's lives are more valuable than other people's lives in this country " (p. 475).
It is through Simpson that the most extended examination of inequality in the novel occurs. Here, Whishaw delves into a past that both precedes the 1921 event and is decidedly unsettled in 2022. She acknowledges Marilyn James (Smum iem Matriarch) and others of the Autonomous Sinixt for support for Framed by Fire and education about the history of the Sinixt (Lakes People) who were displaced by 18th and 19th Century colonization: dams flooded their villages, forcing them to relocate in every direction. Simpson is a fictional representative of the many Sinixt people who journeyed back to their land in the 20th Century to reconnect. Whishaw pays further tribute to the Sinixt by incorporating an actual historical figure, Annie Joseph, the last known resident of the reserve at Oatscott, into the subplot around Simpson and his family. As Simpson educates Winslow, the narrative reveals the injustice around, among other things, colonial impositions based on Terra nullius (Latin for "land belonging to no one") and The Doctrine of Discovery (originating from Papal Bulls) used by governments and courts to dispossess First Nations of their land and rights. This subplot is executed at considerable length and with great care and attention to detail.
The cozy mystery series category is broad and flexible. Framed in Fire fits the mould in many ways, with its well-educated and exceedingly curious female amateur sleuth in a small setting where the locals form a convenient cast of recurring characters. Much of the everyday dialogue amongst the crime solvers and romantic couples is light toned, as is the ending, which focuses on the domestic life of the central couple.
However, cozy does not necessarily imply frothy. As I noted in my review of Lethal Lesson (2021), Lane's inner life is intriguingly complex. Although the marriage is happy, Darling knows there are parts of Lane he does not know, as evidenced by the return of her insomnia. The PTSD from her war work that she thought her marriage had cured returns. As I also noted in my earlier review, Whishaw does not shy away from the seedy underbelly of mid- 20th Century Canadian Society. With Framed in Fire, her focus on that element is more intense and prolonged, and, through her examination of local Indigenous history, she adds a historical lesson with all-too-relevant contemporary overtones.
*
Ginny Ratsoy is Professor Emerita at Thompson Rivers University. Her scholarly publications (co-authored and edited and co-edited books and numerous peer-reviewed articles) have focused on Canadian fiction, theatre, small cities, third-age learning, and the scholarship of teaching and learning. Her recent focus has been on maintaining a growth mindset through freelance writing and community engagement as well as promoting third-age learning as a corrective to societal ageism. She thanks Patricia Johnson of the University of Calgary for introducing her to the works of Iona Whishaw and sharing her love and knowledge of Canadian mystery writers. Editor's note: Ginny Ratsoy has recently reviewed books by Mark Bulgutch, Ron Base & Prudence Emery, Maureen Brownlee, Maria Reva, Elizabeth Haynes, Alice Munro, and R.M. Greenaway.
*
The British Columbia Review
Publisher and Editor: Richard Mackie
Formerly The Ormsby Review, The British Columbia Review is an on-line journal service for BC writers and readers. The Advisory Board consists of Jean Barman, Wade Davis, Robin Fisher, Cole Harris, Hugh Johnston, Kathy Mezei, Patricia Roy, Maria Tippett, and Graeme Wynn. Provincial Government Patron (since September 2018): Creative BC. Honorary Patron: Yosef Wosk. Scholarly Patron: SFU Graduate Liberal Studies.
"Only connect." – E.M. Forster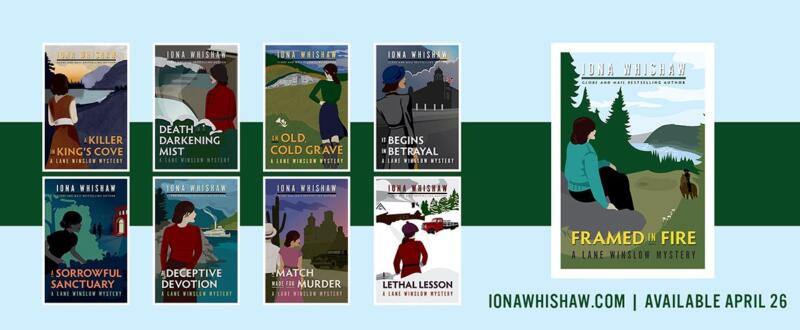 Please follow and like us: