#929 Sylliboy's ​hieroglyphic poetry
Kiskajeyi — I Am Ready: A Hermeneutic Exploration of Mi'kmaq komqwejwi'kasikl Poetry
by Michelle Sylliboy, edited by Michael Calvert
Nanoose Bay: Rebel Mountain Press, 2019
$19.95 / 9781775301929
Reviewed by Paul Falardeau
*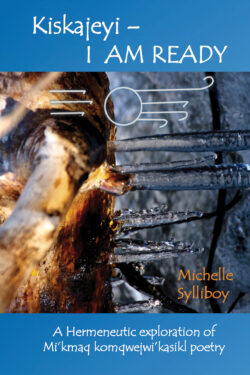 On a first approach to Mi'kmaq poet Michelle Sylliboy's work, one might quickly notice her interdisciplinary approach to interacting with the world around her. On a closer look, one might also recognize how much of that world reverberates through her. In moments of dizzying, dream-world profusion, cold slaps of lucidity and incendiary founts of passion, Sylliboy absorbs and projects her surroundings: her home-territory of We'koqma'q, Cape Breton on one coast and Coast Salish country on the other. In both cases, she finds herself on unceded lands. Her art is a personal refraction of these places and their people, which she endeavours to represent in a multifaceted expression in her provocative new collection, Kiskajeyi — I Am Ready.
The subtitle of Sylliboy's work is "a Hermeneutic exploration of Mi'kmaq komqwejwi'kasikl poetry." This sentence should definitely improve your next scrabble score, but is also a tantalizing clue to what's inside this collection. Hermeneutics is a way of understanding an historical (and often biblical) text that aims to reconnect with the mind of its authors. To that end, Sylliboy populates her work with modern poetry, photography, and verse written in the komqwejwi'kasikl hieroglyphic writing system. In an author's note she writes that:
Mi'kmaq (L'nuk) consciousness is inscribed, I believe, as cultural DNA, in the komqwejwi'kasikl writing system of my elders. In the worldview that is attached to the L'nuk language, the concept Nmu'ltes describes an ongoing — even endless — dialogue between two or more people. As the poet Robert Sund says, "It is never the same fire I left,/ but beneath it are the ashes/ of all our meetings that have gone before."
The Hermeneutic approach here is the writing of poetry that both connects herself and her readers to her ancestors and makes an arrow-straight connection into the present. "From an existential viewpoint," Sylliboy explains, "writing a komqwejwi'kasikl poem connects me to ancestral space-time through its embedding of my personal reflection in my ancestral language … in my ancestral world view, nothing happens without a dialogue."
It doesn't take long for Sylliboy to make clear what she means. In "Komqwejwi'kasikl 1" fluidly curving glyphs say, "To have a long life/ continuously/ create." On the reverse, a poem in English, "Urges," declares:
my ancestral throat
wants to howl loudly
you know the kind
a deep language of sound
administered from the belly
of my inner core
breathe work solidifying
beastly sounds by vibrating pencil marks
through an inkling
who suddenly reappears
whispering
sing a wish making noise
we are listening little one
we are always listening
The two poems are followed by a photograph that fittingly juxtaposes the hazy unfocus of sunlight against a lightning strike of focus through the centre of the image, capturing a deep, dark well that provokes thoughts of a primordial eye. The three pieces form a triptych of opening for the collection. Each seems to communicate with each other, saying something similar, but different. It's hard not to hear "beastly sounds" from the photograph. Thanks to a lack of grammatical marks in the modern poems, the syntax fluidly flows with the Komqwejwi'kasikl poem and soon it's hard to distinguish what poem is saying what. Sylliboy plays with the languages' approaches to time in the tenses of each poem. One is an abstraction, a suggestion; the other is being, living, doing. Letters, glyphs and photos continue to interweave throughout the collection, simultaneously nourishing and being nourished by their proximity.
At a time where resource extraction, climate change, police brutality, and civil rights are not only on the forefront of people's minds, but revealing themselves to be deeply interconnected with the issues that affect Indigenous folx, Kiskajei — I Am Ready reads as a battle cry at first. However, though the collection is certainly a call to Indigenous peoples and their allies, the work does not always look like a battle. Sylliboy centres personal tales and the environment in her work. This means sending out deep roots to the past and to the land for reconfiguring the mind after years of colonial influence and injustice. It means language revitalization, cultural reawakening and, ultimately, healing that is simultaneously nourishing and being nourished by a personal and cultural fortitude.
In the fantastic, sweeping poem "Stepping on Intellectual Sacred Grounds — March 20, 2009," Sylliboy concedes the state of the world is often quite hairy, but leaves us with a powerful message that salutes those fighting for change, past, present and future:
Fortunately there are martyrs in this world carrying
truth across the threshold of peace and kindness
travelling for the sake of learning carrying the wisdom of
their Ancestors
Through the people they meet sharing
songs stories by allowing us to be aware
of our gifts
our cultural strengths
our resiliency
Have mercy on those who
have no idea what it's like
to be different or not different at all
*
Paul Falardeau is a poet, essayist, brewer and most recently, an English teacher, living in Vancouver, a city on the unceded lands of the Musqueam, Squamish and Tsleil-Waututh First Nations, whom he offers respect and gratitude. He is a graduate of University of the Fraser Valley and Simon Fraser University. He has published in Pacific Rim Review of Books, subTerrain, and Cascadia Review, and he contributed an essay to Making Waves: Reading B.C. and Pacific Northwest Literature (Anvil Press, 2010). Editor's note: Paul Falardeau has reviewed poetry by Trevor Carolan, Judith Penner, Joanne Arnott, Lorna Crozier, Matt Rader, and Eve Joseph for The Ormsby Review.
*
The Ormsby Review. More Books. More Reviews. More Often.
Publisher and Editor: Richard Mackie
The Ormsby Review is a journal service for serious coverage of B.C. books and authors, hosted by Simon Fraser University. The Advisory Board consists of Jean Barman, Robin Fisher, Cole Harris, Wade Davis, Hugh Johnston, Patricia Roy, David Stouck, and Graeme Wynn. Scholarly Patron: SFU Graduate Liberal Studies. Honorary Patron: Yosef Wosk. Provincial Government Patron since September 2018: Creative BC
"Only connect." – E.M. Forster