#717 A celebration of friendships
Pensive & beyond
by Joanne Arnott
Vancouver: Nomados, 2019
$10.00 / 9781927751107
Reviewed by Paul Falardeau
*
Joanne Arnott's voice is, figuratively and literally, one of Canadian poetry's strongest. A captivating and intimate writer since her first book of poetry, Wiles of Girlhood (1991), Arnott is also a consummate performer. Yet her influence on Canadian words goes beyond her own creative output. Currently poetry editor of EVENT magazine and a mentor in the The Writer's Studio at Simon Fraser University, Arnott's involvement with the Aboriginal Writers Collective West Coast, The Writers' Union of Canada, The Writers' Trust of Canada, A.W.A.R.E. (Alliance of Women Against Racism Etc.), has created an impressive legacy at 59 years of age. Against this background comes the release of Arnott's latest chapbook, Pensive & beyond.
The folks at Nomados Publishing have done a fine job creating this beautiful little book. Though it has a short 38 page count, it has a good weight in hand with thick, beautiful paper, including handsome red endpapers. The front cover is graced with artwork by Mahmud Kianush, Arnott's pen-pal, whom she calls her "father-in-poetry." The aptly-titled piece, "Poet Walking," is a "photopainting" (or "akkaashi" in Persian), which Kianush has derived from patterns hidden in tree bark. The back cover features blurbs by Beth Brant, Jamie Reid, Sharron Proulx-Turner, and Leo Yerxa, all recently deceased. In June 2019, Arnott stated that Pensive & beyond is "a celebration of friendships and cross-fertilizations, centered on the autumns of our lives, the dyings, deaths, and denouements."
Though death and loss are ubiquitous to this collection, Arnott dedicates many of the poems to living peers. "On one level, a poet's job is simply to put words to the world, to life," Arnott explains in an interview with Poetry in Voice. "On another level, a poet is in a leadership position, helping the world to make sense of itself." In Pensive & beyond Arnott tries to make sense of loss, and the result is a book filled with healing. "Through the sharing of poetry I extend my love, in celebration of friendship, with thanks for sharing life as people, image, text, warmth, breath." One might add to this statement, "to friends, living and dead."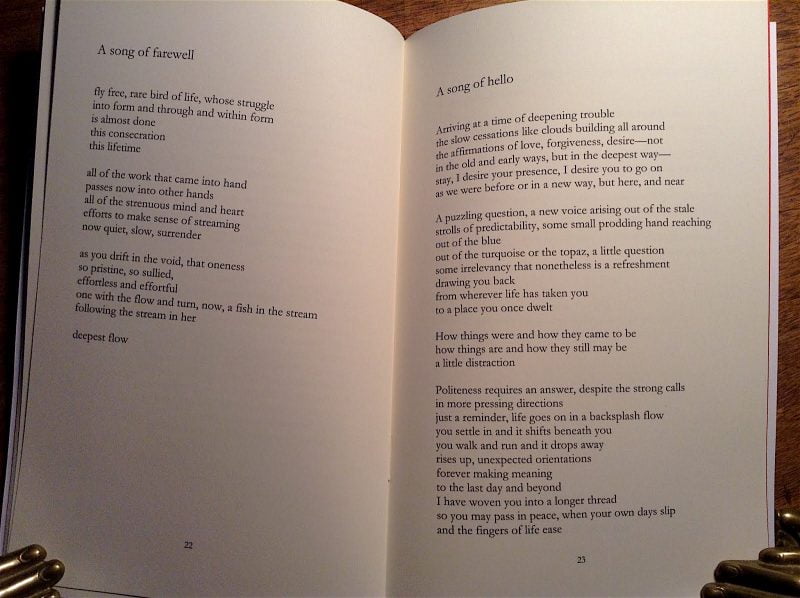 With these ideas in mind, one may tackle some poems in the collection, such as "A song of farewell" and "A song of hello," two poems that face each other across the fold of the page and which, despite their titular opposition, seem to tackle the same subject. In "Farewell," Arnott writes with resignation to the inevitable, "fly free, rare bird of life, whose struggle/ into form and through and within form / is almost done." Her short, sweet verse here is a farewell, and deals with abstractions such as: "the void, that oneness/ so pristine, so sullied," and "a fish in the stream/ following the stream in her/ deepest flow."
By contrast, "A song of hello" feels unable to let go, and its abstractions seem to lose a little of their comfort in the face of "the slow cessations like clouds building all around/ the affirmations of love." Through this piece, Arnott longs to draw a lost one back to her until the poem reaches its vortex, which is really the point where both "farewell" and "hello" are drawn and where the poet accepts her situation and her past, present, and future: "How things were and how they came to be/ how things are and how they still may be/ a little distraction." The small stanza reads like an incantation. There are lifetimes of meaning in these three lines, and Arnott flexes her skill in the craft by doing it all with a simple twist of repetition and rhyme. The spell is fully complete when read aloud.
In fact, many poems here demand to be vocalized. For instance, lines such as "Choose!/ Damn it, do you think that i offer/ my breast as a deathbed/ to anyman, to everyman?" demand to be read with the vigour with which they pop off the page. Arnott's history as a performer seems integral to the work, and poems like "the marriage of love with poetry: there is no error" and "wombwaving (arms wide open)," in the vein of Gertrude Stein, demand not to be left silent on the page. The first is a translation of a conversation between a (Spanish-speaking) Colombian poet and a French poet, with each line repeating in slight variation to bend its meaning, for example:
There is no error in a life dedicated to creation.
There is no error in a life dedicated to creating. 
There is no error in a life dedicated to creating.
There is not error in a life dedicated to creation.
In "wombwaving," Stein's "Sacred Emily" seems close at hand — "rose is a rose is a rose" — but as in the previous poem, things begin to evolve and change:
water
waters
watering
slip
slip of the hand
slide
slip
slide of the hand
sly slip
side of the hand
sly shy
slide of the hand
across the face
what
Face
That this piece is a response to an article discussing the politics of the female genitalia and orgasm ("Vagina…Open for Business & Debate," by Sarojini Sahoo) is not immediately evident until later in the poem, but this subtle approach to a topic that may unnerve some — and cause a riotous response in others — works for Arnott. Through both poetry and politics, her approach is always measured, grounded, sure-minded.
Arnott is a Metis author, and though this collection does not focus on the turbulence of Canada's "Truth and Reconciliation" era, the themes of death, loss, and healing are certainly in line with any discussion of the treatment of Indigenous peoples in Canada. Certain poems do make direct reference. In the humourously titled "Truth & Wreck," dedicated to Chief Robert Joseph, Arnott doesn't sidestep the continuing issues: "I feel a cool wind blowing through/ when I hear the truth/ the truth about who is dying from neglect/ who is lied about, who is suppressed." Reading these lines, one can feel the hurt and anger stemming from the long hidden truth of Indigenous genocide. Like much of Pensive & beyond, Arnott is determined not just to explore the hurt, but, in examining it, to search for healing. In "Truth & Wreck," that healing comes with a "liberation of stories" and hints that reconciliation may involve:
Shining the light of the unspoken to re-inflect
all that was said to children
all that was said and the great unsaid
histories
comingling
a mammoth nerve complex evolving
new and old stories together
your stories with my stories.
This is an immense and maybe utopian image, but it's undeniably necessary and altogether powerful. Arnott ends her book with this hopeful image of real reconciliation, though it may seem far off still. Yet the small steps are there throughout Pensive & beyond. The moments of love against the backdrop of horror and oppression are the salve of healing, moments that Leanne Simpson calls "islands of decolonial love."
In a standout of the collection, "The bouquet of night," Arnott writes about "the painful shared insult of mass graves/ Whole populations perishing" in a gut-wrenching first part that pits ineffable love against the extreme lust and dire individualism of "god and capital." The second part of the poem takes a beautiful, hopeful turn:
In the afterworld
I lean in for a kiss
You are dusty as I am, together
Waiting for the sun to shine on us again
The feel of rain on skin, the feel of skin
The taste of your breath, the taste of breath
The scent of fresh linen and you, together
The scent of me and the feel of a freshly washed blanket
The bouquet of night.
Ultimately, in a work of less than forty pages, Arnott has created something as uniquely powerful and memorable as any of her previous work. Pensive & beyond is a meal that will stick to your ribs for years to come: powerful medicine for the spirit. And it is indeed an extension of love and a celebration of friendship. Arnott's healing words will help any reader make better sense of their world.
*
Paul Falardeau is a poet, essayist, brewer and most recently, an English teacher, living in Vancouver, a city on the unceded lands of the Musqueam, Squamish and Tsleil-Waututh First Nations, whom he offers respect and gratitude. He is a graduate of University of the Fraser Valley and Simon Fraser University. He has published in Pacific Rim Review of Books, subTerrain, and Cascadia Review, and he contributed an essay to Making Waves: Reading B.C. and Pacific Northwest Literature (Anvil Press, 2010).
*
The Ormsby Review. More Books. More Reviews. More Often.
Publisher and Editor: Richard Mackie
The Ormsby Review is a journal service for serious coverage of B.C. books and authors, hosted by Simon Fraser University. The Advisory Board consists of Jean Barman, Robin Fisher, Cole Harris, Wade Davis, Hugh Johnston, Patricia Roy, David Stouck, and Graeme Wynn. Scholarly Patron: SFU Graduate Liberal Studies. Honorary Patron: Yosef Wosk. Provincial Government Patron since September 2018: Creative BC
"Only connect." – E.M. Forster