1665 Reckoning with Robert Davidson
Echoes of the Supernatural: The Graphic Art of Robert Davidson
by Gary Wyatt with Robert Davidson. Foreword by Karen Duffek
Vancouver: Figure 1 Publishing, 2022, in collaboration with the Vancouver Art Gallery
$60.00 / 9781773271903
Reviewed by Mark Turin
*
This singularly gorgeous book showcases the extraordinary work of Guud San Glans Robert Davidson, one of the world's most innovative and influential contemporary Indigenous artists. Echoes of the Supernatural is art publishing at its best, delivering a volume of breath-taking textual and print quality. The book is the product of a collaboration between the Vancouver Art Gallery, Figure 1 Publishing, curator and writer Gary Wyatt and the artist himself.
Guud San Glans Robert Davidson (born 1946) is a leading figure in the renaissance of Haida art and culture. Over the past five decades, his artistic works and interventions in a wide variety of media — including painting, serigraphs, carved argillite and wood, aluminum sculpture, and silver jewellery — have earned him countless awards and global recognition. Gary Wyatt has represented many celebrated Northwest Coast, Inuit, and Māori artists for over thirty-five years, including Davidson himself from the late 1980s to 2020. Wyatt has served as curator of Northwest Coast Art for the Inuit Gallery of Vancouver and co-founded the Spirit Wrestler Gallery in 1995. In addition to his writing, Wyatt has curated a number of important exhibitions of contemporary Northwest Coast art.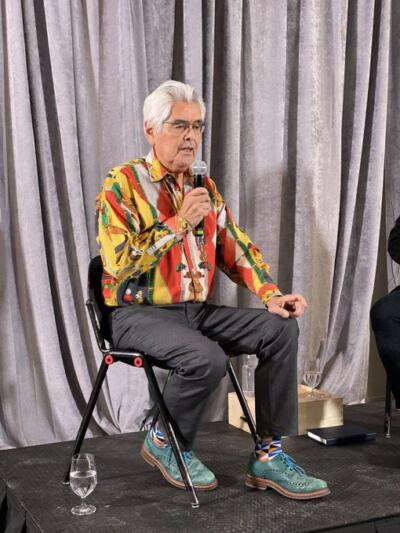 The structure of Echoes of the Supernatural is refreshingly transparent. After a short Foreword by Anthony Kiendl, CEO and Director of the Vancouver Art Gallery, the reader is invited to a pithy two-page 'Proposition' by Karen Duffek, Curator of Contemporary Visual Arts and Pacific Northwest at the UBC Museum of Anthropology, in which she convincingly argues that the apparent flatness of Davidson's images are in fact an illusion. It is the viewer's challenge, she asserts, to think beyond the page and into multiple dimensions. Fortunately for us, this is made possible thanks to the calibre of the reproductions. So often overlooked in public-facing reviews of this nature, I wish to recognize and celebrate the book's designer — Naomi MacDougall — and editors Mike Leyne and Pam Robertson for their professionalism and care. In addition, it's worth noting that the offset printing is extremely crisp, the colours perfectly rendered and the binding just right, making for an extremely pleasurable and uninterrupted read.
An insightfully written 35-page overview of Guud San Glans Robert Davidson's life and work by Gary Wyatt serves as the main course in this magnificent book. Chronologically structured, and nicely balanced with historical photographs of Davidson, his collaborators, family and artwork, this inviting text serves as biography, history lesson and teaching in what it takes to triumph over colonization and cultural loss and emerge with strength, groundedness and confidence.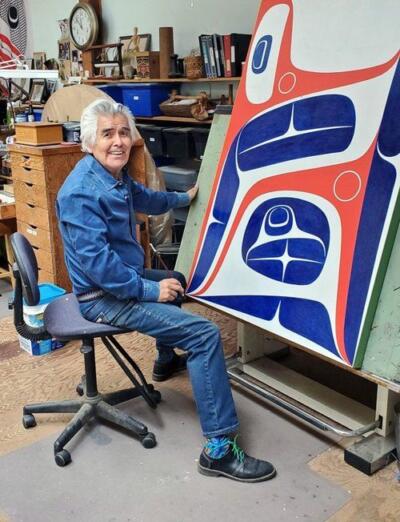 The following 200 pages, also by Wyatt, offer a comprehensive overview of over 54 years of Davidson's creative output, interwoven with Davidson's commentaries on his own work. These serigraphs and paintings are as diverse as they are inspiring, documenting the intellectual maturation of the artist. The volume is bookended with 24-page chronology of key moments in Davidson's life, a list of the works rendered in the text, and a page each of acknowledgements, bibliography and short biographies of the principal authors.
As Wyatt notes, much of the positive acclaim that Davidson has received for his prints has focussed on his technical skill and precision, his artistic 'penmanship' as it were. However, it is the content of his oeuvre — in the form of "narrative storytelling, supernatural depictions, historical interpretations" (p. 30) — that form the main artery defining his creative process. In both art and activism, Davidson integrates contemporary Haida society, ceremony and environment with the Haida past. This enmeshment generates a powerful and timeless thread in Davidson's work, one that asserts an unbroken line of knowledge transmission and cultural protocol in the face of devastating suffering and destruction.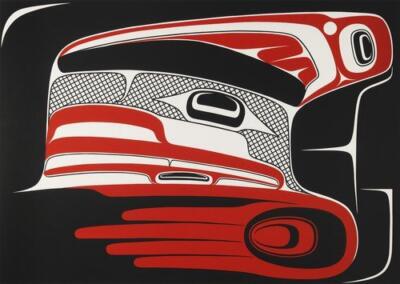 Immersing myself in Guud San Glans Robert Davidson's work, I was reminded of the brilliant Potlatch as Pedagogy: Learning Through Ceremony (2018) which Davidson co-authored with his daughter, Dr. Sara Florence Davidson, now a professor in the Faculty of Education at Simon Fraser University, and Stó:lō scholar, professor emerita and Indigenous visionary, Dr. Jo-ann Archibald (Q'um Q'um Xiiem), in which they presented a model for learning that is holistic, relational, practical and continuous. These adjectives equally inform Guud San Glans Robert Davidson's art, serving as an ethical undercurrent that knits his work together. "Art is our visual language," writes Davidson in a powerful opening text for Echoes of the Supernatural, "Throughout our history, art helped to keep our spirit alive…[and] documents our history as it is happening today." This book is a blessing: it is beautiful in both form and content, affordably priced for a tome of this weight and sophistication, and a joyful cry in service of community and cultural continuity.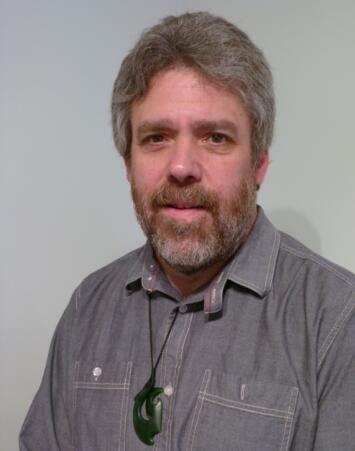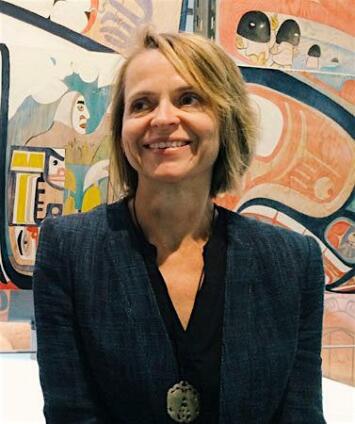 *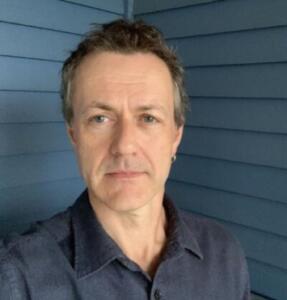 Mark Turin is an anthropologist, linguist and occasional radio presenter, and an Associate Professor at the University of British Columbia. He is cross-appointed between the Institute for Critical Indigenous Studies and the Department of Anthropology. For over twenty years, Dr Turin's regional focus has been the Himalayan region (particularly Nepal, northern India and Bhutan), and more recently, the Pacific Northwest. Turin is very privileged to have had the opportunity to work in collaborative partnership with members of the Thangmi-speaking communities of eastern Nepal and Darjeeling district in India since 1996, and since 2014 with members of the Heiltsuk First Nation through a Heiltsuk Language Mobilization Partnership in which UBC is a member. Turin writes and teaches on language reclamation, revitalization, documentation and conservation; language mapping, policies, politics and language rights; orality, archives, digital tools and technology. He is the author or co-author of four books, three travel guides, the editor of 12 volumes, and he edits a series on oral literature. Twitter: @markturin. Editor's note: Mark Turin has also reviewed books by Jisgang Nika Collison, Sdaahl K̲'awaas Lucy Bell, & Lou-ann Neel, and Anton Frederik Kolstee for The British Columbia Review, and his co-edited book Memory was reviewed by Forrest Pass.
*
The British Columbia Review
Publisher and Editor: Richard Mackie
Formerly The Ormsby Review, The British Columbia Review is an on-line book review and journal service for BC writers and readers. The Advisory Board consists of Jean Barman, Wade Davis, Robin Fisher, Barry Gough, Hugh Johnston, Kathy Mezei, Patricia Roy, Maria Tippett, and Graeme Wynn. Provincial Government Patron (since September 2018): Creative BC. Honorary Patron: Yosef Wosk. Scholarly Patron: SFU Graduate Liberal Studies.
"Only connect." – E.M. Forster
Please follow and like us: