1582 The art of the possible
Fire on Headless Mountain
by Iain Lawrence
Toronto: Penguin Random House Canada (Margaret Ferguson Books), 2022
$23.99 / 978082344654
Reviewed by Phyllis Reeve
*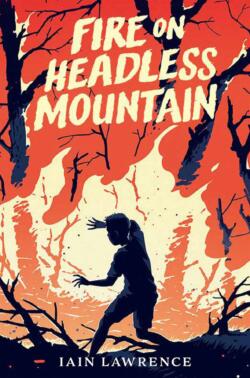 Iain Lawrence's novels for young readers fit into two sub-genres. In last year's Deadman's Castle — winner of the 2022 Silver Birch Fiction Award — as in his earlier swashbuckling trilogies The Wreckers (1998-2001) and Curse of the Jolley Stone (2004-7), adventure takes first place. In Fire on Headless Mountain adventure is only part of what's going on; the publisher lists the themes as death and grief, environment, emotional and social learning. In previous novels Lawrence has confronted the First World War (Lord of the Nutcracker Men, 2001), Second World War (B for Buster, 2004), polio (The Giant Slayer, 2009), the space age (Gemini Summer, 2006), and compassion as a survival tool (The Skeleton Tree, 2016) — this is a partial list.
The themes overlap. Deadman's Castle developed family ties and friendships in the midst of breathtaking chases and narrow escapes. Fire on Headless Mountain is chock full of hair-raising moments and cliff-hanging chapter endings — there may even be a Sasquatch. Lawrence always reveals insight into the minds and emotions of his juvenile characters, but here the insight is paramount — the narrative inner as much as outer, and the whole extraordinarily moving even for adult readers.
Alone in the midst of a dangerous forest fire, 11-year-old Virgil must find a way to survive using only his wits and his memory. Virgil and his older siblings, Kaitlyn, aged 15, and Joshua, aged 19 and proud possessor of a driver's licence, are on a pilgrimage: carrying the ashes of their mother to be scattered at her favourite spot, a mountain lake in the midst of forest and difficult terrain. Their heartbroken father cannot bring himself to make the trip. As it turns out, his faith in the good sense of his children is well-founded, but still, I have to ask "What was he thinking?" When a fire is sparked by a bolt of lightning, their ramshackle van breaks down, the youngsters are separated, and the journey turns to disaster.
I am not going to tell you what happens next.
Virgil is the main character, but Joshua and Kaitlyn have their moments of realization and development. This is their coming-of-age story too. I wish I could be as sure about their father. It is a nice touch that Mother is the scientist.
A reader can accidentally learn a lot from this book, for instance, how to mend a bucket by making crazy glue from tree sap. Lawrence is a master of the art of the possible; if his characters survive in the wilderness, he is going to be sure they do so in a credible manner. But careful research never interferes with the adventure, or with the less tangible but more important lesson of surviving grief.
Because the publisher is American, the setting has to be the "Pacific Northwest," but you know it is really British Columbia.
I found the cover unnecessarily lurid, but editor Richard commented: "What a great cover! Reminds me of the ripping yarns of my childhood. The plucky youngster faces and overcomes sinister and insurmountable odds." Could it be that the cover designer was not targeting Little Old Ladies [lol], even one who has always known that ripping yarns are not just for boys?
*
A version of this review appeared online in the Gabriola Arts Council Newsletter, September 21, 2022
*
Phyllis Parham Reeve writes about local and personal history in her three solo books and in contributions to journals and multi-author publications. She is a contributing editor of the Dorchester Review and her writing appears occasionally in Amphora, the journal of the Alcuin Society. She co-founded the bookstore at Page's Resort & Marina on Gabriola Island. More details than necessary may be found on her website. Editor's note: Phyllis Reeve has recently reviewed books by Lisa Anne Smith, Mowafa Said Househ, Eric Schmaltz & Christopher Doody, Carolyn Daley, Roy Innes, and Veronica Strong-Boag.
*
The British Columbia Review
Publisher and Editor: Richard Mackie
Formerly The Ormsby Review, The British Columbia Review is an on-line journal service for BC writers and readers. The Advisory Board consists of Jean Barman, Wade Davis, Robin Fisher, Barry Gough, Hugh Johnston, Kathy Mezei, Patricia Roy, Maria Tippett, and Graeme Wynn. Provincial Government Patron (since September 2018): Creative BC. Honorary Patron: Yosef Wosk. Scholarly Patron: SFU Graduate Liberal Studies.
"Only connect." – E.M. Forster
Please follow and like us: