1473 Hearts across hemispheres
Under the Nakba Tree: fragments of a Palestinian family in Canada
by Mowafa Said Househ
Edmonton: Athabasca University Press, 2021
$24.99 / 9781771992039
Reviewed by Phyllis Reeve
*
"A nation now deemed to be imaginary, a nation blamed for its stubborn refusal to acquiesce in its own destruction." Wasn't that Vladimir Putin's excuse for invading Ukraine? A small nation whose claim to existence threatens the security of its much more powerful neighbour? But Mowafa Said Househ is referring to Palestine, and at the time he was writing he could not have known such a comparison might be made. We are aware of the on-and-on-going conflict in the erstwhile Holy Land, recently thrust into the headlines by the killing of a Palestinian-American journalist. It is not Israel's — or Palestine's — actions which make this book so disturbing; it is our own.
Canada's presence in the sub-title is significant, as is the word "fragments."
Househ was born in Edmonton in 1977. Before we dismiss his negative experiences as the fault of our neighbouring province's red-neck proclivities, he tells us that the first mosque in Canada was built in 1938 in Edmonton by a Ukrainian Canadian contractor. As we extend hospitality to Putin's refugees, we might remind ourselves that during and after the First World War, Ukrainian Canadians were among those confined as "enemy aliens."
For his parents, Canada offered refuge, opportunity, and maybe hospitality and a home, but as he tells their stories, he observes: "For Palestinians, 'home' is a complicated term, and hospitality is not the first Canadian character trait I think of when I try to describe my experience of growing up Muslim in Canada". He comes to perceive the land of his birth as "a country founded on displacement."
Fragments of memory and family history do not tell themselves chronologically. Househ's narrative unfolds against a background of events in the Middle East; the foreground reveals the effects of events on one extended family.
1948. Al-Nakba (the Catastrophe), the end of the British mandate in Palestine, the beginning of Israel as an independent state, and the massive displacement of Palestinian Arabs. Househ's father, Said, was six months old when Israel captured his hometown Lydda, making him a refugee before he could walk. Struggling to carry the baby, his mother left him gently by a shady tree to be found and cared for by some kind stranger — only to repent after a few yards and in panic send one of his older siblings to retrieve him. Hence the family legend of the Nakba Tree. Said grew up in a refugee camp in Jordan. The status of "refugee" can last for a long time, and a generation later Househ learns that it carries with it a feeling of shame even in the eyes of fellow Arabs, like the Jordanians who have a nation and live in it.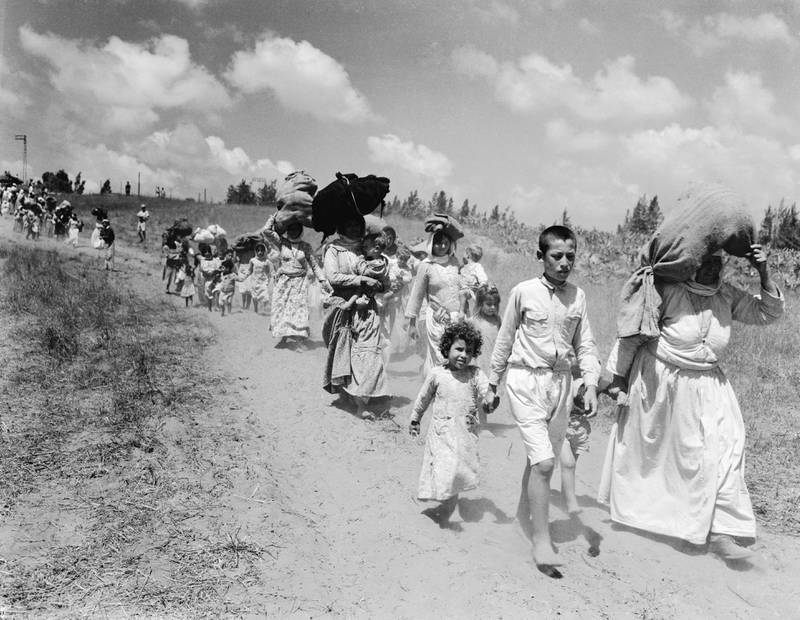 1967. Al-Naksa (the setback), the Six-Day War, the centenary of Canadian confederation, and the making of more refugees.
1970s. The rise of the Popular Front for the Liberation of Palestine (PFLP), and events in Jordan and Lebanon. Househ's parents Said and Hanan marry and follow some family members to Canada. Househ does his best to give us the background of Lebanon's difficult position and the culpability of Israelis and "right-wing Christians," leaving readers a chronology to unravel if we will and, worse, the impression of a terrible and tragic muddle which we might have done something to prevent.
1980s. In Edmonton, Said learned that his Jordanian credentials as a pharmacist were unacceptable, joined a relative in a small business and then set up on his own, while Hanan put her energy into the Islamic community's efforts to reaffirm their world-wide heritage. When arson destroyed Said's business, he decided to take his family away from this supposedly hospitable and multicultural country which had proved to be so hostile.
1985-88. In Amman, Jordan, Hanan was unhappy, ironically feeling Palestinian when in Canada, Canadian when in Jordan. Ties began to break, even as they moved back to Canada. The children learned, unlearned, relearned languages and ways of living.
First Intifada 1987-93. This phase of Palestinian resistance to Israeli occupation of the West Bank and the Gaza Strip lasted six years and overlapped with …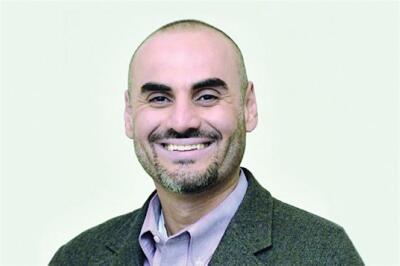 The First Gulf War 1990-91. The boy in Edmonton felt that he had become the enemy. Teachers, principals, and the general community were openly racist: "In the end, no Canadians died fighting in the Gulf War. The victims were right here in Canada — ordinary people who happened to be Muslim and/or Arab. Or who looked like they might be." Kids staged their own little Intifada in Canadian neighbourhoods, while their parents struggled to define Islam. Was it a culture or a religion? Saddam Hussein lost the war and Palestinians lost a refuge in Kuwait.
His father was a travelling salesman, seldom at home, and the parental marriage was irreparably broken. Now fifteen, Mowafa Househ and his brothers moved with their mother to Montreal to be near her sister. They stayed only a year, during which the restless teen moved towards gangs and rebellion until he was noticed by CSIS. Back in Edmonton, still restless, he was noticed more positively by several mentors and counsellors, some connected with such organisations as the Canadian Arab Friendship Association, and gradually began to get his life in shape, embarking on "a slow and troubled journey back to [his] faith and into [his] sense of being Arab in this world."
In his twenties, Househ travelled several times to Palestine, finding "a sense of belonging that had always eluded me in Canada, a home in which I often felt like an unwelcome guest" — despite being born here.
Second Intifada 2000-2005. In Hebron, after the Camp David summit and the provocative visit of Arial Sharon he realised that "everyone is a captive here." During three months in Palestine and Jerusalem, in the midst of violence and some narrow escapes, he became acquainted with close relatives: "Through it all, the family connections grew stronger." He experienced routine details of life in a conflict zone — such as constant thirst — and met "Palestinian children who had grown up in an environment of permanent war and occupation." Dodging bullets, he listened, learned and knew he was bearing witness to history. Once again in Edmonton he "felt uneasy in a place where I felt I did not belong."
The Intifada overlaps with 9/11 and the subsequent Iraq War (2003-2011). His personal coming-of-age story was progressing well. He began to "find himself" at the University of Alberta. As he noted class differences among Arab students, he became aware of wider problems in a wider world. He followed a degree in Commerce, specialising in management information systems with a graduate degree in engineering at the University of Toronto. The reader senses his excitement as he met people who shared his concerns and widened his horizons. He read Edward Said on Orientialism and exile and Malcolm X on race and violence. He asked questions and looked for answers. When the World Trade Center was attacked, while he was working as a systems analyst at the Capital Health Authority in Edmonton, his first thought — "why did it have to be Muslims" — was followed by surprise at the support he received from non-Muslims in his community. He should not have been surprised by this support; he should have felt able to count on it as a matter of course.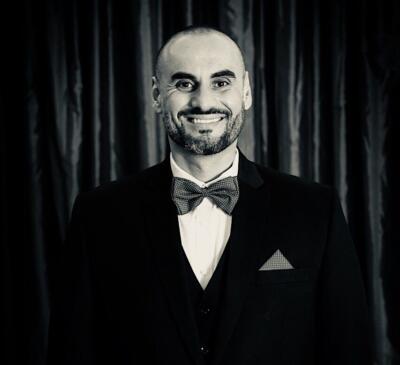 His inquiries raised further questions, especially why Islamic history was not taught in Canadian schools, why the Holocaust but not the Nakba? Why nothing about Muslim contributions to world civilisation? Here I am puzzled. The school I attended in Montreal in the early 1950s assigned a whole chapter of our world history text to Arab scholars such as Averroes and Avicenna, the invention of algebra and the superior efficiency of Arabic numerals as compared to Roman, not to mention Saladin who almost defeated the Crusaders, or the Moors in Spain, or the long history of the Ottoman empire. Did all that disappear from the curriculum after the emergence of Israel? I don't know the answer, but maybe the question should be asked.
Househ continued his education with a doctorate in health information from the University of Victoria and got on with his family life, giving an endearing account of the process of his arranged marriage to Dua, who completed her studies in social work as he shaped his career towards the goal of efficient healthcare. A new university in Riyadh in Saudi Arabia called to recruit him, but first he and his family spent time in Prince George. Working with First Nations people he learned more about the sources of pain in the loss of land and family. On a visit to the Gold Rush town of Barkerville, he was reminded of Canada Park, an Israeli national park sponsored by the Canadian government and Canadian Jewish community and containing the ruins of three Palestinian villages. History as theme park was cloaking history as complicated layers of human interaction and imposing arbitrary beginnings to narratives which had really begun millennia earlier.
In 2009 the young family moved to the Middle East, not yet to Palestine or to Dua's home in Jordan, but on the way. His children read both Arabic, right to left, and English, left to right. He is respected as Dr. Mowafa Househ, whose research focuses "on the use of Artificial Intelligence, social media, and mobile technology to promote patient care, improve health literacy, and with a more recent focus on mental health." In health informatics he makes use of information from biomedicine to Islamic spirituality, with a driving interest in "digital health innovation that can scale solutions in a way that leaves no one on the margins." One has to think he is a worthy successor to the physicians of the Arabic Golden Age.
This is a moving story, a call to action and a narrative beautifully written. Over four generations, the "relative stability of a Palestinian family in the diaspora changes people's lives but not their collective memory."
Some thoughts I noted to keep in mind:
The violence would split our hearts across hemispheres (2014).
[There are] physical and mental checkpoints that prevent us from accessing our new home … or from returning to our ancestral home.
Time is fluid when you live in the intermediate state of exile and memory.
We survive in places where we half belong.
Home and land are inseparable in our psyches and hearts.
Housseh's move to Saudi Arabia and now Qatar is our loss. We need to understand his concluding statement: "Until we return to the original soil that has nourished our ancestors, we wait and struggle in the long shadow of the Nakba tree."
We need to ask ourselves how we pick and choose our refugees.
Note. The book is one in a series from Athabasca University's AU Press, Our Lives: diary, memoir and letters. While I admire their aim to fill in the details within social and political events, their goals and their authors would be better served by more stringent proofreading. There are too many missing or redundant prepositions.
*
Phyllis Parham Reeve writes about local and personal history in her three solo books and in contributions to journals and multi-author publications. She is a contributing editor of the Dorchester Review and her writing appears occasionally in Amphora, the journal of the Alcuin Society. She co-founded the bookstore at Page's Resort & Marina on Gabriola Island. More details than necessary may be found on her website. Editor's note: Phyllis Reeve has recently reviewed books by Eric Schmaltz and Christopher Doody, Carolyn Daley, Roy Innes, Veronica Strong-Boag, Ian Hanomansing, PJ Patten, and Marion McKinnon Crook.
*
The British Columbia Review
Publisher and Editor: Richard Mackie
Formerly The Ormsby Review, The British Columbia Review is an on-line journal service for BC writers and readers. The Advisory Board consists of Jean Barman, Wade Davis, Robin Fisher, Cole Harris, Hugh Johnston, Kathy Mezei, Patricia Roy, Maria Tippett, and Graeme Wynn. Provincial Government Patron (since September 2018): Creative BC. Honorary Patron: Yosef Wosk. Scholarly Patron: SFU Graduate Liberal Studies.
"Only connect." – E.M. Forster
Please follow and like us: