1541 Essig opens up his songs
Fair Days
by David Essig
Nanaimo: Peregrin Books, 2022
$20.00 / 9780992055714   Available here by mail order
Reviewed by Carol Matthews
*
Sometimes when we listen to a song, we wonder about the story that might have inspired it. In his new book, Fair Days, singer and songwriter David Essig has written thirteen stories that serve as companion pieces to thirteen songs he performed over fifty years. The CD that accompanies the book offers an opportunity to listen to each song while reading a story of the same name.
The songs span half a century, but Essig wrote the stories within just three years, producing most of them during the pandemic, an extremely stressful time for performers who were suddenly unable to travel or gather to communicate with their audiences. During Covid, many artists were depressed, while others were inspired — or required — to tap new ways of performing. Essig's idea of opening up his songs by marrying them to stories to expand the narrative is testimony to the depth of ingenuity and creativity that a performer can explore when audiences are not close at hand.
Essig is well-known as a roots musician who has travelled around Canada and the U.S. performing in coffeehouses, folk clubs and music festivals. He's also popular in Italy and has toured there more than twenty times! Although his fiction is less well-known, his novel, Dancing Hand, published in 2006, has been described as "a powerful new book by one of Canada's great narrative voices."
It's that narrative voice which carries and unites the music Essig writes and the stories he tells. The cadence and lyricism of his music is echoed in his writing; the stories read like songs and the songs are full of stories.
The first story, "Flo's Café," is of a young man, "already loaded" and in between girlfriends, who sits in a booth at the café as customers drink bourbon while Flo, whose son is in military prison, punches the TV set during a news report. It's 1970, and the songs ask where the good times have gone. Essig says it is the only song he ever wrote "that closes with an inconclusive supertonic or II-chord" which he chose to find "a musical reflection of the temporality of that bar and those times." It works.
It sets us up for the next story, "Albert's Cove," in which a young man drives all day and most nights from Wainwright, Alberta, to a small fishing village in "Fuckin' New Brunswick" in search of a young woman. By the time he arrives at the home where she's been staying, the girl is no longer there. The landlady tells him she might have slipped on the rocks but believes she jumped. "Wouldn't be the first," she says, and the song reports that fishermen hear the girl wailing as "she cries for the baby you gave her."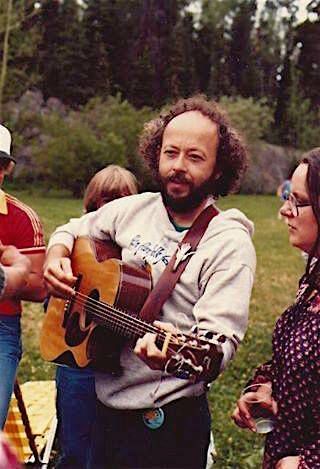 The subjects and situations of these stories are as far-ranging as their landscapes. A thirteen-year-old blind girl finds a pistol and a bottle under a neighbour's table. A lawyer and his wife drink sherry with the owner of Marge's Country Comfort. A man wins a blue ribbon for the jar of pickles he entered in the fall fair, but is down several bucks from the entry, his girlfriend's admission to the fair, and the tickets for the Ferris wheel and ring toss. "None of it's fair," his girlfriend says at the end of the evening.
The characters travel from town to town in old cars and trucks with little or no money. They consume a lot of tobacco and coffee and a great deal of alcohol, which is sometimes poured into the coffee cups. If the liquor store isn't open, there's always bars and beer parlours — and often bottles of Stoli or Five Star or Brights can be found in cupboards, under tables or cushions, or in desk drawers.
These are tough lives, and the stories and songs are painful. Death is always near and the possibility of suicide lurks. "Into the Lowering Sky," inspired by a line from Malcolm Lowry's Under the Volcano, is about a minister preparing to deliver a sermon the day after a twelve-year-old boy has drowned during a weekend camping trip. Drinking vodka out of his coffee mug, he listens as the choir director talks to him about the difficulties they've had mastering the dotted eighth notes in the Hymn "How Great Thou Art." The minister's theme for the morning is "An Exegesis of Sorrow," but he tells the congregation that it's "When We Grieve." As he speaks, he holds on to the long vowels of "the round language" he learned from his Homiletics professor. Later, he picks up a 750 of Stoli and considers going to Canadian Tire to buy a Remington .308.
In the final story, "Buick," we meet a man and woman who have travelled the same tricky terrain as the others and have, because of an accidental pregnancy from a night "in the backseat way too soon," become "your typical oil patch family – roughneck, wife, two kids." Somehow it all works out for them. Thirty years later, after a lot of brutal winters and a few strikes, they're ready to take off in their fifth wheel and head down to Mexico, after which they'll settle down in a pretty little Prairie town with good soil and a veggie garden. After all those travails, il faut cultiver notre jardin.
Although Essig was born in the States, he's lived in Canada since 1971 and Fair Days is a book that feels very Canadian. For the cover, Essig turned to an abstract painting by an Ontario artist, Elizabeth McQueen, who describes her work as reflecting inner and outer landscapes. It's an image that echoes Canada's vast and lonely vistas and provides an effective and haunting image for Essig's inner and outer journeys. Book designer Louise Hamilton has chosen to use it as a graphic, along with the first line of the associated song, for the pages that divide the stories. It's an attractive paperback of a comfortable size, well-spaced in a way that makes it a pleasure to hold and read.
Marshall McLuhan said the medium is the message. Media ecologists say that the environment is the medium. David Essig's medium is music, and it's in the musical environment that his narratives take place. Within it, the lyrical play between story and song creates an entertaining duet which is made even more poignant with the addition of Trish Horrock's exquisite viola accompaniment.
*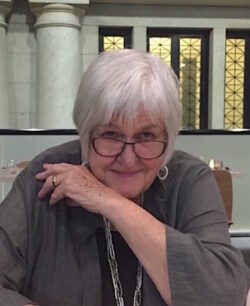 Carol Matthews has worked as a social worker, as Executive Director of Nanaimo Family Life, and as instructor and Dean of Human Services and Community Education at Malaspina University-College, now Vancouver Island University (VIU). She has published a collection of short stories (Incidental Music, from Oolichan Books) and four works of non-fiction. Her short stories and reviews have appeared in literary journals such as Room, The New Quarterly, Grain, Prism, Malahat Review, and Event. Editor's note: Carol Matthews has recently reviewed books by Diane Schoemperlen, Susan Juby, Charles Demers, Susan Sanford Blades, John Vigna, and Hiromi Goto for The British Columbia Review.
*
The British Columbia Review
Publisher and Editor: Richard Mackie
Formerly The Ormsby Review, The British Columbia Review is an on-line journal service for BC writers and readers. The Advisory Board consists of Jean Barman, Wade Davis, Robin Fisher, Cole Harris, Hugh Johnston, Kathy Mezei, Patricia Roy, Maria Tippett, and Graeme Wynn. Provincial Government Patron (since September 2018): Creative BC. Honorary Patron: Yosef Wosk. Scholarly Patron: SFU Graduate Liberal Studies.
"Only connect." – E.M. Forster