1446 Annick and the red herrings
Noonday Dark: Doctor Annick Boudreau Mystery No. 2
by Charles Demers
Madeira Park: Douglas & McIntyre, 2022
$18.95 / 9781771623285
Reviewed by Carol Matthews
*
Charles Demers' new mystery, Noon Day Dark, checks off all the boxes for what I think a successful mystery should include: a strong hook, an engaging sleuth, an atmospheric setting, narrative momentum, a few red herrings and some interesting characters.
As in Demers' first mystery, Primary Obsessions, the sleuth is Dr. Annick Boudreau, an Acadian cognitive therapist. If I were seeking therapy, she's the one I'd want to see. Annick is smart, sexy, sharp-tongued sensitive and supportive. She's also very funny and has a way with colourful language. You can't help liking and rooting for her.
The novel's hook is the mysterious disappearance of one of Annick's patients, Danielle, an attractive young woman who'd been suffering from depression but recently seemed to have turned her life around. The police find a suicide note which they believe was the cause of her disappearance but Danielle's father, Ivor McFadden, a former journalist with a desire to piss people off, is convinced that his daughter is still alive. He contacts Annick to ask for help in finding her and, despite her desire to maintain professional objectivity, Annick is drawn into the search.
Demers has set Noonday Dark in Vancouver, and anyone who knows the city will find his descriptions apt and enjoyable. There are recognizable locations like the Sylvia Hotel, the Centre for Italian Culture and a pool hall at Nanaimo and Hastings, and there are views of Coal Harbour and of East Vancouver. There's familiar weather: an overwhelming grey and an incessant downpour "hitting the windows with the intensity of make-believe rain in movies," and the Lions, "like French Royalty," appear headless in the fog. Once summer is over, Vancouver residents race home to put their socks on the baseboards and their umbrellas in the bathtub.
As the story progresses, we're thrown quickly into the politics of a recently elected city council, "the rotten fish situation" at City Hall, and the possible involvement of the Satan's Hammers Motorcycle Club. The chase to find Danielle involves a number of red herrings and a fair amount of danger along the way, and the pursuit presents a lively cast of characters, including a charismatic new mayor and a couple of unpleasant mayoral aides.
Central to the narrative is Annick's very fit and handsome Chinese-Canadian boyfriend Philip, a science journalist whose East Vancouver childhood included gang fights and who can recognize a Glenn Gould recording by ear. His mother, Denise, serves endless courses of exotic dishes (including a uniquely thrilling combination of beef and bitter lemon), recycles the popcorn garlands on her Christmas tree, and offers encouragement and bribes to persuade Philip and Annick that it's time for them to have a baby, a possibility that continues as a subtext throughout the novel.
Readers of Primary Obsessions will be pleased to see the return of Bonnie Ashford, a scotch-drinking local crime reporter who dresses like someone who "might occasionally lend Diane Keaton some of her less sophisticated items." Cedric, Annick's Jamaican-Canadian-Zen Buddhism and mindfulness practicing colleague, is back again. He maintains a low profile but knows just when to appear silently to lay a gentle hand on her shoulder and place a perfectly prepared large cup of coffee on her desk. On the other side of the country, Annick's Acadian parents are still playing a part in her life.
A new character, Reverend Beatrice Carmichael, the Bahamian priest of St. Clare's church, is a squeaky wheel who has a good sense of city politics. Her sermons note that the congregation lives on stolen land which the church helped to steal. In describing her work, Reverend Carmichael makes reference to Paul Robeson and William of Ockham, and she preaches about the need for careful city planning with engagement of all levels of government and indigenous nations.

Perhaps this novel's most interesting character is Parminder Gill, nicknamed "Chicken Parm," who wears a T-shirt featuring a cobra and threatening "If Provoked – WE WILL STRIKE." A member of the International Brotherhood of Longshoreman, Parm takes offence at the suggestion that he might know something about Satan's Hammers' possible involvement in Danielle's disappearance. Parm argues that the Maritime Labourers' Hall is not a bikers' clubhouse and says there's a lot of good people in the waterfront union "working like goddam mules out of this very goddam hall." Demers reiterates this in his Author's Notes, pointing out that the labour movement has been a force for good in the city and that "a few bad apples, in a mystery novel storyline or the odd newspaper report," doesn't distract from that.
In between seeing her regular patients – one with general anxiety, one panic disorder, one PTSD and a couple of OCDs on a typical day — Annick travels back and forth across town by foot, by Sky Train, by car, and eventually by a risky ferry trip to a Gulf Island. It's a riveting chase!
Noonday Dark is a good sequel to Primary Obsessions, and, in my opinion, a better book. Although Dr. Boudreau again steps out of her professional role as a therapist to become involved in detective work, she's a little less rash and the story progresses more smoothly and believably. While Primary Obsessions focuses somewhat obsessively on explaining the trauma of OCD and the stigmatism attached to it, this new novel has a lighter touch both in describing the work of a cognitive therapist and in exploring political manipulation and the tensions between gentrification and environmental issues.
Charles Demers is a man of many talents: a stand-up comedian, actor, playwright, author of essays and a political activist. You can see him in person at the Rio Theatre on comedy nights. You can subscribe to his newsletter. You can hire him as a stand-up or as a voice actor. Or you can just read his mysteries which seem to embody all these perspectives.
I hope it won't be long before Demers creates the next Dr. Boudreau mystery. I'm keen to read it.
*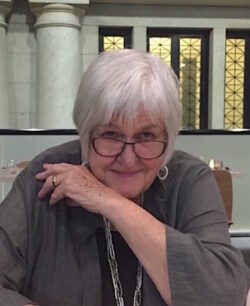 Carol Matthews has worked as a social worker, as Executive Director of Nanaimo Family Life, and as instructor and Dean of Human Services and Community Education at Malaspina University-College, now Vancouver Island University (VIU). She has published a collection of short stories (Incidental Music, from Oolichan Books) and four works of non-fiction. Her short stories and reviews have appeared in literary journals such as Room, The New Quarterly, Grain, Prism, Malahat Review, and Event. Editor's note: Carol Matthews has also reviewed books by Susan Sanford Blades, John Vigna, Hiromi Goto, Anita Lahey, Ivan Coyote, and Tamara Macpherson Vukusic for The British Columbia Review.
*
The British Columbia Review
Publisher and Editor: Richard Mackie
Formerly The Ormsby Review, The British Columbia Review is an on-line journal service for BC writers and readers. The Advisory Board consists of Jean Barman, Wade Davis, Robin Fisher, Cole Harris, Hugh Johnston, Kathy Mezei, Patricia Roy, Maria Tippett, and Graeme Wynn. Provincial Government Patron (since September 2018): Creative BC. Honorary Patron: Yosef Wosk. Scholarly Patron: SFU Graduate Liberal Studies.
"Only connect." – E.M. Forster
Please follow and like us: