1508 Panels and palindromes
Swan Song
by Sonja Ahlers
Wolfville, NS: Conundrum Press, 2021
$20.00 / 9781772620627
Reviewed by Jeff Stychin
*
Sonja Ahlers' Swan Song makes me wonder if we're taking full advantage of the written discourse we use daily to communicate. Ahlers seems to have found an improved precept in which the form of the page becomes her canvas. Along with scanned images and varied fonts, reminiscent of nineties zines, she transports the reader into her mind to cogitate in a precise torment of emotion.
Hailing from Victoria, Ahlers is a visual artist and poet, author of two previous books of visual media, Temper, Temper (1998) and Fatal Distraction (2004), both published by Insomniac Press. I found her artistic style to be raw, strong, and somewhat intimidating to me as a new reader, so venture slowly and enjoy. The form of Swan Song as a graphic novel — or as many would call it, "graphic poetry" – is intriguing. There is no sound structure and you're meant to mock tradition immediately. "A memory book for dreams, daydreams, feelings, and thoughts. You can tell it by shadow pictures," writes Ahlers. And a page later: "How to use this book … Fuck Rules."
Swan Song is presented in almost a dreamscape, where each set of panels and sometimes individual pages seem to represent thought forms. Instead of them telling an overall story, the content is more like small pieces that you have to fit together. For example, the first page that grabbed my attention reads, "I got it back down to nothing nothing to down back it got I." I loved the way this beautiful palindrome made me think when I first read it. It touched my heart and I was right back in my early twenties, lost, confused, blaring Joy Division, and wondering how my life would unfold.
Don't let the abstract nature of the book's panels throw you off. Ahlers isn't here to pander or patronize; she is fully aware and confident in her message and in her readers' ability to understand.
I sensed that Ahlers is struggling with her artistic relationship throughout this book, and some of the panels are attempts at reconciling her feelings towards her own artistic expression. An early clue is, "I was here first," followed on the next page – in a reference to Alice Munro — "Lives of girls and women, the source of life-force." She is building a narrative, panel by panel, and letting us glimpse her mindset during each part of this book.
There's a panel about plants and how they never move, with a photo of a girl sitting at a computer typing away much like I was while writing this review. "Do plants ever move? I'm just not because I cant. Secretary to God." This page seems to speak to the entrapment of work, creativity, and pleasure. It's a nice introspective into the feminine ideal, with the reference to plants, earth, mother. It all flows here and is followed by a collage of imagery — plants, animals, lettering — and a spelling correction button to represent the artist's struggle. The next few pages concern "The Thing. I got it for nothing, can't this thing go any faster?" I'm sure this references her spiritual connection not only to her artistic integrity, but to her purpose in the pursuit of creating.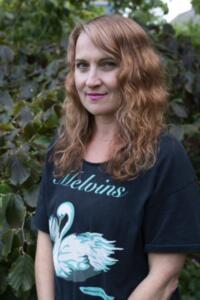 A wonderfully dark panel is the Male Chauvinist Pig reference to the novel by Julie Willet, represented in black and white with a spider's web drawing that reminded me of Charlotte's Web. This page speaks to the struggles of a female artist in a world that unfortunately has given less space for women to be seen and heard. "He likes her art, when it looks like his art." The struggle is sincere and heartfelt: "An endless menace, I mean wishis, I mean wishes, he means well." There is also a reference here to gender identity, norms, and monogamous heteronormative relationships. The next few pages in Ahlers' internal dialogue concern men, representation, and identity, not only in artistic expression but in the real world imagery of phallic symbolism and power structures of control. She provides a suggestive and literal a breakdown of the unfair patriarchal landscape we all occupy.
"The power of myth. It is made from C.R.E.A.M more like Skim Milk." For me this panel, showing a queen in a pitcher or milk jug, shows Ahlers' disgust at the powers of myth through discourse and medium. There is genius written — and sometimes hidden — in plain sight for anybody willing to brave these pages. "You were just an idea, I was in love with the idea."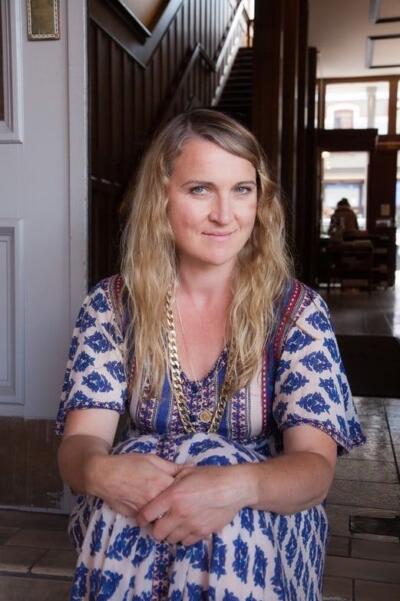 Towards the end of Swan Song there's another longer version of the palindrome, which really pulls the narrative together:
I got back down to nothing. I got it down, back to nothing. I back it down, got to nothing. I got down to it, nothing back. Nothing to back down, I got it. Nothing back, I got it down. Nothing to down, I got it back. To nothing, I got it back down. To down it, I got back nothing. To back it, I got nothing down. To back nothing, I got it down. Got back nothing, I back it down. Got down, I back it to nothing. It got nothing, I back down.
Ahlers shows the beautiful struggle and the interplay between one's manifested thoughts and the work that goes into creating something meaningful. "Yes, miracle can." My favourite part of Swan Song is this last panel featuring a rudimentary but all encompassing creative process revealed in just three words printed in a descending order in varying fonts.
Swan Song is full of unfeigned, disquieting, inspiring and fiercely poignant views of the world itself and of an artist's place within it. It concerns the struggle, turmoil, frustration, and triumph of will in a world that is just not fair. Whether you are fighting to write your newest book, finish a blog entry, follow self-care practices, or challenge how you see the world you occupy, Ahlers demonstrates a refreshing way to push the boundaries of the graphic novel medium and she does so in a graceful and understated way.
If you have not yet heard of Sonja Ahlers, her work should be on your shelves and better yet, in your hands while you discover the mind of a very thoughtful artist.
*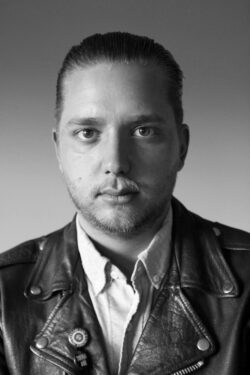 Jeffrey Stychin has felt like a man out of time and in the wrong place ever since he noticed the town he grew up in, in the BC interior. He studied verse and poetry through music and art. He began writing as a means of catharsis and as a way to communicate with himself and others. A Vancouver barber by day, a poet by night, he currently resides with his thoughts and dreams in a quiet place full of trees. Editor's note: Jeffrey Stychin has also reviewed books by Cole Pauls, Jeremy Stewart, and Brodie Ramin for The British Columbia Review.
*
The British Columbia Review
Publisher and Editor: Richard Mackie
Formerly The Ormsby Review, The British Columbia Review is an on-line journal service for BC writers and readers. The Advisory Board consists of Jean Barman, Wade Davis, Robin Fisher, Cole Harris, Hugh Johnston, Kathy Mezei, Patricia Roy, Maria Tippett, and Graeme Wynn. Provincial Government Patron (since September 2018): Creative BC. Honorary Patron: Yosef Wosk. Scholarly Patron: SFU Graduate Liberal Studies.
"Only connect." – E.M. Forster
Please follow and like us: