1810 Intrigue, then and now
Ruby Red Skies
by Taslim Burkowicz
Halifax and Winnipeg: Roseway Publishing an imprint of Fernwood Publishing, 2022
$24.00 / 9781773635606
Reviewed by Steven Brown
*
Ruby is not happy. She feels taken for granted by both husband and daughter. Her opinions don't matter. Her husband talks down to her, openly mocks her, is oblivious to her generally. To him she's just "Rubes." She thinks of herself as a house cat.
Ruby's life is staid, predictable, a shell. Her marriage? In name only. It's been twenty years. On the couple's twentieth anniversary Ruby, still trying, gives Trevor a pen engraved with "Happy 20th, Sugar Bear." She receives a box of dollar store chocolates. Trevor can barely go through the motions anymore.
There's a reason for his obliviousness. He's having an affair with Belle, Ruby's best friend. One night Ruby and Trevor have a small dinner party with Belle and her date John. Ruby drinks too much wine and retires early. She later comes in on Trevor and Belle having sex on the den sofa.
Angry with the revelation of the affair she tells Trevor he isn't Leah's father. (Ruby and Trevor had a teenage wedding. Ruby was already pregnant.) Whether this is actually true remains a question. It seems so at first but Ruby later recants. Turns out, Trevor has a low sperm count, something he was unaware of the whole time he was with Ruby. Now Belle is pregnant, although this child might not be Trevor's either. The only other possibility would be John, Belle's ex-boyfriend. What a mess.
With its twists and turns Taslim Burkowicz's third novel, a tale of domestic travail, trouble, and turmoil, reads like a romance but it's an engaging read. Dysfunction is also very far from everything going on in this sizeable novel.
The novel is really two novels, a lively twin tale. There are two entirely separate stories that aren't intertwined so much as interspersed within one another, the sole connection being that the second story elaborates on the tales Ruby's mother, now deceased, used to tell her of pre-colonial India. Ruby's mother also had an unfaithful husband who left her for another woman.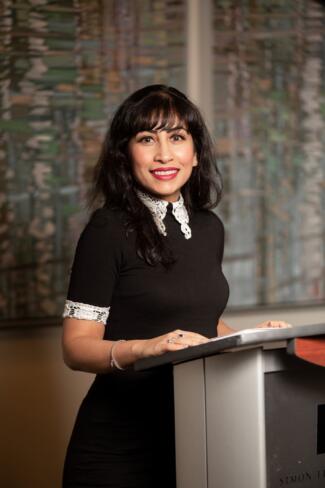 The first five chapters introduce Ruby and her world in 2017. Next, the reader is suddenly transported back centuries to 1610 and the Mughal Empire of northern India. The scene is Agra's Red Fort and environs and centres on Rubina, fifteen years old, an illegitimate daughter of Jahangir, the Mughal king. Rubina lives with Khushi, her putative foster mother, outside the walls of the Red Fort (the same one in reality standing today). Khushi runs a dancing-school-cum-brothel and Rubina has grown up to become her top dancer. Rubina remains chaste but winds up in the fort, in the harem, and a favourite performer of the  emperor and his entourage. Burkowicz brings the Mughal era to vivid life. It's a world of court intrigue, power dynamics, privilege, betrayal, and arbitrary status, all determined at birth. Possible death through sudden disfavour or by just blocking someone's ambition is a background constant.
After that, Ruby Red Skies shifts back and forth between these two periods. The second story is straight up historical fiction. Both stories could stand by themselves as distinct, separate entities. The first story is about Ruby breaking free from an unhappy marriage. The second chronicles doomed love. Both portray women struggling to overcome situations in order to find a better life.
Years earlier, Ruby and Trevor knew each other in high school. She was Ruby Malkhana then. At the time Ruby was considered hip because she was up on all the latest music. Trevor was okay, but she was more interested in budding musician Curtis Simmons. A rumour circulated in school that they "had done it" at a weekend party. Ruby's friendship with Curtis (which may have become something more) ends when Curtis suddenly leaves for a gig in Oregon.
After her marriage dissolves Ruby forms a desire to see Curtis Simmons. She tracks down his whereabouts via Facebook and concocts a strange plan for a reunion in Williams Lake, BC. The complication is weather: the province faces a forest fire crisis. Several wildfires line Ruby's proposed route outlined in a rudimentary (and rather superfluous) map acting as a frontispiece to the novel's first chapter. Ruby is determined to do the drive anyway.
In the fort in 1610, Rubina develops intense feelings for Daniyal, the royal chef. Daniyal is in line to marry Sabina, the court physician's daughter. This intrigue is heightened by Khushi having been poisoned soon after arriving at the fort with Rubina. Rubina finds herself entirely on her own in this strange new world. Raj, a eunuch who takes on the role of minder to her in the harem, tells Rubina, "Only the ruthless survive the court." She meets Sabina and discovers she is an opium addict. Rubina thinks this malady gives her a chance with Daniyal.
One or two convenient coincidences drive the narrative on. In the story of Ruby, she makes a stop near the beginning of her quest and the first person she speaks to, a bar hostess in a Squamish hotel, knows exactly who she's talking about when Ruby says she's looking for a musician named Curtis Simmons. Burkowicz opts for stretches of dialogue in both stories that run overlong, straining credulity ever so slightly. An example in the story of Rubina is near the end of the novel. Although gravely wounded in a bid by Jahangir's son, Prince Khurram, to usurp the throne, she and Daniyal go on a bit long considering the circumstances.
This is an entertaining read, though. Romance, family drama, historical novel—whatever the label, it's a novel by a skilled storyteller.
*
"Books have ruined my life," jokes Steven Brown. A professional in the book trade for years, he's managed to retain a deep and abiding passion for books and first rate literature. He was born in Saskatchewan and grew up in Ontario and British Columbia. Vancouver is home these days. His reviews have appeared in Canadian newspapers, a literary review or two, and he has donated reviews to good causes. He's written a couple of novels he'd like to see published. Editor's note: Steven recently reviewed Rhonda Waterfall's sophomore novel, Sombrio (Gordon Hill Press, 2022).
*
The British Columbia Review
Interim Editors, 2023-24: Trevor Marc Hughes (non-fiction), Brett Josef Grubisic (fiction)
Publisher: Richard Mackie
Formerly The Ormsby Review, The British Columbia Review is an on-line book review and journal service for BC writers and readers. The Advisory Board now consists of Jean Barman, Wade Davis, Robin Fisher, Barry Gough, Hugh Johnston, Kathy Mezei, Patricia Roy, Maria Tippett, and Graeme Wynn. Provincial Government Patron (since September 2018): Creative BC. Honorary Patron: Yosef Wosk. Scholarly Patron: SFU Graduate Liberal Studies. The British Columbia Review was founded in 2016 by Richard Mackie and Alan Twigg.
"Only connect." – E.M. Forster