1562 Red is still listening
Allow Me: Poems, 2000-2020
by Rhonda Batchelor
Victoria: Ekstasis Editions, 2022
$23.95 /  9781771714488
Reviewed by Doug Beardsley
*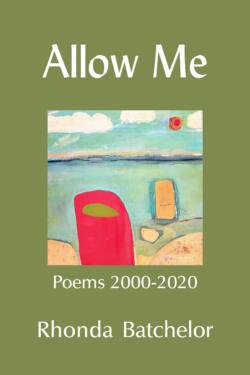 A deep sense of longing permeates between the lines of Rhonda Batchelor's latest book. With longing we can lose sight of what is so close — until it is suddenly taken away and love becomes something that exists outside of life where it can no longer be touched or seen. Lost love becomes ennui, a forced exercise, a cheerful insistence, the body numb, minus one.
I must confess I share something of her suffering. Rhonda's husband, Charles, was my best friend of over 20 years. I knew him as 'Red' Lillard, teacher, west coast scholar, historian and fine poet, his "black sanctus rising into the morning sky." Inspired by Bushmills and Jim Beam, we were like "winter brothers," in search of rare books and night-long conversations. In the 1980s we spent extended weekends in Vancouver, Seattle, Portland, San Juan, Orcas (where we met Annie Dillard at Darvill's Bookstore) and onto Waldron Island, where Red encountered the ghost of American novelist Norman McDonald on the beach.
Rhonda speaks to Red still but all he can do now is listen. Travel isn't the answer, one can't get away from the poetic emptiness he left behind. She feels betrayed by his death, his "disappearing trick," his "not staying dead since." Images drift in and out: skunk cabbage, hovering eagles, a gibbous moon, blue camas, June foxglove, sweet peas. So much anger at a lover's loss, left alone in a world without ice cream. The ache and suffering become unbearable. She seeks "only a hand to hold/ on the homeward walk."
This is a poetry of suffering, of what it's like to have been left behind. Allow Me is a work of accumulated turbulence, a tsunami of recollected incantatory power, the voice in extremis in each brief lyric, brought about in the absence of self-pity.
Memory takes me back to Elizabeth Bishop's "One Art" and its final couplet: "the art of losing's not too hard to master/ though it may look (Write it!) like disaster." Rhonda Batchelor has written it.
*
Born in Montreal in 1941, Doug Beardsley studied with Irving Layton at Concordia University. After travelling and writing in Connecticut; Sussex, England; and Dijon and Bordeaux in France; he returned to Canada and enrolled as a mature student at the University of Victoria, where he studied with Robin Skelton. He received his B.A. in Creative Writing from UVic in 1977, then went on to do his Master's Degree in English at York University, Toronto, where he continued his studies with Irving Layton and Eli Mandel. He taught in the Department of English at UVic from 1981-2006. After retirement, he received an MA degree in Theological Studies from St Bede's Theological College in Victoria. Editor's note: Doug Beardsley's book The Splendour and the Suffering/ El Esplendor y el Sufrimiento: Poems and Travels in Mexico (2018) is reviewed by Ron Dart.
*
The British Columbia Review
Publisher and Editor: Richard Mackie
Formerly The Ormsby Review, The British Columbia Review is an on-line journal service for BC writers and readers. The Advisory Board consists of Jean Barman, Wade Davis, Robin Fisher, Cole Harris, Hugh Johnston, Kathy Mezei, Patricia Roy, Maria Tippett, and Graeme Wynn. Provincial Government Patron (since September 2018): Creative BC. Honorary Patron: Yosef Wosk. Scholarly Patron: SFU Graduate Liberal Studies.
"Only connect." – E.M. Forster
Please follow and like us: