1403 A perilous island sanctuary
The Almost Wife
by Gail Anderson-Dargatz
Toronto: HarperCollins Canada, 2021
$24.99 / 9781443458429
Reviewed by Myshara Herbert-McMyn
*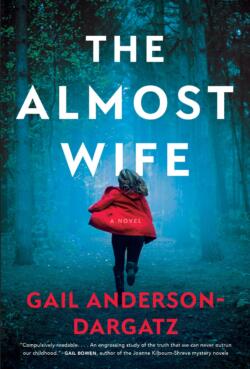 A person's entire life can change in a day. But how it changes? Who it changes? Accepting that change? No one will see it coming.
The Almost Wife is a masterpiece of suspense, written through the themes of trust and betrayal. It shows us a brief but intense window into Kira's life with her daughter Evie, her fiancé Aaron, and Aaron's daughter Olive. During this time, secrets are unleashed from every direction. Anderson-Dargatz drew me into the story on page one with her complex yet natural method for introducing her small cast. We meet Kira on her morning run and then learn about each of the others as Kira comes across them in texts, phone calls, and in the physical.
Conflict is introduced at once in the form of Aaron's ex-wife Madison when she interrupts Kira's run. She had been trying to convince Olive to come and live with her instead of Aaron and Kira. Once she realized that her approach wasn't strong enough, she began stalking Kira. After a heart-pounding run away from Madison, Kira arrives home to a series of quick decisions that lead her to take Evie and Olive away for the weekend to her family's small cabin on remote Manitoulin Island in Lake Huron. Hesitant at first, Kira eventually takes the chance to escape the renewed violence that Madison brings into her house and uses against her family. Kira packs up the girls and they leave at once, Aaron having already left on an emergency business trip. Little does she know that her island sanctuary isn't as safe as she assumes.
Once they reach the small island community at Manitoulin Island, it becomes clear that this location holds a terrifying complication: a severe lack of cell service. It's made even more frightening because most of the novel takes place far from the help of a phone call and the safety of a town. It's the perfect setting for this story. One call to the right people would save the day, while one to the wrong people could end very badly. Anderson-Dargatz is astute in using this lack of cell phone coverage — something common in many remote places across Canada — as a major plot device to make her story practical and believable in our modern era. It's also interesting to note that Anderson-Dargatz herself owned a summer home on Manitoulin Island until recently, according to her bio on the inside flap of the novel. Writing about a place you know in some intimate way always intensifies the feel of the place, and Manitoulin feels exactly how Kira experienced it: her home, but a complex one full of emotion and sadness and memory.
The choice to tell this story from Kira's point of view was wise. Being on one side of a custody battle shapes your opinions automatically. Though Kira is engaged to Aaron and technically on his side, she's not a part of the original situation. This allows her a unique "outsider" perspective and it makes her the perfect person for the reader to follow. We see observations about both sides and from both what happened, and in the process The Almost Wife gains yet another layer of complexity. Kira is easy to keep pace with as well. I never felt like I was falling behind her knowledge or pulling too far ahead of her. Right alongside her I wondered what happened and who did what.
Everyone in this novel has secrets. Slowly, they are all forced to reveal them to the others. Instead of the suspense being broken now that everything is on the table, Kira still isn't sure who to trust and who's telling the truth. The tension continues to rise along with the stakes, and it makes for a superb and realistic ending.
The Almost Wife is unputdownable. From page one, Anderson-Dargatz pulls you in with one startling event after another, never giving Kira or the reader time to breath. The ability to do this while building the tension further without hitting a ceiling is masterly. It made the ending incredibly satisfying. More than once, I was convinced I knew what the ending would be. It didn't take long before I was given information to disprove my theory. I'm often able to figure out mysteries and thrillers before they end, but I was never sure with The Almost Wife. There were too many possibilities — and what appeared to be evidence against each one of them.
The Almost Wife is a thrilling tale of secrets, betrayal, and consequences. Gail Anderson-Dargatz weaves her story well, allowing the reader to feel each thrilling moment alongside Kira and Olive. I hope to see more novels in this genre from Anderson-Dargatz and I highly recommend picking up a copy at your local bookstore or library. You won't regret it.
*
Myshara Herbert-McMyn is a book reviewer and aspiring writer living in Kelowna. She runs the blog Lit&Leta. She holds a Bachelor of Arts in English and Creative Writing from Thompson Rivers University. Editor's note: Myshara Herbert-McMyn has also reviewed books by Samantha Knight, Shashi Bhat, Silvia Moreno-Garcia, S.M. Freedman, Sofi Papamarko, John O'Neill, Christina Myers, Paul Bae, and Ruth Daniell for The British Columbia Review. Previously, with her TRU mentor Ginny Ratsoy, she reviewed books by Roo Phelps and Tim Conley.
*
The British Columbia Review
Publisher and Editor: Richard Mackie
Formerly The Ormsby Review, The British Columbia Review is an on-line journal service for in-depth coverage of BC books and writers. The Advisory Board consists of Jean Barman, Wade Davis, Robin Fisher, Cole Harris, Hugh Johnston, Kathy Mezei, Patricia Roy, Maria Tippett, and Graeme Wynn. Provincial Government Patron (since September 2018): Creative BC. Honorary Patron: Yosef Wosk. Scholarly Patron: SFU Graduate Liberal Studies.
"Only connect." – E.M. Forster