1036 Kootenay Doukhobor family saga
Our Backs Warmed By the Sun: Memories of a Doukhobor Life
by Vera Maloff
Halfmoon Bay, Caitlin Press, 2020
$24.95 / 9781773860398
Reviewed by Ron Verzuh
*
Doukhobor Diaspora: A family oral history offers an antidote to past misunderstandings about the Russian sect
When I was in my teens, a terrible explosion rocked my West Kootenay neighbourhood. A 16-year-old boy had accidentally blown himself up while on a mission for the radical Sons of Freedom Doukhobors, a breakaway group from the usually peaceful Russian sect that had settled in British Columbia more than a century ago. It was a horrifying event that shook the community and marked me forever.
Now, Vera Maloff has returned to that time and given me new eyes with which to see the reasons and motivations behind that incident. More importantly, Maloff has given us a cultural guide to help us more clearly understand the people of this unique B.C. population.
The Doukhobors (translated as spirit wrestlers) practiced non-violence, vegetarianism, pacifism, communalism, and a particular brand of the Christian faith that broke with the Russian Orthodox Church. The difference in doctrine and their refusal to take up arms for the czar got them ostracized in their homeland. Thanks to the generosity of novelist Leo Tolstoy, who shared many of their beliefs, they escaped to Saskatchewan in 1899, then uprooted themselves to B.C. in 1908.
Maloff's book covers that history, tracking her family's connections to it, but her main subject is her grandfather Peter Maloff. She cautiously tiptoes around his admiration for the Svobodniki, the often-violent Sons of Freedom. In fact, grandfather Maloff seems to have successfully navigated within the confusion that marked the troubled relationships of the orthodox, independent and the Sons of Freedom Doukhobors. We never learn, for example, if he was a member of the radical sub-sect.
The Canadian authorities had no confusion. Maloff describes her grandfather's arrests, beatings, internments, and three years in prison. For the authorities Peter Maloff was breaking the law by refusing to register for military service. The book leaves the impression that Peter was a gentle old grandfather, pacifist, vegetarian, well-liked market gardener and studious intellectual who traded thoughts with the likes of Mahatma Gandhi and others.
The authorities, writes Maloff, were silencing him because he publicly objected to militarism and capitalism's excesses. Although not a Communist, it could not have helped his cause that he was associated with Canadian Communist Party leaders like Tim Buck and Nigel Morgan. Nor did he win friends in the Canadian Legion. They harassed Maloff and others and shunned the Canadian government for granting them immunity from military service. The family suffered as a result of this official harassment and the book documents that suffering.
"I often asked Papa why we had to have such a hard life," Maloff remembers, "why he had to he so outspoken all the time and why he had to go to jail. He told me that we could have had an easier life, but he spoke out against war so there wouldn't be any cripples or orphans, so that the children would have their dads, and that there must be a better way. But there was a price to pay." Maloff never hesitated to pay it.
Being from the same area as Vera, and growing up with many Doukhobor friends, I read the book with some of our formative experiences in mind. But I was also forced to think hard about my own views about Doukhobors in the early 1960s. What often surfaced as I read this family oral history were reminders of my own prejudices and those of local nativists.
Maloff describes growing up in Thrums, about 15 minutes from my home in Castlegar, noting the beauty of her surroundings. From Trail through to Nelson along the gorgeous Kootenay River many Doukhobor families settled and became market gardeners, farmers and mill workers.
She remembers harvesting raspberries and strawberries on the mountainside, tending and selling vegetables door to door, helping on market days in Nelson, spitting sunflower seeds, and eating her grandmother's delicious "borsh" (cabbage soup) and "Perrahee," a tart-like vegetarian pastry.
Some of the most touching parts of the book are about nature. For example, when her grandfather was under house arrest in very rural Blewett, he needed someone to deliver food. Maloff's aunt Luba was chosen and tells the story. She had to ford the Kootenay in a leaky craft, a harrowing adventure in itself. She stayed with him for several weeks, nursing him when he took sick. One evening, she sensed someone was at the cabin door. She opened it to find herself staring into the bright yellow eyes of a cougar.
But such cherished memories are joined by frightening ones of the RCMP putting children in residential school, of burnings and bombings, or of local institutional intolerance. Equally devastating were the winter internment of families at Porto Rico, an abandoned logging camp near Ymir, and the jailings of relatives for nude protests. Children like Maloff were constantly fearful and had little or no understanding of why any of it was happening.
The Maloffs generously welcomed strangers into their midst. Sometimes they came with malicious intentions. Maloff recalls Sasha Keersta, a spy for the RCMP Security Service (now CSIS), visiting the house to inform on them. Other times left fonder memories. Volodya Meeralyubov, a saintly man, came asking for food and shelter for the night and stayed for a lifetime bringing joy and wisdom to the family.
Maloff does not claim to be a historian nor does she offer us any academic analysis. That is available in many books, notably The Doukhobors by George Woodcock and Ivan Avakumovic, and Plakun Trava: The Doukhobors by Koozma Tarasoff. The short bibliography includes Peter Maloff's Doukhobors, Their History, Life and Struggles. Regrettably there is no index. However, Maloff supplies a helpful glossary and a genealogical chart.
Despite some factual errors (a wrong date, some confusion over locations), this is a sensitive retelling of the Doukhobor story, with strong emphasis on her personal journey into her family's struggle to settle in the Kootenay region to practice their Christian beliefs. Her research included a trip to Oregon where her grandfather spent part of his youth in one of two failed colonies.
One of the strengths of this recasting of the Doukhobor story is that it is done in a mostly female voice. It is a new and insightful addition that moves readers away from the usual accounts of violence, burnings, nude protests and government over-reaction. In this story of family love and perseverance, we learn of the suffering and resilience of Doukhobor families.
By sharing her family's turbulent past, Maloff has helped bring a deeper perspective to our reading of the Doukhobor experience. Although it is late in coming, it is a welcome antidote to some of the worse excesses of prejudice-driven writings like journalist Simma Holt's 1964 book Terror in the Name of God. Vera Maloff's Our Backs Warmed By The Sun is a unique oral history that belongs on school reading lists.
*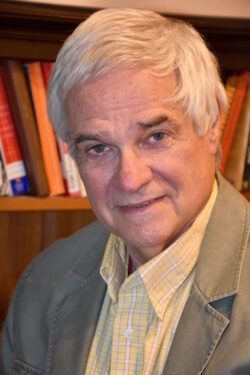 Ron Verzuh is a writer, historian and documentary filmmaker. Editor's note: Ron Verzuh has recently reviewed books by Peter Nowak, David Laurence Jones, Gary Steeves, Ian Haysom, John O'Brian, Scott Stephen, Christine Hayvice, Keith Powell, and Norm Boucher for The Ormsby Review.
*
The Ormsby Review. More Books. More Reviews. More Often.
Publisher and Editor: Richard Mackie
The Ormsby Review is a journal service for in-depth coverage of B.C. books and authors. The Advisory Board consists of Jean Barman, Robin Fisher, Cole Harris, Wade Davis, Hugh Johnston, Patricia Roy, David Stouck, and Graeme Wynn. Scholarly Patron: SFU Graduate Liberal Studies. Honorary Patron: Yosef Wosk. Provincial Government Patron since September 2018: Creative BC
"Only connect." – E.M. Forster
Please follow and like us: