1504 Lisa: a ray of hope
Close to the Bone: A Memoir
by Lisa Ray
Toronto: Penguin Random House Canada (Doubleday Canada), 2020
$24.95 / 9780385695725
Reviewed by Gurpreet Singh
*
A powerful memoir by a multifaceted personality, a supermodel, an actor, a cancer survivor, a traveller and a born writer restores faith in life and humanity in these difficult times.
Close to the Bone by Lisa Ray is an incredible story of a fighter woman that gives hope when the world is overwhelmed with so much hate and the future seems dark due to growing health challenges in a stressful social environment.
Born to an Indian father and Polish mother, the Canadian star Lisa Ray always wanted to be a writer, but ended up becoming an actor.
Her book takes the readers across the globe from Toronto, her hometown, to Mumbai, the financial capital of India and the city of Bollywood (Hindi cinema), where her journey began as an actor; besides many other places she had gone to explore the world and her inner self.
The story begins with her childhood memories from her early life that began in Toronto with her birth in 1972.
Both her parents were immigrants to Canada, father Salil Ray, a Bengali Hindu and mother Barbara Gallus, a Catholic from Poland. In her own words, her father was the first of his family to leave Calcutta. The couple met in Warsaw and married before moving to Canada.
Thus, the foundation of Lisa's cosmopolitan world view was laid by parents of mixed heritage. They both fondly named their child Lisa Rani Ray.
She showed early signs of her interest in writing and travelling. "I played a lot on my own, reading and writing short stories, capturing all the things that caught my attention in a journal," writes Lisa. She also reveals how she "dreamed of going to other places from a very young age, flipping through an old-fashioned folio-style atlas, memorizing the names of countries and capitals."
Perhaps the interest in venturing out was inherited from her parents who took her to Mumbai in 1991, but her becoming an actor was purely coincidental. She had even ignored a golden opportunity to work in the movies that came her way out of nowhere when Shekhar Kapur, a renowned film director approached her during a morning walk and handed her his card saying that she should be in the movies.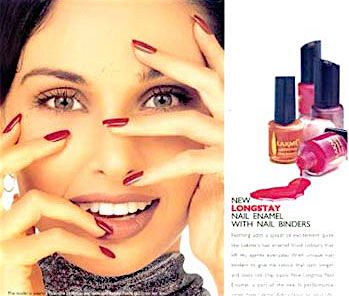 "How was a shy kid from a quiet home going to appear on a movie screen? I'd never even considered acting especially not in Hindi films." She actually flicked the card away.
However, she was eventually spotted by someone associated with Gladrags fashion magazine and persuaded to become a model. She never looked back after that and gradually became a seasoned model and later waded into the field of acting, first with South Indian films as a stepping stone, and then in Hindi movies.
All through this time, she continued to cause a sensation on TV screens with her beauty as a model for big brand names such as Lakmé and Bombay Dyeing.
It is interesting to note that she got a schooling in performing arts where she became a dedicated and successful actor.
The major turning point in her film career came with Water (2005), a Hindi movie made by Canadian director of Indian heritage, Deepa Mehta.
This film had stirred angry protests by the supporters of the currently ruling right wing Hindu nationalist BJP (Bhartiya Janata Party) government in New Delhi.
The movie was supposed to be shot in India with a different star cast, but things went in another direction due to the opposition by Hindu fundamentalists, who were outraged that the movie dealt with exploitation of widows in a conservative Hindu society.
The movie was finally shot in Sri Lanka with Lisa as the central character. Her role as Kalyani gave her an international recognition.
Her accepting the role was an act of courage back then, considering how the threat of the Hindu Right has grown over all these years in India. She recalls that:
Several great actors had been attached to the prestigious project, including Nandita Das and Shabana Azmi. But on day two of shooting in Varanasi, Hindu nationalists began to protest. Demonstrators took to the streets, tearing down the sets that had been built, and burning an effigy of Deepa. The state government did nothing to help, and officials finally shut down the production.
It is worth mentioning that the holy city of Varanasi is the constituency of the present Prime Minister Narendra Modi, under whom attacks on religious minorities and political dissidents have grown.
Without pulling punches, Lisa writes with a tone of warning about what she foresaw back then:
During this time, the right wing Bhartiya Janata Party was in power. They may have laid the groundwork for the economic liberalization of India, but they had a social agenda that promoted a troubling mindset which could be interpreted as either intolerant or as a segue for political control.
She also tries to differentiate between her brand of Hinduism from that of the narrow political Hinduism being practiced by the BJP supporters.
"My own beliefs draw from a version of Hindu philosophy that recognizes and honours the divinity in everything; that we are all parts of the same entity, or Brahma," she writes. It is a separate matter that later she turned to Buddhism.
Ray writes how deeply she was involved in Water as she tried to actually live like a rustic Hindu widow by spending time with village folks in Punjab and with a grassroots theatre group to get a sense of the role she was going to perform.
Her life took the most challenging turn when she was diagnosed with myeloma, a rare blood cancer, but as her story suggests she took it in stride. Not only did she begin writing a blog The Yellow Diaries, chronicling her health situation and looking the illness right in its face, she tried to relate with others less privileged who were battling with cancer:
I was deeply grateful to the universal healthcare system in Canada, along with my Actor's Union's coverage. It's not perfect but I was relatively financially comfortable. I did wonder about Canada's working poor, pulling off minimum wage jobs with no benefits. It made me think about where social compassion starts and stops. I began looking at the men and women brushing by me in the hospital, in and out of chemo day care with awakened empathy.
She also wondered about the impact of this illness on patients in relatively less resourceful India, where "the word cancer connotes death."
Lisa Ray is also candid about her love affairs and goes into the details of at least one highly abusive relationship. She finally found Jason Dehni, her Lebanese husband, who has written the afterword for the book. Authored in a creative non-fiction format, Close to the Bone moved this reader intensely when Ray describes her attachment to her parents, the accident that made her mother wheelchair bound, and her death years after.
One of the takeaways from this memoir is never to give up on your dreams, and Lisa Ray has proved this in her career and by penning her memoir. After all, it is never too late even to pursue your childhood passion, such as Lisa Ray's early interest in writing, and Close to the Bone is a stirring account of a life that embraces Canada, India, and Bollywood stardom.
*
Gurpreet Singh is an independent journalist and a broadcaster with Spice Radio (1200 AM) in Burnaby. He is also a newscaster and talk show host. He publishes Radical Desi, a monthly online magazine based in Vancouver that covers alternative politics, and he writes frequently for The Georgia Straight. He has published four books, all non-fiction, and is also a published fiction writer. He is a grassroots-level activist involved in various human rights and social justice campaigns. Editor's note: Gurpreet Singh has also reviewed books by Jinder Oujla-Chalmers and Gian Singh Sandhu for The British Columbia Review, and his biography of Kareena Kapoor Khan was reviewed recently by Harpreet Singh Sekha.
*
The British Columbia Review
Publisher and Editor: Richard Mackie
Formerly The Ormsby Review, The British Columbia Review is an on-line journal service for BC writers and readers. The Advisory Board consists of Jean Barman, Wade Davis, Robin Fisher, Cole Harris, Hugh Johnston, Kathy Mezei, Patricia Roy, Maria Tippett, and Graeme Wynn. Provincial Government Patron (since September 2018): Creative BC. Honorary Patron: Yosef Wosk. Scholarly Patron: SFU Graduate Liberal Studies.
"Only connect." – E.M. Forster
Please follow and like us: