#855 Rocky Mountain cooking
Rocky Mountain Cooking: Recipes to Bring Canada's Backcountry Home
by Katie Mitzel
Toronto: Penguin Random House Canada [Appetite by Random House], 2019
$25.00 / 9780147530981
Reviewed by Luanne Armstrong
*
I love reading cookbooks, especially in the winter, partly because in my community, every winter dinner is a potluck and also because winter just seems like a cold and hungry season. I do favour cook books that cook the way I cook; if I come across too many ingredients that I am not going to find in my small town, back on the shelf it goes.
I first started cooking with my mother when I was about five. We cooked farm food, and lots of it. We were self-sufficient pioneer farmers, so very early on I learned to clean chickens, make butter, whip up biscuits. My mother and my grandmother were both incredible cooks, but out of necessity. My grandmother left her husband, a scandal in a small town, and for a living, ran a boarding house for men. Then she got cancer and my mother had to leave school at twelve to cook for the men and run the boarding house. Both of them baked every day without a second thought — magical pies, cookies, cakes, buns flying out of the over. I can cook a huge meal for ten out of a few beans, flour and a bit of cheese, but given my druthers, I'd rather read. Now that I have no one to cook for except me, reading cookbooks is a great substitute for the real thing.
I do love cookbooks with stories and this one has good stories. I love the idea of backcountry cooking and this book has crackling good recipes that I can well imagine being served by an open fire in a log cabin high in the mountains. Although she was born in Ontario, Katie Mitzel grew a love of travel and cooking into a twenty-year career cooking for backcountry lodges in the Canadian Rockies.
Often such places have to offer both inventive and tasty food made from basic ingredients that have to be flown in or packed in or hauled into off-grid lodges. No running off to the supermarket in these places; the cook works with what she has and if she runs out, she invents something. My only quibble with this book is that, as with most cookbooks derived from restaurants, there are a few tried and true and reliable recipes, but always with that stamp of something that will appeal quickly to a large number of people.
I once spent some time every summer volunteering or leading workshops in an off-grid camp. The cook there made three enormous vegetarian meals every day for the twenty to thirty campers and staff, with only a propane stove and all ingredients safely locked away in glass jars or plastic bins. Yoan Benoit, the camp cook when I was there, was a veteran of cooking in tree planting camps, and the speed with which she produced salads, buns, entrees, desserts, and got them to the table was mind boggling. I tried to "help" but I think I mostly got in the way.
Mitzel's book begins where all good backcountry cooking must begin; with a hearty breakfast. Breakfast can be an interesting challenge; not everyone is interested in eating when they first get up. I know I have to snog down a coffee and a bit of reading before food can appeal, but I think if I woke up to this combination of muffins or caramel buns or baked Huevos Rancheros, my interest would be perked by more than coffee. Coffee and oven fresh muffins are an irresistible combination but you can really only get over fresh muffins if you bake them yourself or get up early enough to chat with the cook while she takes them out of the oven.
Lunch is always problematic; there are lunch eaters and snackers. I'm either an on-the-go snacker or a Sunday waffles-with-bacon-and ham kind of girl. But Mitzel's book provides us with both tea time snacks such as Lemony Lavender Buttermilk Cake (yes, I made it and it's amazing) or Zigademus crackers with beet hummus and many others.
So then for lunch is a whole variety of truly hearty soups, and while I love soup, it's a lot of work to make and so it is generally my happy go-to in restaurants.
And bread: who can resist a variety of piping hot fresh bread? I do love baking bread and rarely have a good excuse to do so these days, so reading these recipes was a combination of longing and thinking, "hmm, summer is coming, maybe time to try something new." Quinoa bread. Seed bread. Or backcountry sourdough bread.
Another thing I much appreciated in Rocky Mountain Cooking is the absence of emphasis on meat. While there is a chapter on meat and fish, there is also a longer chapter termed "Sides and Satisfiers," which contains both interesting vegetable ideas but also veggie dishes that could just as easily be entrees, using ingredients such as quinoa, chickpeas, and kale, and a grown-up version of mac and cheese.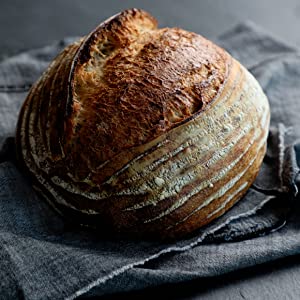 This is a good cookbook to add to your collection, if you are one of these people, like me, who have too many cookbooks and use big dinners as an excuse to leaf through a pile of them for inspiration and ideas. And because this cookbook contains recipes from backcountry lodges, everything is easily expandable, relatively simple, but always interesting. For example, arancini with vodka marinara had me going hmm, what's that like?
And the other great thing about this book? Photographs: lots and lots of beautiful photos of mountains and wildlife. Which makes it even more of a pleasure for dreaming over, perhaps with a coffee and a fresh hot muffin on the side.
*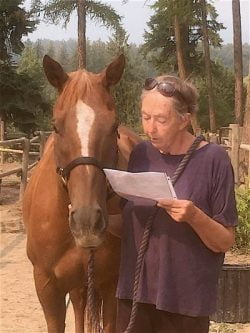 Luanne Armstrong has written 21 books. She writes young adult book, fiction, nonfiction and poetry. She has contributed to many anthologies and edited a Canadian non-fiction anthology called Slice Me Some Truth (Wolsak and Wynn, 2011). She has been nominated or won many awards, including the Moonbeam Award the Chocolate Lily Award, the Hubert Evans nonfiction Book award; the Red Cedar Award, Surrey Schools Book of the Year Award, the Sheila Egoff Book Prize, and the Silver Birch Prize. Luanne lives on her hundred year-old family farm on Kootenay Lake. She mentors many emerging writers all over the world on a long term basis, and in the last three years has edited eight books through to publication. Her last book was Sand, a young adult book for Ronsdale Press. A Bright and Steady Flame, The Story of an Enduring Friendship, was published by Caitlin Press in 2018 [and reviewed by Lee Reid in The Ormsby Review, no. 418, November 9, 2018 – Ed.]. She is now working on a book of essays, Going to Ground, as well as a new book of poetry, When We Are Broken.
*
The Ormsby Review. More Books. More Reviews. More Often.
Publisher and Editor: Richard Mackie
The Ormsby Review is a journal service for in-depth coverage of B.C. books and authors. The Advisory Board consists of Jean Barman, Robin Fisher, Cole Harris, Wade Davis, Hugh Johnston, Patricia Roy, David Stouck, and Graeme Wynn. Scholarly Patron: SFU Graduate Liberal Studies. Honorary Patron: Yosef Wosk. Provincial Government Patron since September 2018: Creative BC
"Only connect." – E.M. Forster
Please follow and like us: