#829 A pre-Covid foodie flyabout
Footprints of a Foodie
by Tanya dePape
Victoria: FriesenPress Publishers, 2019
$30.99 / 9781525548307
Reviewed by Natalie Lang
*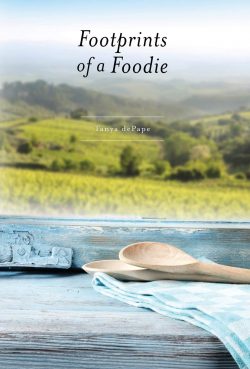 Have you ever felt the need to uproot your life, visit a far off place, and reboot your perspective? Vancouver Island clinical counsellor Tanya dePape, in the wake of a divorce and several failed attempts at braving the online dating world, decided to do just that. But she wouldn't do it in an ordinary way. Over the years, dePape had learned that food and flavour were her go-to tools to achieve balance in the wake of chaos. So, with food on her mind and in her itinerary, she booked a flight overseas from her small island town.
The first place she went would be one where she could feast — and this would be only the beginning. In true Eat Pray Love style, dePape writes in Footprints of a Foodie about her journey through Italy, Spain, France, Vietnam, Cambodia, and Thailand. Along the way, while comparing her life and emotional strength to Nina Simone's moody song catalogue, dePape would discover incredible recipes, eating experiences, and a much needed renewed view on life. Her travels brought her home "full, fine, and happy."
As a food blogger and self-declared foodie, dePape had always been able to find her happy place in the kitchen. Adorned in an apron, sipping a glass of wine, and twirling about to musical notes and sizzling foods, her kitchen was where she allowed herself to break all the rules. She experimented with flavour, colour, and texture, inserting her own spice of life into everything she made. Cooking had become, through the years, a way to free herself from the "relentless need to figure out [her] life." When her marriage fell apart, and an incredible sense of loss and restlessness set in at her failure to find connection in her life, she realized that she alone was responsible for her own happiness. Unwilling to feel stuck any longer, and itching for a way to reinvigorate herself, she looked first to Europe for a way to test her resiliency and resourcefulness and inject a fresh view on the joy of being alone. With the blessings of her friends and family, dePape set off in search of new flavours, new stories, and new ways of interacting with life.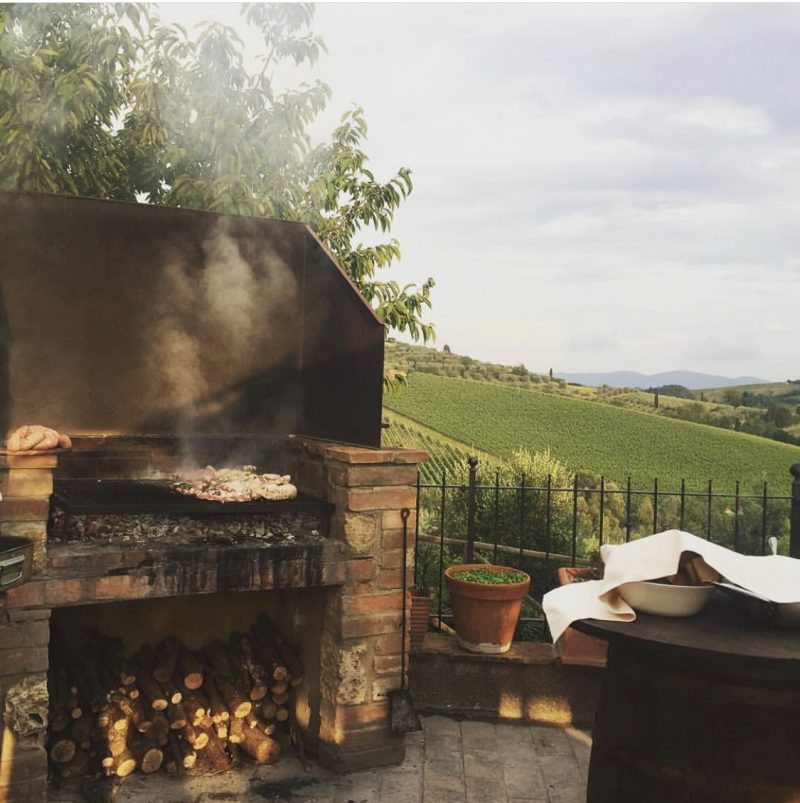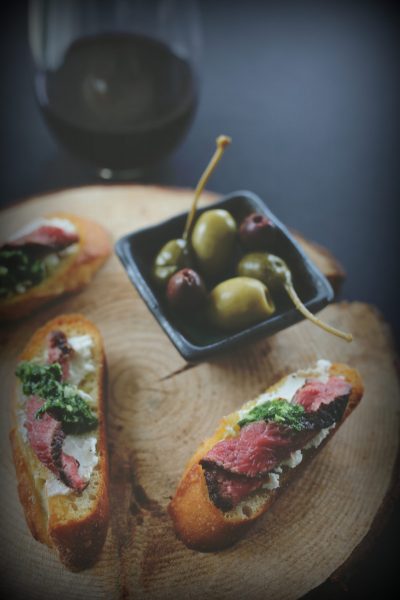 dePape began her excursion in San Gimignano, in the heart of Tuscany. At a country vineyard hotel called Torre Palagetto, she basked in the glow of the warm Tuscan sun. With rolling vineyards, ancient cobbled streets and stone houses, free flowing wine and hearty Italian Food, dePape began to experience the true simplicity of good food. She describes how she learned to live in the quiet stillness of one moment, while in the next she stuffed her face with glorious meals as chefs, waiters, and customers gawked at her uncensored appreciation of delicious Italian flavours. She describes the quintessential Italianness of the food, cafes, and towns first in San Gimignano and then in Sienna, Florence, and Venice, and often in sublime terms. dePape writes in intimate terms as if to an old friend about her incredible experiences, which included an Italian love affair. She writes about normal travel blunders, like becoming ridiculously lost and feeling desperately alone in a foreign country. This is balanced by descriptions of eating the most bountiful foods, taking cooking classes, and traipsing around the Italian countryside.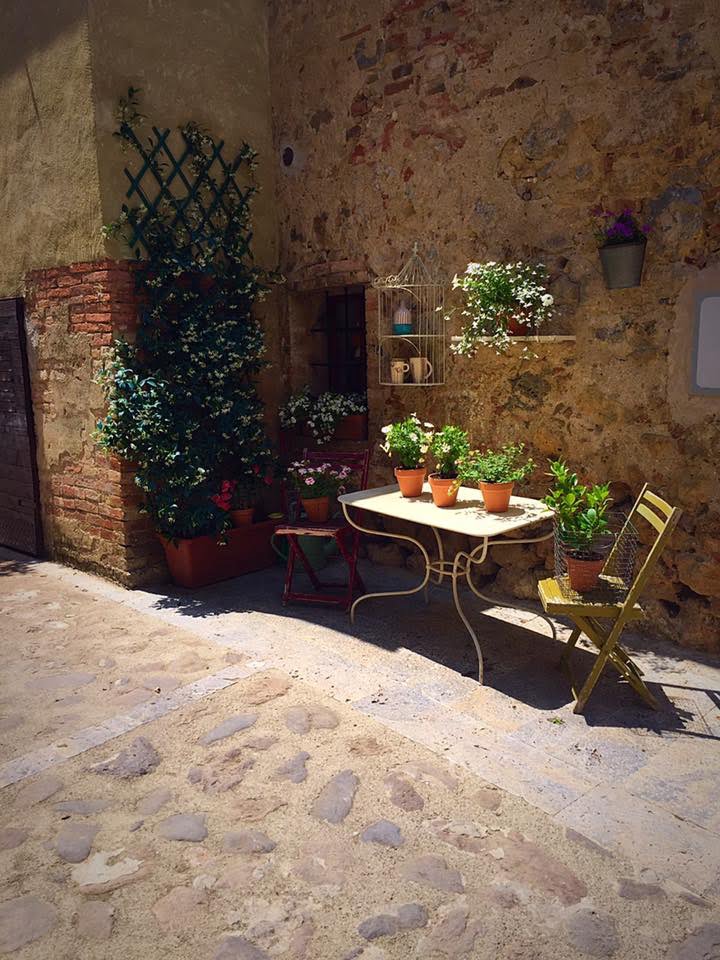 As she journeyed deeper into her own self discovery, dePape continued through Spain and France, eating, cooking, and getting to know these ancient countries and their remarkable cuisines before returning home. It wasn't long after returning to the West Coast that she caught the travel bug once again. She felt her learning curve wasn't complete and that she needed an even more drastic perspective change, so she booked a flight to South Asia. Of course, as those who have travelled may know, and those who have not can certainly imagine, venturing around a place that you don't call home is bound to provide a few valuable lessons along the way.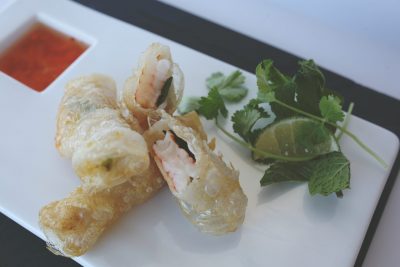 One such lesson arrived in Hanoi, Vietnam, where dePape, after witnessing a street vendor resell her unfinished bowl of noodle soup, was harshly reminded of the well known notion of "waste not, want not." When surrounded by abundance and the means never to be without, we can forget just how much we have. As dePape astutely points out, unless we are actively aware of the waste we produce, it rarely crosses our minds. Other points of humility drifted into dePape's consciousness throughout her trip as she stayed in small and cramped hotel rooms, spoke to locals, or gestured for what she needed when there wasn't a common language. All the while, she studied how to cook with simple and fresh ingredients in a masterful way. On the surface, the food did not look refined or beautiful, but the craft involved in preparing and cooking was, for dePape, next to divine. She began to understand the passion involved in mastering the skill of cooking, and that simply passing recipes down through the generations was something important to aim for.
From the front cover, through each page and chapter of her story, Footprints of a Foodie is well organized and easy to follow. Along with beautiful descriptions of where she travelled, insightful comments into her mind and heart, discussions of vulnerability, fear, and uncertainty, and commentary on how she came to be in each place, dePape writes about food in such a way that brings people, food, towns, and countries to life. From the Italian waiter who sped her around on his Vespa to his favourite bars and restaurants, to typically French attitudes towards food and l'étranger, and even to learning the food customs in South Asia, she discovered that it really is the people who add flavour to the dishes set before us.
To help her story and experiences come to life, dePape includes recipes from each place she visited. As readers, we can follow her journey toward gustatory living through the recipes she includes here. We can visit Italy when we make Lemon Ricotta Ravioli with Sage and Brown Butter Sauce. From Spain, we can experiment with Tapas through tasting Steak Pintxos with Chimichurri Sauce. We can make an Olive Loaf and imagine we are walking the streets of Paris. Or we can visit South Asia through our tastebuds as we munch Prawn Springrolls and Beef Pho. Just following dePape on her journey is enough to make your mouth water, and her experiences provide the example and incentive to embark on similar culinary walkabouts.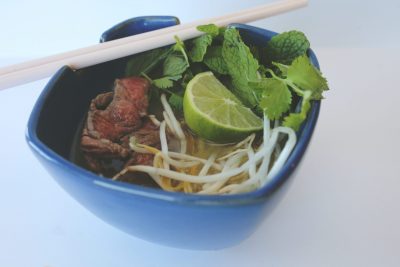 Footprints of a Foodie is a healthy combination of honest self reflection and the joys and splendours of travel. By being candid and unguarded in her writing, dePape gives readers full permission to admit their own vulnerability and make the necessary changes to follow their bliss in whatever avenue they may discover. Of course, for dePape, that avenue is food, as represented in her recipes, which act as markers for each place she visits, every experience she has, and every lesson she learns.
Beyond the basics of cooking and eating, Tanya dePape reveals her passion for food, especially the magical qualities that simple foods curate when made with care and love. Footprints of a Foodie is enough to make me want to plan my own trip in which food becomes the driving force of where to go, what to do, and how to be.
*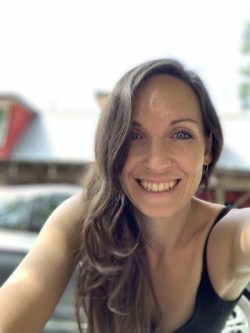 Natalie Lang is a teacher at Rick Hansen Secondary in Abbotsford. She graduated from the University of the Fraser Valley with a Bachelor of Arts degree in English Literature and Anthropology and then completed the PDP (Professional Development Program) and Bachelor of Education at Simon Fraser University. She is now a master's student in the GLS (Graduate of Liberal Studies) program at Simon Fraser University. Natalie lives to the beat of her own drum, allowing experience and life circumstances to help determine where she goes, what she does, and how she lives. As such, she has lived in China, walked across Spain, and travelled to many areas of the world. Natalie now lives in a renovated barn in the Fraser Valley where she can be found studying for her GLS classes, designing lessons for her students, listening to records, and dabbling with her own experiments in writing.
*
The Ormsby Review. More Books. More Reviews. More Often.
Publisher and Editor: Richard Mackie
The Ormsby Review is a journal service for in-depth coverage of B.C. books and authors. The Advisory Board consists of Jean Barman, Robin Fisher, Cole Harris, Wade Davis, Hugh Johnston, Patricia Roy, David Stouck, and Graeme Wynn. Scholarly Patron: SFU Graduate Liberal Studies. Honorary Patron: Yosef Wosk. Provincial Government Patron since September 2018: Creative BC
"Only connect." – E.M. Forster