1939 Remarkable journey of courage
Antarctic Pioneer: The Trailblazing Life of Jackie Ronne
by Joanna Kafarowski
Toronto: Dundurn Press, 2022
$25.99  /  9781459749535
Reviewed by Amy Tucker
*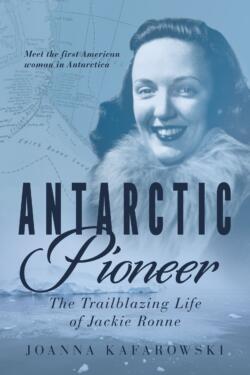 Prepare to embark on an awe-inspiring adventure as author Joanna Kafarowski takes us on a captivating exploration of one of the most remarkable women in the history of polar exploration in her book Antarctic Pioneer: The Trailblazing Life of Jackie Ronne. With meticulous research and a narrative style that keeps you hooked from start to finish, Kafarowski deep-dives into the extraordinary achievements of Jackie Ronne, a true trailblazer who defied societal norms and ventured into the harsh and unforgiving landscapes of Antarctica. Get ready to be inspired by the resilience, determination, and groundbreaking contributions of Ronne as we uncover the untold stories of her incredible journey.
Kafarowski begins by immersing us in the early life of Jackie Ronne, revealing the influences and experiences that shaped her indomitable spirit. From there, we are taken on a thrilling expedition through Ronne's involvement in the Ronne Antarctic Research Expedition (RARE) from 1946 to 1948. Through Kafarowski's vivid storytelling, we witness the challenges, triumphs, and personal dynamics that defined this extraordinary expedition. The author also delves into Ronne's post-expedition work advocating for Antarctic research and her enduring contributions to the scientific community.
One of the remarkable strengths of Kafarowski's book is her ability to bring Jackie Ronne to life as more than a historical figure. With thorough research and attention to detail, the author paints a vivid and relatable portrait of a woman who defied societal expectations and blazed her trail in a male-dominated field. Ronne becomes a beacon of inspiration as her story unfolds, reminding us of the power of determination and resilience in facing adversity. Kafarowski's narrative style is captivating, weaving together historical context, scientific discoveries, and personal anecdotes to create a rich tapestry that keeps readers engaged.
Kafarowski is also able to humanize Jackie Ronne. The author brings Ronne to life as a relatable and inspiring figure through research and interviews with those who knew her. We witness Ronne's struggles, triumphs, and moments of self-doubt. By diving into Ronne's thoughts, emotions, and motivations, Kafarowski creates a deeply personal connection between the reader and the subject, making this biography a genuinely immersive and transformative experience.
While Antarctic Pioneer succeeds in portraying Jackie Ronne's journey with great depth, some readers may find that the book falls short in providing a comprehensive analysis of the more significant social and cultural barriers faced by women in polar exploration during that era. A deeper exploration of the gender dynamics and the broader context of Ronne's experiences could have further enriched the narrative and highlighted the significance of her achievements in breaking down barriers for future generations. However, despite this limitation, the book remains a compelling and inspiring account of Ronne's extraordinary life.
Antarctic Pioneer leaves readers with several valuable lessons and takeaways. Above all, it highlights the indomitable spirit and resilience of Jackie Ronne, reminding us that with determination and perseverance, we can overcome even the most daunting challenges. Ronne's journey is a shining example of the power of passion and dedication, illustrating how they can lead to groundbreaking achievements, even in the most inhospitable environments. Additionally, Ronne's advocacy for scientific research in Antarctica underscores the importance of environmental conservation and the pursuit of knowledge, inspiring readers to advocate for our planet.
Antarctic Pioneer will captivate diverse readers. Enthusiasts of polar exploration will appreciate the detailed historical accounts and gain unique insights into the challenges of early Antarctic explorers. Women's history enthusiasts will find Jackie Ronne's story inspiring, as she shattered gender barriers and left an indelible mark on the field. Ronne's remarkable journey will engross anyone seeking a captivating biography filled with stories of resilience, adventure, and human triumph.
The book also sheds light on the significant contributions of women in the field of Antarctic exploration. By highlighting the achievements of Ronne and her female counterparts, Kafarowski challenges the traditional narrative that often sidelines women's contributions to history. The stories of these trailblazing women serve as a powerful reminder of the immense talent and resilience women have brought to the world of exploration, often against formidable odds.
Furthermore, Antarctic Pioneer is a call to action for environmental conservation. Ronne's dedication to scientific research in Antarctica and her advocacy for preserving the continent's pristine environment are reminders of the urgent need to protect our planet. Her work reminds us that pursuing knowledge and preserving our natural world are intertwined and should be at the forefront of our collective consciousness.
The book also presents valuable lessons that extend beyond polar exploration. Ronne's unwavering determination, resilience, and passion serve as a beacon of inspiration for anyone facing obstacles in their own lives. Her story encourages us to pursue our dreams relentlessly, even in the face of societal norms and expectations. Ronne's relentless pursuit of her goals reminds us that we can overcome even the most daunting challenges with passion, dedication, and perseverance.
Antarctic Pioneer: The Trailblazing Life of Jackie Ronne is a captivating and inspiring biography that celebrates the extraordinary achievements of a pioneering woman in Antarctic exploration. Kafarowski's punctilious research, engaging storytelling, and attention to detail make this book an immersive and transformative experience for readers. Whether you are drawn to adventure, fascinated by history, or seeking inspiration from trailblazing women, this book is a must-read. Prepare to be captivated by the indomitable spirit of Jackie Ronne as her remarkable journey unfolds, leaving an indelible impression on your heart and mind. I highly recommend this book.
*
Amy Tucker is an instructor at Thompson Rivers University with a diverse educational background, including expertise in leadership, organizational behaviour, sustainability and ethics, and human resource management. In her spare time, she loves to read and enjoy adventures in her travel van, lovingly named "Vanish." [Editor's Note: Amy Tucker recently reviewed the work of Martha Piper & Indira Samarasekera for The British Columbia Review.]
*

The British Columbia Review
Interim Editors, 2023-24: Trevor Marc Hughes (non-fiction), Brett Josef Grubisic (fiction)
Publisher: Richard Mackie
Formerly The Ormsby Review, The British Columbia Review is an on-line book review and journal service for BC writers and readers. The Advisory Board now consists of Jean Barman, Wade Davis, Robin Fisher, Barry Gough, Hugh Johnston, Kathy Mezei, Patricia Roy, Maria Tippett, and Graeme Wynn. Provincial Government Patron (since September 2018): Creative BC. Honorary Patron: Yosef Wosk. Scholarly Patron: SFU Graduate Liberal Studies. The British Columbia Review was founded in 2016 by Richard Mackie and Alan Twigg.
"Only connect." – E.M. Forster