1929 Perseverance in a closed community
Stillwater
by Darcy Friesen Hossack 
New Westminster: Tidewater Press, 2023
$22.95 / 9781990160202
Reviewed by Candace Fertile
*
Darcy Friesen Hossack's debut novel, Stillwater, plays on her own Mennonite and Seventh-day Adventist (SDA) background. The main character, Lizzy, a teenage girl with aspirations of a medical career, is forced to move with her family to the Okanagan commune of Stillwater by her Adventist father Daniel. Lizzy's mother, Marie, who grew up Mennonite, is dominated by her husband. This family is not happy.
Hossack (Mennonites Don't Dance) does an excellent job of incorporating information about the religious beliefs and numerous restrictions of the commune. By revealing the commune's Adventist principles, she does something similar to what Miriam Toews does with a Mennonite town, but absent the humour. Events take place during the Covid epidemic, so it's fascinating to see how religious belief affect medical decisions; and as Lizzy has a love of science, she is constantly at odds with the prevailing powers of her small world. All she wants to do is continue her education and get out of Stillwater. However, she loves her mother and younger brother Zach and wants to protect them as well.
When the novel opens, Daniel has forced his family to visit the commune. On the way home to Kelowna, he drives too fast and his car crashes into a lake. Daniel takes Zach to the shore while Lizzy frees an unconscious Marie from her seatbelt and the rising water. It appears that Daniel is prepared to abandon his wife without checking to see if she is all right. And she isn't. While she survives, her hands have been shattered, and her life becomes a torment of physical pain alleviated by morphine and a subsequent drug addiction.
The various levels of suffering in this novel are endless, and oddly one of the most peculiar challenges is food. Because Lizzy has a recipe box assignment from her home economics class at her SDA school in Kelowna, she collects and writes down recipes. Adventists are vegetarian, which seems like a healthy and environmentally wise choice, but the food that is described is not appealing and sometimes just ghastly. It's often comprised of ultra-processed ingredients. Marie has given up her meat-eating past to comply with her husband's Adventist views. Lizzy develops her interest in science because of a teacher who secretly encourages her.
Lizzy is an exceptionally thoughtful teenager. Without the encouragement of her teacher, it's hard to know what she would believe. When a woman at Stillwater is appalled to learn that Marie ate pork growing up, Lizzy feels the weight of secrets: 
"If only Lizzy could tell them both that she had an after-school job at a butcher shop. But then her father would find out, and that would be the end of that and a whole lot of other things, like ever leaving the house again. Worse it would be the final push he needed to move their family here." 
Lizzy has the job because she wants to learn about anatomy. The contradictions in Lizzy's world pile up. Daniel is a nurse but has succumbed to various conspiracy theories about the vaccine. 
The novel is a testament to a young woman's perseverance. Lizzy struggles to find a way out of the mess the family is plunged into, and while she does manage to find a strategy, the conclusion seems a bit forced and maybe farfetched. Stillwater is a difficult read because of all the suffering, but it's also hard to put down because of its exposure to a world many people have never seen. 
*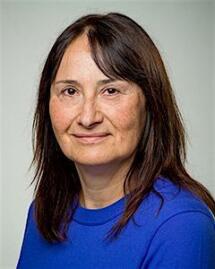 Candace Fertile has a PhD in English literature from the University of Alberta. She teaches English at Camosun College in Victoria, writes book reviews for several Canadian publications, and is on the editorial board of Room Magazine. [Editor's note: Candace Fertile has recently reviewed books by Robin Yeatman, Emi Sasagawa, Patti Flather, Peter Chapman, Janie Chang, Pauline Holdstock, Ava Bellows, Beth Kope, Geoff Inverarity, and Angélique Lalonde for BCR.]
*

The British Columbia Review
Interim Editors, 2023-24: Trevor Marc Hughes (non-fiction), Brett Josef Grubisic (fiction)
Publisher: Richard Mackie
Formerly The Ormsby Review, The British Columbia Review is an on-line book review and journal service for BC writers and readers. The Advisory Board now consists of Jean Barman, Wade Davis, Robin Fisher, Barry Gough, Hugh Johnston, Kathy Mezei, Patricia Roy, Maria Tippett, and Graeme Wynn. Provincial Government Patron (since September 2018): Creative BC. Honorary Patron: Yosef Wosk. Scholarly Patron: SFU Graduate Liberal Studies. The British Columbia Review was founded in 2016 by Richard Mackie and Alan Twigg.
"Only connect." – E.M. Forster
Please follow and like us: