1923 A complex path to justice
The Fierce: The Untold Story of the Teenager Who Took on the Worst War Criminal Living in America
by Judy Piercey
Cheltenham, UK: The History Press, 2023
£20.05  /  9781803991153
Reviewed by Peter Hay
*
The Holocaust was not a single event, confined to a singular city or country, nor was it caused by one deranged individual in Germany. It was perpetrated in many places by a large number of people, some of whom managed to elude justice after the Allied victory in 1945. A small remnant of the millions of their victims also survived and fled the scenes of unimaginable persecution and suffering.
And sometimes it came to pass that a fugitive mass murderer would end up living quietly in a place far away from Europe but in close proximity to the families of Holocaust survivors. Judy Piercey's new book uncovers one of the most notorious but almost forgotten cases that played out in California in the 1970s: the story of a 19-year-old boy who took it on himself to expose one of the worst criminals to escape after the Second World War – a man whose name should be as well-known as that of Eichmann.
The boy was David Whitelaw, the child of Harry, a veteran of the Merchant Marine, and Judith, a Jewish refugee from Germany, who lost 76 of her relatives in the Holocaust. Harry and Judith were living the American dream of the post-war boom in Orange County, California, where their three sons were born. David was the middle child, born in July 1955, just five days after Disneyland opened in nearby Anaheim.
Many – perhaps most – survivors don't speak about the horrors they lived through, and especially not to their children. Judith was different; David would say later that he was imbued with the Holocaust like mother's milk. And it gave him strength and purpose when he discovered that Andrija Artukovich, sometimes called the Butcher of the Balkans, or Himmler of Croatia, was living illegally in America only a few miles from David's parental home.
Artukovic was a member of the nationalist group Ustasha which sought Croatian independence during the 1930s, using terrorist tactics. After Hitler invaded Yugoslavia in April 1941, the Axis powers installed a Fascist government, largely recruited from the Ustasha. Their leader was Ante Pavelic, who appointed Artukovic as his Minister of the Interior. They immediately set to work on ethnic cleansing to rid Croatia of Serbs, the Roma, and the Jews.
Artukovic forced members of these dispossessed minorities into concentration camps, where they were starved, tortured, and murdered. The number of victims is disputed, with estimates starting at 100,000 and reaching as high as 770,000. But the Ustasha did not simply imitate the Nazis, they wanted to emulate them. Their savage, wholesale slaughter of unarmed civilians, including children, prompted even some SS witnesses to lodge complaints with Berlin headquarters.
The so-called Independent State of Croatia came to an abrupt end with the Allied victory on May 8, 1945 and members of the Pavelic government fled to Austria. With help from the Vatican, among others, Artukovic and his family managed to escape and enter the United States under false names and passports. The postwar Yugoslav government tried to get him extradited to stand trial, but anti-Communist sentiments ran so high during the Cold War that it would take US authorities almost forty years to expel and repatriate Andrija Artukovic.
David Whitelaw was in junior high school when he and his mother became aware of the Jewish Defense League, which had embraced militant methods to hunt down some of the perpetrators of the Holocaust hiding in plain sight in America. One of their chief targets was Artukovic.
David and Judith were drawn to the JDL and to Irv Rubin, its charismatic leader in Los Angeles, because they were willing to take action. Mother and son joined demonstrations, handed out leaflets and attended meetings. But such legal protests did not bring tangible results. People like Artukovic lived in a gated community, shielded by neighbours, members of Congress and high-ranking Catholic officials.
David's frustration grew the more he became involved with the JDL, and one day he joined a plot. He found out that Andrija Artukovic was coming to stay in Los Angeles with his brother John, who actually supported him and his family financially. David decided to torch his car outside his brother's house in the middle of the night.
Judy Piercey's book begins with that episode, and how it all went wrong. David and an accomplice, who may have betrayed him, managed to set a vehicle ablaze, but the police were waiting in the bushes, ready to arrest them on charges of arson and terrorism.
At first it looked like David had thrown away his whole life with a Molotov cocktail before it had hardly begun. His hope of going through college and becoming a doctor evaporated. Much of the book is about his tortuous journey through the justice system, which finally caught up also with Artukovic. That was in large part due to David's crime and his subsequent imprisonment which drew an unwelcome parallel with a mass murderer getting off scot-free.
In the end, Artukovic was deported in 1986 to Yugoslavia where he was sentenced to death and died two years later in a prison hospital. David went on to university but did not become a doctor because he could not stand the sight of blood. He devoted his life instead to teaching small children. He also provided much of the material for the book.
Judy Piercey, a seasoned journalist, broadcaster and documentary film-maker, took his story and researched the bloody history behind it. This is her first book, conceived as part of a film project after she retired from the CBC, and it is expertly and authoritatively written. The compelling story flows like a novel with fully realized characters and the past brought vividly alive.
However, The Fierce is not a novel but history, and one must wonder why the publisher, The History Press in the UK, did not include an index, which I believe most non-fiction books need. And especially one that deals with such a complicated history.
But that is a minor complaint and usually beyond the author's control. In her own domain of weaving together two individual fates that stand for different worlds and the duality of human nature, Piercey is a master. And a clue to that duality is hidden in the title.
On the inside cover, Judy Piercey provides two definitions for 'fierce'. One is: 'savage, predatory and violent aggressiveness.' Another is 'a powerful and passionate heartfelt intensity.' That juxtaposition provides the conflict between the two protagonists in her story. She leaves no doubt in the end about which of the two won.
*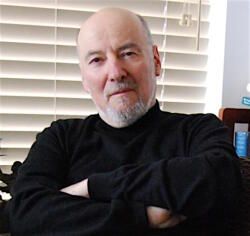 Peter Hay was born in Budapest and survived the final year of the Holocaust as a hidden baby. He is the author of several books, including Ordinary Heroes: The Life and Death of Chana Szenes, Israel's National Heroine. After working in theatre, publishing and academia in Canada and California, he now lives in Summerland, BC. [Editor's note: Peter Hay has also reviewed books by Timothy Christian,  Joe Gold and Robert Krell for The British Columbia Review.]
*
The British Columbia Review
Interim Editors, 2023-24: Trevor Marc Hughes (non-fiction), Brett Josef Grubisic (fiction)
Publisher: Richard Mackie
Formerly The Ormsby Review, The British Columbia Review is an on-line book review and journal service for BC writers and readers. The Advisory Board now consists of Jean Barman, Wade Davis, Robin Fisher, Barry Gough, Hugh Johnston, Kathy Mezei, Patricia Roy, Maria Tippett, and Graeme Wynn. Provincial Government Patron (since September 2018): Creative BC. Honorary Patron: Yosef Wosk. Scholarly Patron: SFU Graduate Liberal Studies. The British Columbia Review was founded in 2016 by Richard Mackie and Alan Twigg.
"Only connect." – E.M. Forster
Please follow and like us: