1919 Mars, mirth, metadata
Girlfriend on Mars
By Deborah Willis
Toronto: Hamish Hamilton, 2023
$34.00 / 9780670069583
Reviewed by Theo Dombrowski
*
With a nod and wink, Vancouver's Deborah Willis titles her story about a preposterously engineered mission to terraform Mars Girlfriend on Mars. The wonderfully lightweight word "Girlfriend" plays with the discrepancy between the gravity of a real mission and this weird and wonderful story. At the same time, it signals the fact that this is a tale, importantly, about a love relationship. Or more properly, two love relationships. Or even more properly, three love relationships. Sort of.  
And lest any cynical reader think that the author decided to spice up her story about a mission to Mars by grafting onto it a hefty dose of romance (after all, it's been done before), arguably this does exactly the reverse. Arguably, that is, Willis (The Dark and Other Love Stories) has written a book about the intricately complex emotional and psychological links between deep-feeling people and onto it grafted (cleverly, richly) a story about a Mission to Mars.
Except, really, just as Jaws isn't actually a film about a shark, this book isn't actually about Mars. In terms of any real depth of purpose, it is actually about Planet Earth. And, even more fundamentally, it is about humanity and what in heaven's name we (or they) are doing to Planet Earth. Humanity? Jonathan Swift, author of the eighteenth century pseudo-travel adventure Gulliver's Travels, provokes one of his characters to say to Gulliver (about Europeans), "I cannot but conclude the Bulk of your Natives to be the most pernicious Race of little odious Vermin that Nature ever suffered to crawl upon the Surface of the Earth." This famous and deliciously vicious bit of misanthropy is usually accompanied by some cautionary muttering about the fact that, in spite of Swift's misanthropy, he really was very fond of some individuals.  
Cue Deborah Willis. Anyone who comes away from Girlfriend on Mars feeling good about humanity has really, really missed the boat. Anyone, though, who comes away from the book without sensing the author's intense empathy for (some of) her central characters—both lovable and lamentable—has equally missed out on the book's most penetrating and moving impact.
How does first-time novelist (but well-published short story writer) Willis achieve a unified impact from this complex admixture of ingredients?  This can be appreciated by looking at these two main elements separately—first, the bleak view of humanity, and, second, the filigreed depiction of characters. 
And what exactly is so bad about humanity? Whereas Swift took aim primarily at humanity's vicious cruelty, Willis takes aim at two other of our grossest failings. First is the rather obvious fact that the only reason a mission to terraform Mars even begins to make the tiniest shred of sense is that Earth is becoming increasingly uninhabitable. Here, rather than directly indicting general human consumerism, obliviousness, and greed, Willis targets the Captains of Industry, their lackey political leaders, and, together, all of their pomp. "It's not humanity," says protagonist Kevin, "It's specific human beings. It's billionaires and their shareholder friends and the politicians who live in their pockets."
Second, and both more superficial and yet more far reaching, is humanity's current fatuous fascination with media and, concomitantly, all of the calamitous absurdity to which it gives a vast, choric voice.
Two main structural and story-laced elements allow Willis to achieve these ends. The first is Kevin. Kevin, you see, is a pothead, and (illegal) grow-op manager. He's also a failed writer (the self-referential irony often surfaces). As the first person narrator of every second chapter, he also happens to have the readers' ear. And, goodness, does he not know how to take advantage of that privilege. His capacity for rhetorically resonant high dudgeon (Willis makes sure) is powerful. Not occasionally, but repeatedly, he musters both details and generalizations and combines them with irony and outrage to blinding effect. In his words, for example, we suffer from the "exploitation-industrial complex, the religion of fame, the consumerist wet dream, the delusion of repairing a dying world through rocket ships." 
Yet Willis doesn't overplay her hand. Rather than elevate Kevin to the position of a Jeremiah she makes him a deeply flawed little man floundering his way through his off-kilter life. He suffers a breakdown and sputters into something of a silence, and, additionally, mellows to the point of allowing himself the slenderest shred of solace—in a children's garden, no less. Still, it is difficult not to feel that Willis has not only given him free rein, but also egged him on. She crafts his role so that we can look askance at his social and personal foibles, but we cannot forget his words. In the end we are, in his memorable words, victims of "the System, the most successful suicide cult humanity has ever invented."
The second element that allows Willis to expose humanity's gob-smacking stupidity is the "reality" TV series that provides the framework for most of the storyline. Such is the nature of the public's addiction to celebrity, and (concocted) melodrama, and, to boot, such is the financial clout of media empires, that—in Willis' terrifyingly silly world—an undertaking as desperately consequential as a mission to settle Mars simply has to be governed by the parallel whims, first, of one rich man and, second, of a voting television audience. In the course of teasing the readers by engaging them, through the storyline, through their own prurient fascination with contestants vying with each other to win one of two places on the Mars mission, Willis also makes no bones about exposing the crassly manipulative nature of what such television brandishes as "reality." 
Clearly, therefore, the project of settling Mars is primarily a vehicle by which Willis can force her readers to look at humanity's failures and the degradation of the planet. However, it is only fair to point out that, as she makes clear in her Acknowledgements, she has done a lot of homework around the science. For the purposes of the novel she may have streamlined the preparations of such a mission, but, in the last section about life on Mars, she rubs our noses in enough miserable detail that no reader can ever again be dazzled by the sanguine chatter we regularly hear about terraforming Mars.
To deepen the impact, Willis doesn't treat the chief players as cyphers in a bizarre sequence of preposterous events. She ensures her readers care about them. While Kevin narrates alternate chapters, the other chapters, though third-person, are seen through the point of view of the other main character, the titular "girlfriend," Amber Kivinen. 
Other, minor characters are considerably flatter, but, for the purposes of the novel, memorable and, even more important, thematically on point. Most repellent is the near-villain of the piece, the tycoon Geoff Task, a kind of Elon Musk parallel, purveyor of the notion of the "sovereign individual"—narcissistic, ruthless, manipulative and much, much else. "Slick Nick," the sexually predatory and unprincipled director of the TV series is, perhaps, midway along the spectrum of offensiveness: as Amber confesses the painful story of her failure as a gymnast, Nick, grossly insensitive, "keeps telling her that she's giving great story." And, at the other extreme, is the wonderfully candid and funny Pichu, a fellow contestant: Pull out your grey hairs she tells Amber: "They need to learn a lesson." Other friends, fellow contestants, television crew, and scientists are all equally colourful, equally memorable, all with distinct thematic roles.  
Outside the central relationship between Kevin and Amber, two other love interests loom large—first, Bronwyn the New Age, astrologist empath, and, second, the smooth-talking, pompous, and self-absorbed Adam (name ironically relevant). In all of these characters—and others—Willis is wickedly adept at providing dialogue that is at once absolutely at the core of their character (and values), and, usually, both funny and laughable: the author has a sharp ear for fatuous language that demonstrates all too unblinkingly which particular bandwagon is on parade. Bronwyn's language is riddled with earth-goddess clichés: "Address your grief," she says, "so you can start living." Markus, Kevin's "oldest and stupidest friend" makes a fine art of goofy slang: "You're like verging on toxic, dude," he tells Kevin in one of his more articulate moments. Adam, in turn, channels YouTube life-coaching bafflegab: "We are team," he tells the depressed Amber, "and that means we practice radical forgiveness. We practice radical love."
With her two main characters, though, Willis manages, strangely, to have it both ways. Both Kevin and Amber are brilliantly capable of being just plain silly. For Kevin, this can mean shrugging dismissively and taking refuge in empty colloquialisms; for Amber it can mean doing a brisk trade in enviro-diet and self-improvement clichés: "Everything happens for a reason" is close to her mantra even while Willis makes depressingly clear that it absolutely doesn't.   
At the same time, though, the author fully immerses her readers in Kevin's and Amber's minds. It is here, tracing their doubts, their constantly shifting emotions, and, crucially, their memories, that the author demonstrates her ability to create complex, nuanced characters. "[H]er strength could hold me together. I also wanted her to leave, so I could cry," says Kevin at one point, epitomizing in miniature the kind of tensions of thought and feeling that create a rich psychological web around them both.
Crucial to making these two characters come fully alive are their memories, in Kevin's case of his mother, and in Amber's of her father. Both relationships are riddled with guilt. In order to come to Vancouver, Kevin has abandoned his ill, self-destructive, and unstable mother in spite of his being her "honeybun." In order to join him, Amber has left her overriding father, judgmental both in his laughably radical (and hypocritical) Christianity and in his contempt for her failures as a star gymnast: "he's the toughest person I know," she tells Adam. Vivid and detailed flashbacks and memory sequences enrich Willis' portraits of her troubled main characters.
The relationship between Kevin and Amber serves as more than a vehicle for Willis to explore the unpredictable complexities of love, though. From a structural viewpoint, questions around their relationships provide a strong forward tension. Those readers who have a hard time taking the trip-to-Mars storyline very seriously may take very seriously the love story. Will their relationship survive the pressures of their separation? Amber is away for months at a time, thrown into intimacy with other contestants and primarily the manly, redoubtable Adam. Meanwhile, Kevin, in Vancouver, left only with his grow-op, finds himself in the company of the vacuous but terminally sweet Bronwyn. With three relationships thus shifting and evolving, the narrative ground is rich for Willis to keep her readers deeply engaged.
Yet, as deeply engaging as the story is, for all of these reasons, it is difficult not to feel that the hapless Kevin's words provide the novel's most enduring impact. 
Though this specific passage begins with sharply focused outrage, it ends, like the novel itself, with a broad and resonant conclusion:
Who among us hasn't been negged, seduced, then fucked hard by those Silicon Valley boys, the ones who wholeheartedly value "optimizing click-throughs" and "driving engagement"? The ones who turn our bodies and spirits into metadata; the ones who profit off our endorphins and dopamine; the ones who promise us a paperless and frictionless future while giving neo-Nazis free rein on their platforms; the ones who use their inflated salaries to take themselves on tropical tech-detox vacations and enrol their children in Waldorf schools, while ensuring that the rest of us remain addicted to our own enslavement?
I will not let them win.
If I can save Amber, if I can convince her to drop this bullshit and come home, maybe I can believe in humanity again. Maybe I can live in this world—of conspiracy theories and oil spills, jailed dissidents and clear-cuts, epidemics and exhaust pipes. Maybe I can find some semblance of hope. Maybe I can save myself. 
*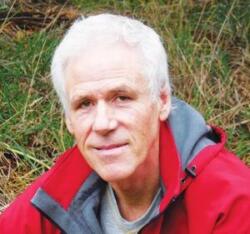 Born on Vancouver Island, Theo Dombrowski grew up in Port Alberni and studied at the University of Victoria and later in Nova Scotia and London, England. With a doctorate in English literature, he returned to teach at Royal Roads, the University of Victoria, and finally at Lester Pearson College at Metchosin. He also studied painting and drawing at the Banff School of Fine Arts and at the University of Victoria.
[Editor's note: Theo has written and illustrated several coastal walking and hiking guides, including Secret Beaches of the Salish Sea (Heritage House, 2012), Seaside Walks of Vancouver Island (Rocky Mountain Books, 2016), and Family Walks and Hikes of Vancouver Island (RMB, 2018, reviewed by Chris Fink-Jensen), as well as When Baby Boomers Retire. He has recently reviewed books by Lindsay Wong, Bill Engleson, Dan Gawthrop, Lyndon Grove, Ihor Holubizky, & Brent Raycroft, David Fushtey, Aaron Bushkowsky, Devon Field, Pirjo Raits, and Vince Ditrich for BCR. Theo Dombrowski lives at Nanoose Bay. Visit his website here.]
*
The British Columbia Review
Interim Editors, 2023-24: Trevor Marc Hughes (non-fiction), Brett Josef Grubisic (fiction)
Publisher: Richard Mackie
Formerly The Ormsby Review, The British Columbia Review is an on-line book review and journal service for BC writers and readers. The Advisory Board now consists of Jean Barman, Wade Davis, Robin Fisher, Barry Gough, Hugh Johnston, Kathy Mezei, Patricia Roy, Maria Tippett, and Graeme Wynn. Provincial Government Patron (since September 2018): Creative BC. Honorary Patron: Yosef Wosk. Scholarly Patron: SFU Graduate Liberal Studies. The British Columbia Review was founded in 2016 by Richard Mackie and Alan Twigg.
"Only connect." – E.M. Forster
Please follow and like us: