1880 Small place, big story
Sheltering in the Backrush: A History of Twin Islands
by Jeanette Taylor
Madeira Park, BC: Harbour Publishing, 2023
$24.95  /  9781990776113
Reviewed by Valerie Green
*
Jeanette Taylor begins her book with the words: "Twin Islands, a private retreat just off the entrance to Desolation Sound Marine Park, is a small place with a big story." She is certainly right as she goes on to intrigue her readers with the history of Twin Islands that is both rich and fascinating.
The pair of islands are known locally as "Twin" and they form part "of the lacy fringe at the southern edge of the Discovery Islands archipelago where it meets the north Salish Sea." Before reading this book, I knew very little about the Twin Islands, so the story was a pleasant learning discovery.
People lived on Twin Island thousands of years before the arrival of Europeans in the late 18th century, but little is known about them. We are left, states the author, with just "clues as to their existence in layered bands of shells, bones, fire-cracked rocks . . . oral histories and the islands' place name meaning Tho'kwet: to be tied together." The second chapter of Taylor's book is devoted to what history is known about the Indigenous people who had lived on the Discovery Islands since just after the retreat of the glaciers.
By the 1880s, there were logging camps and small mines on the Discovery Islands, and these brought settlers to the area. One of the earliest settlers was sheep-farmer, Peg Leg McDonald, who registered for "a 160-acre (65 hectare) pre-emption on south Twin Island."
Another new arrival was William Jones, who purchased 232 acres of North Twin. Purchasing land at that time apparently bypassed the pre-emption requirement of full-time residence, and it usually meant owners were probably interested in logging rather than homesteading, so Jones was frequently absent. This meant a lonely existence for McDonald who eventually moved away to Cortes Island. Soon after that, the eccentric Reverend Nixon moved to Twin and took over McDonald's old cabin and arranged to purchase it. He was joined by one of his sons, James, and James' new bride, Margaret, who enjoyed the wilderness and their isolated life on Twin. Their story is intriguing and ends with a rather mysterious unsolved murder.
Contact with the current owner of Twin, Mark Torrance, enabled the author to construct a story through the descendants of settlers and owners who had lived on Twin since the turn of the 20th century. Photographs documenting the construction of the massive log-lodge in the 1930s are priceless. Sepia-toned images of people: "digging clams on a beach, tending livestock, celebrating Christmas and posing with fish" bring the Twin story to life.
The twelve chapters of the book take the reader through Asian roots, ownership by a Count, a visit by Queen Elizabeth and Prince Philip in the 1970s, and saving the Twin Islands from being completely logged. These are important parts of the history of the Discovery Islands and are well documented here by Jeanette Taylor who has brought these stories and these people back to life. She also adds stories of those who have been caretakers at the Lodge through the years. In one small book she delights us with stories of that one-legged sheep farmer, the Irish Priest who became the victim of an unsolved murder, the American tycoons and the German royalty. Perhaps, most importantly, is the story of the heiress (Carol Newell) who rescued the islands from logging, enabling them to retain their pristine beauty.
Today Twin is owned by Mark Torrance whose story is also told in the final chapters. When he and his late wife, Susan, purchased Twin in the year 2000, they planned on living there for the rest of their lives. Sadly, fifteen years after they married, Susan lost her life to cancer which devastated Mike "and it was over five years before he finally regained interest in Twin." Eventually in 2018 he said it was time to carry on and "create a legacy on these islands."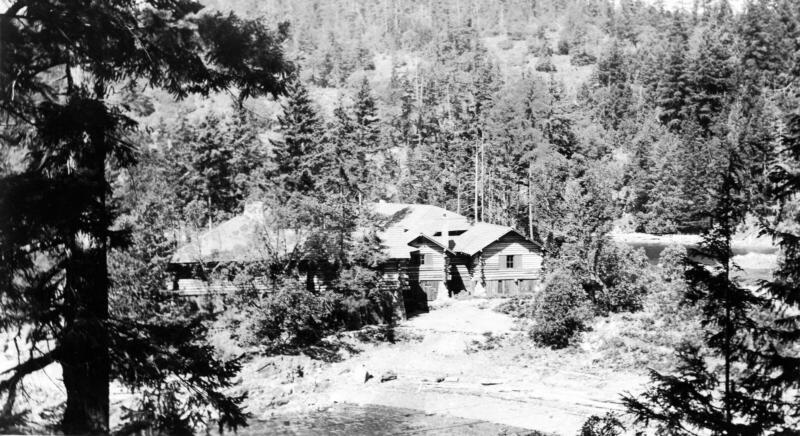 Today, Mark Torrance states that Twin Islands serves "as a model for renewable systems . . . our creature comforts are supplied by hydro power harnessed from the earth and sun, and we draw our inner power from immersion in the natural world."
The author adds that what lies ahead for Twin is an unknown, "but the meticulous restoration work of its buildings and services will ensure these jewel-like islands and their heritage structures will remain largely intact, while the ever-changing world spins on."  That is not something that can be said about many places today in our world.
Jeanette Taylor spent twenty years on the curatorial staff at the Campbell River Museum and recently as the executive director of the Campbell River Art Gallery. She has five coastal books in print and is considered the resident historian of the Discovery Islands. Today she works at her office in her log farmhouse on Quadra Island overlooking the sea. Readers will be delighted with her latest book Sheltering in the Backrush.
*
Valerie Green was born and educated in England where she studied journalism and law. Her passion was always writing from the moment she first held a pen in her hand. After working at the world-famous Foyles Books on Charing Cross Road, London, followed by a brief stint with M15 and legal firms, she moved to Canada in 1968 where she married and raised a family, while embarking on a long career as a freelance writer, columnist, and author of over twenty non-fiction  historical and true-crime books. Her debut novel Providence has recently been published by Hancock House as the first of The McBride Chronicles, an historical four-generational family saga bringing early BC history alive. Now semi-retired (although writers never really retire!) she enjoys taking short road trips around BC with her husband, watching their two beloved grandsons grow up and, of course, writing. Editor's note: Valerie Green has recently reviewed books by C. C. Humphreys, Anna Pitoniak, Louise Carson, Michael Kluckner, Jennifer Manuel, and Barbara Smith for The British Columbia Review.
*

The British Columbia Review
Interim Editors, 2023-24: Trevor Marc Hughes (non-fiction), Brett Josef Grubisic (fiction)
Publisher: Richard Mackie
Formerly The Ormsby Review, The British Columbia Review is an on-line book review and journal service for BC writers and readers. The Advisory Board now consists of Jean Barman, Wade Davis, Robin Fisher, Barry Gough, Hugh Johnston, Kathy Mezei, Patricia Roy, Maria Tippett, and Graeme Wynn. Provincial Government Patron (since September 2018): Creative BC. Honorary Patron: Yosef Wosk. Scholarly Patron: SFU Graduate Liberal Studies. The British Columbia Review was founded in 2016 by Richard Mackie and Alan Twigg.
"Only connect." – E.M. Forster
Please follow and like us: