1865 Twist endings and 'aha' moments
Killer Coin: A Vancouver Island Mystery
by Elka Ray
Toronto: Seventh Street Books, 2020
$17.95 / 9781645060154
Reviewed by C.L. Shoemaker
*
Written by Victoria author Elka Ray, Killer Coin: A Vancouver Island Mystery follows Toronto divorce lawyer Toby Wong. Having recently relocated to Victoria to be close to her mother, Toby is disillusioned by her easy legal cases and longs for something more challenging. Her wish is answered when her mother's rich friend, Daphne, goes missing. Coerced into investigating by her mother's pleas and the police's inaction (they are unconvinced of foul play), Toby investigates who would want to murder Daphne. What she uncovers is more complicated than expected: missing gold coins, a body in an abandoned cabin, drug use, blackmail, and more. In addition to hunting a killer, Toby is also struggling with her love life, trying to determine who she loves, the rich and alluring Josh or the patient and reliable police officer, Colin. If she can catch the killer and make up her mind it will be a good day at the office for lawyer Toby Wong.
Ray's second novel in the Toby Wong series Killer Coin is an enjoyable read that has fun Canadian settings, strong mystery elements and excellent pacing that moves the reader through the story at a good clip. I appreciated Ray's control of plot and her ability to provide information in a concise manner. There is never a moment of rest or boredom while reading the book. Ray invites the reader into many diverse locals, expanding the murder locations and places of interest—from high society homes and posh restaurants to derelict waterfront cabins, isolated forest hikes, and ruined backyards. Ray's setting and plot design sparkle with intrigue and draw in the reader. She also excels at spinning an intriguing mystery, dropping subtle hints of the killer's identity, without making it too obvious. I appreciated having those "aha" moments when I reached the end of the mystery, knowing I could re-read certain sections to pick out the hidden clues. Ray provides multiple twist endings too. While logical, Toby's first conclusion to the murder is wrong. Her second deduction is also incorrect. When the reader, and Toby, finally put the pieces of the puzzle together it is both shocking and riveting. Killer Coin is an enjoyable and well-paced mystery for all. 
One element of Ray's novel I particularly enjoyed was the support and camaraderie among female characters. In particular, I appreciated the friendship between Toby's mother (Ivy) and Daphne, and the relationship between Toby and her close friend Quinn. Throughout, the reader is constantly encountering female friendships that are supportive, persistent, and healing. While Ivy and Toby don't see eye-to-eye on certain things (Toby is a logical lawyer, while Ivy is spiritual, believing in tea leaf reading and healing crystals), they are able to put their differences aside. Toby's love and concern for her mother, informed by a childhood of maternal care, encourage her to support Ivy's search for Daphne. While Ivy can be annoying and demanding, Toby loves her mother and respects her loyalty to Daphne. Thus, she investigates, even when it is embarrassing, inconvenient, and even dangerous. 
Similarly, Toby's close friend Quinn offers a female voice of support and encouragement even when juggling a new baby, tenure-track job and family demands. While Quinn listens, she also challenges Toby, calling her out for questionable choices like dating two men at the same time.  As Quinn notes "you're not committed," and this inability to decide leads to unnecessary drama. Quinn holds Toby accountable for her actions as a grown, independent woman. As a friend who wants what is best for Toby Quinn calls out her problematic, indecisive nature. She can't keep two men on hold and not decide, and she certainly isn't entitled to feeling snubbed at a potential female love interest for Colin when she dangles him along without a clear answer. It is Toby's indecisive nature that results in most of her personal drama.
Murder and bodies aside, the more dangerous element of Toby's life is her inability to maintain a healthy romantic relationship. Having grown up in a home without a father figure, it is possible that she struggles with romantic connections due to a lack of healthy marriage example in her family life. She is afraid of commitment and unable to either see or respond to red flags. Despite being an intelligent and highly trained professional, her common-sense regarding men is severely lacking. Between the reliable police officer Colin and the demanding and fickle Josh, it is clear which suitor is the better choice. Still, Toby consistently chases after the problematic partner and puts up with his disrespect (Josh shows up late to their dates, has no respect for her time, and gives her the cold shoulder when the police show up to the murder scene). In contrast, Colin is supportive and wins the approval of Toby's mother and her best friend Quinn. He also shows his disappointment when discovering she was dating another man and deliberately ignoring his advice to stay away from dangerous crime scenes. 
Toby's indecisiveness as a character becomes problematic when it reduces her intelligence and believability. Toby herself comments on her dumb decisions, highlighting her inability to have self-control, to make responsible choices and to manage her own life. While personal problems and challenges are a part of character development, excessive use of them can read as disingenuous and turn an otherwise likeable character into an annoyance. Toby consistently refers to herself as having "stupid romantic indecision" being "guilty" and "uncomfortable" and yet chooses to do little about it until the last few chapters of the book. As a divorce lawyer she should be aware of relational warning signs and the importance of fidelity. When dumped by Josh she wallows in self-pity and plans to eat ice cream. In fact, she's so depressed and self-focused she ignores her mother's questions and concerns. At times her behaviour comes across as incompetent, childlike, or ignorant. For example, when she goes to shower, she fails to remember key things like a towel, where she placed her comb and her deodorant. It's difficult to believe that Toby, a successful Toronto lawyer who "crawled her way to the top" is the same woman crawling around on her bathroom floor searching for her deodorant and bemoaning being dumped. It is a jarring difference of character and makes the reader question Toby's character consistency.
In contrast to the bathroom search, anytime Toby is involved in investigating and pursuing the case, she becomes a different person: independent, focused, and able. I personally enjoyed these moments the best. I relished tracking with her when she was competent, driven, and excited about the case. Ray provides the reader with many unique and engaging locations to investigate, and each search was enjoyable to read. I particularly like the reference to Nancy Drew mysteries when Toby compares herself and Josh to Nancy Drew and Ned Nickerson. Nancy, created in 1930s, is consistently presented as an independent, intelligent, and kind female detective. During moments of sleuthing Toby channels her inner Nancy Drew. I wish she had stayed in this logical frame of mind throughout the whole of the novel, thereby using her reasoning and clear intelligence to make better decision for her personal, emotional, and mental health. Had the romantic side plot been put on the back burner, removing Josh entirely and keeping Colin, the novel could have focused on Toby's investigative prowess and her growth as both a detective and a woman discovering love. Overall, Killer Coin was a fun book that I would recommend, and I look forward to joining Toby and Colin on their next case.
*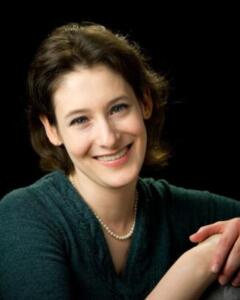 C.L. (Corrie) Shoemaker is an Assistant Teaching Professor for the Department of English Language and Literature and the Department of Communication, Journalism, and New Media at Thompson Rivers University. She is working on a book project entitled "Speaking of Shakespeare: Conversations with Canadian Artists," and revising her dissertation for publication. As C.L. Shoemaker, she writes for Marjorie Magazine, sharing her love of vintage design, 1940s history, old-fashioned travel experiences, and the gorgeous antique lifestyle. She's written travel, historical, and research pieces on Paris, typewriters, and the Nancy Drew books series. Visit her website and Facebook page. Editor's note: Corrie Shoemaker has also reviewed books by Slavia Miki and Roy Miki and Jack Easton for The BC Review.
*

The British Columbia Review
Interim Editors, 2023-24: Trevor Marc Hughes (non-fiction), Brett Josef Grubisic (fiction)
Publisher: Richard Mackie
Formerly The Ormsby Review, The British Columbia Review is an on-line book review and journal service for BC writers and readers. The Advisory Board now consists of Jean Barman, Wade Davis, Robin Fisher, Barry Gough, Hugh Johnston, Kathy Mezei, Patricia Roy, Maria Tippett, and Graeme Wynn. Provincial Government Patron (since September 2018): Creative BC. Honorary Patron: Yosef Wosk. Scholarly Patron: SFU Graduate Liberal Studies. The British Columbia Review was founded in 2016 by Richard Mackie and Alan Twigg.
"Only connect." – E.M. Forster
Please follow and like us: