1863 Quick plot, too many twists
Scandal at the Savoy: A Priscilla Tempest Mystery (Book 2)
by Ron Base & Prudence Emery
Madeira Park, BC: Douglas & McIntyre, 2023
$19.95 / 1771623452
Reviewed by Amy Whitmore
*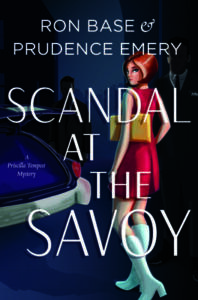 "Our Savoy… is populated by made-up characters who exist only in the world that we shaped for them. The royal, rich and famous who inhabit this imagined world live no further than the edges of our imaginations": so the authors of this cheeky mystery novel (Victoria's Prudence Emory and Milton, Ontario's Ron Base) tell us. And on page one we meet Noel Coward. By the bottom of the third page we've also heard from Johnny Gielgud, Larry Olivier, and David Merrick in all their fabled and ignoble glory.
By the end of the evening's A list party, our heroine, "not on anyone's A list" but somehow inadvertently invited to the party, has gone to bed with Pierre Trudeau. With an eye for beautiful women, he is Canada's Prime Minister; and Priscilla Tempest risks her beloved job at the Savoy when she succumbs to his seductions.
And so goes the whole novel. There are a few fictitious characters like Priscilla Tempest employed at the Savoy, or journalists, and there are the many famous and real-life guests and non-guests in and out of London's Savoy Hotel in the 1960s.
Fetching Canadian Priscilla Tempest is head of the press office at the Savoy– precariously–but has so many investigations on her hands that it's doubtful the Savoy puts out any press releases at all.

A luscious chorus girl is murdered at the Savoy later the same evening that she confesses to Priscilla that David Merrick hit her. On the night of the A-list party. David Merrick is a famous guest at the hotel and a police suspect. How to handle this?
Priscilla wants to know who killed her friend Skye, the chorus girl. Her boss, always on the verge of firing her, now wants her to investigate a suspected affair between his wife and Lord Snowdon. The sudden cooling of the friendship between his wife and her good friend Princess Margaret does not trigger warning bells in his mind.

The Kray Brothers–so famed in London criminal history that Wycliffe, a series on Britbox that features fictitious crimes based on real historical crimes, produced a season based on them–want her to lead them to a sex film that incriminates Reginald, the most volatile of the brothers. The "intelligent one" claims to have fallen in love with Priscilla at first sight and tells her she is now his girlfriend.

The detective determined to put the Kray Brothers behind bars enlists, against her will, Priscilla as a "mole."
During all this Priscilla discovers that not only does she love sex with men, but sex with women is pretty good, too. More complications ensue.

The notorious brother of the upright Head of Security at the Savoy and his girlfriend try to recruit Priscilla into the illegal escort service they want to establish at the hotel.

Coward, Gielgud, and Olivier establish the Gossip's Bridle Club, for they thrive on gossip in between denigrating each other's talents, and invite Priscilla to join. They trade good tips, and the wits even manage to come to Priscilla's rescue during a Kray Brother shoot-out.
Plus, there is the case of the stolen necklace.
Has the orgy been mentioned? Priscilla's first.

Characters are deftly sketched in, with even the Kray twins' personalities individuated. Snappy dialogue buoys the proceedings, such as when Noel Coward first introduces Priscilla to Gielgud and Olivier:
"My god, a dazzler." Olivier's eyes sparkled as he took Priscilla's hand and kissed it.
"Careful, Priscilla," warned Gieldgud, "Lord Larry is a lethal combination: cad and lecher."
"Wonderful," said Priscilla. "I've had a great deal of experience with cads and lechers. I prefer the cads, but a lecher will do."
Within moments the chorus girl Skye appears, and Olivier's interest in Priscilla "is very much in the past."
Pierre Trudeau: "those inquisitive eyes looked even more inquisitive than ever."
There's a humble, very appreciative retired waiter enjoying a vacation at the Savoy whom Priscilla takes under her wing. The wealthy short rajah and his entourage of wives who insists on "No press" to Priscilla and then suggests possibly one newspaper. The sensual and troublesome Diane Dors and her alcoholic husband…
Within this novel are all the ingredients for an engaging, entertaining read. Perhaps the writing isn't particularly original, but it works; there's nothing extraneous and the timing is on point. Nevertheless, the novel does not pull the reader in. Instead, it is a bit of a slog to read. There are too many threads, too many subplots; and while they are all resolved in the end there is little room to develop the plots enough to make them suspenseful. Characters aren't fleshed out enough to engage our real interest and sympathies. They don't resonate. The reader doesn't feel any of Priscilla's emotions—is she really devastated at Skye's murder?—and the plot moves along so quickly and with so many twists.
With that being said, was it a waste of time to read? No.
*
Amy Whitmore: Creative non-fiction published in Black Dog Review, NB Reader, Vancouver Sun and on CBC Radio Saint John. Summer radio play commissioned by CBC Saint John. Co-winner of Atlantic Film Festival's Script Development competition, feature category. Mary Walsh chose to read the most eccentric character. Recipient of UBC's Jacob Zilbur Scholarship for Most Promising Screenwriter and Maxine Sevack Memorial Scholarship in Creative Non-fiction. Currently working on short stories and a novel. Master gardener student, experienced hot air balloon crew, roamer by bike of Calgary's pathways and byways. Editor's note: Amy recently reviewed fiction by W.O. Mitchell and Lenore Rowntree for The British Columbia Review.
*
The British Columbia Review
Interim Editors, 2023-24: Trevor Marc Hughes (non-fiction), Brett Josef Grubisic (fiction)
Publisher: Richard Mackie
Formerly The Ormsby Review, The British Columbia Review is an on-line book review and journal service for BC writers and readers. The Advisory Board consists of Jean Barman, Wade Davis, Robin Fisher, Barry Gough, Hugh Johnston, Kathy Mezei, Patricia Roy, Maria Tippett, and Graeme Wynn. Provincial Government Patron (since September 2018): Creative BC. Honorary Patron: Yosef Wosk. Scholarly Patron: SFU Graduate Liberal Studies.
"Only connect." – E.M. Forster
Please follow and like us: