1839 Gold Rush 'surgical social analysis'
Gold, Grit, Guns: Miners on BC's Fraser River in 1858
by Alexander Globe
Vancouver: Ronsdale Press, 2022
$26.95  /  9781553805847
Reviewed by Matthew Downey
*
The ironic fact at the heart of British Columbia's genesis is that its colonial foundation was not rooted in an influx of British settlers, but rather the uneasy invasion of Americans to what was once known as New Caledonia. The event that served as catalyst for the influx of people north from the United States and the creation of the Crown Colony of British Columbia was the Fraser River Gold Rush of 1858. Alexander Globe's Gold, Grit, Guns, which has as its focus that year of 1858 as seen through the eyes of four men who each made a go at fortune on the Fraser, delves into the on-the-ground perspective of 19th century gold mining while developing the wider narrative of BC history. A Professor of English and Comparative Literature, Globe opens up the stories of his four subjects – three identified Americans and one anonymous Canadian – through in-depth analysis of their journals and diaries. The inherent limitations of these sources are developed and expanded upon through Globe's detailed and balanced approach of literary and contextual historical analysis. The result is a book which aptly aids the audience in situating themselves in the social and political atmosphere which drove the pragmatic decisions of the governments in Victoria and London. Globe's book expertly displays this country's shared history with the Americans, while highlighting the dramatic core differences in our founding ethos.
With the driving force of Gold, Grit, Guns being its four primary written accounts of the Fraser Gold Rush and its contextual environment, Globe makes great use of his literary background to extrapolate relatively detailed biographical narratives out of limited source material. Not only does each of the four subjects wield his own distinct character, but each one serves as an archetype, helping the reader peer into the social milieu of the Gold Rush. The first subject, George Slocumb, is characterised by his ultimate failure at finding fortune on the Fraser, after having also had a lacking experience earlier in California. The intriguing aspect of Slocumb's character is his clear display of an educated mind and an active with amongst the dirt and depression of the Gold Rush frontier. By using his first case study to show the failure of a bright man to make his way, Globe reminds the reader that for all the brash idealism on display during the Gold Rush, reality was a hard slog and pragmatic decisions were a necessity. The second subject, George Beam, embodies the other end of the spectrum; filled with the heady idealism of American patriotism and emboldened towards an enterprising spirit, Beam represents the exact sort of Yankee intruder that Governor James Douglas feared from his perch in Victoria across the Strait of Georgia. On the other hand, the third subject, Otis Parsons, embodied a more helpful immigrant story as part of the team tasked with building the strategically important road north from Harrison Lake to Lillooet. Finally, Globe's fourth subject is an anonymous Canadian miner – though his name was lost to time, his nationality is evidenced heavily in his writing and actions. It is rather fitting that Globe's last subject is not only Canadian but anonymous as well; he is defined by his characteristic particularities, which indeed accentuates the Canadian-isms he displays against the other more numerous American presences. The juxtaposition of British with American motives and means of colonizing the Northwestern portion of the American continent is a major theme throughout Globe's book – one pondered over through each case study.
As Globe relates, the colonial government of Vancouver Island and the Hudson's Bay Company's local administration were taken unprepared by both the volume of American expats flooding into British territory in 1858 and their expansionist attitudes. Many American gold miners were not simply occupied in advancing their own personal wealth, but also the interests of their republic. Globe adeptly illuminates such tensions through his description of the so-called Fraser Canyon War that saw Indigenous resistance against American miners met with loosely organized frontier reprisals. Globe contrasts this event and the attitudes it represented with those of the British government in Victoria, which, spearheaded by James Douglas, had taken a much more congenial philosophy relative to the Americans. Anchored in the trade facilitated by the Hudson's Bay Company, the Victoria government was forced to convert itself and its dependencies from a sleepy colonial outpost to a metropolitan hub of merchandising and enterprising. Coincidentally, Douglas was made to respond in kind to those men such as George Beam who flooded into the Fraser via Washington Territory convinced in President Polk's rhetoric of Manifest Destiny which laid a nearly religious claim of the United States over the entire Pacific coast under the battle cry of '54-40 or fight!'. As Globe delves into the differences of responses by his case study subject to the Fraser and its Indigenous peoples he details the cultural differences between two colonial states in their overlapping efforts in the same area.
Globe's writing is notable for providing personal insight and wider context in relating a history of a time and place in which most people were far too preoccupied and overworked to make consistent records. As a result, Globe's writing is expansive, taking his sources and building them into narratives that tell individual stories which fit together into the larger mosaic of British Columbian history. This is an endeavour that is seemingly perfectly suites for Globe's literary approach to history; his approach is not over-indulgent in its particular primary sources, instead targeting them appropriately and relevantly within the context of a coherent telling of the Gold Rush story. If anything, Globe displays a slight tendency to explain more than is needed – such as when he provides a definition for the term 'bloody' (p 127). This is, however, much more preferable to the potential alternative of leaving unanswered any question the reader may have about the peculiarities of such strong character studies. Globe's book is insightful and comprehensive, combining a width of research that includes an appendix of ship names and a depth of analysis that opens up the literary passions of a forgotten Gold panner.
Gold, Grit, Guns is a surgical social analysis of the Fraser Gold Rush, combining a literary deep dive into the personalities of its participants with a detailed exploration of the political crises it engendered. Ever conscious of the meaning of his research and its desired impact on the reader, Globe offers a clear and well-organized read that constantly self-justifies. His personal approach to history, balanced with wider historical examination of his subjects' setting, helps to communicate the multifaceted interactions between individuals and the social-political culture in which they are embroiled. Globe aptly illustrates the Fraser Gold Rush to the extent that one understands it as a foundational moment in the development of differing Canadian and American philosophies in the Northwestern reaches of the continent.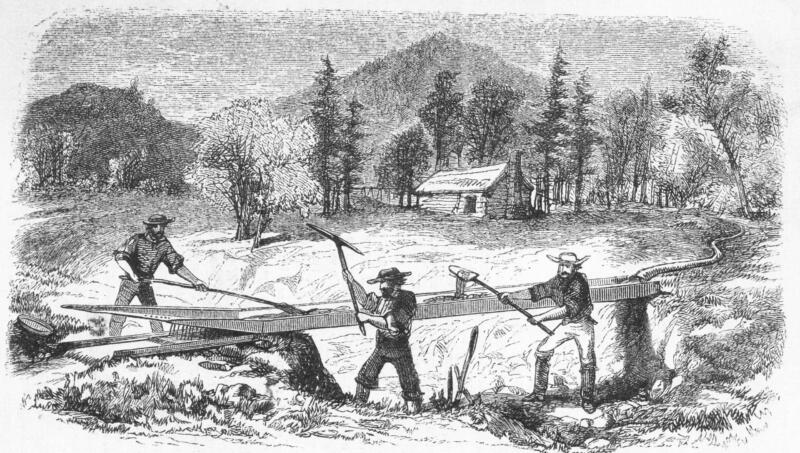 *
Matthew Vernon Downey graduated in 2021 with an honours BA in History and Political Science from the University of Victoria, and in 2022 gained an MSc in international history at the London School of Economics and Political Science. After a year in Southwark, England, he is back in Victoria. Editor's note: Matthew Downey has also recently reviewed books by Angus Scully, David Giblin, Bill Arnott, Catherine Marie Gilbert, David R. Gray, and Grant Evans for The British Columbia Review.
*

The British Columbia Review
Interim Editors, 2023-24: Trevor Marc Hughes (non-fiction), Brett Josef Grubisic (fiction)
Publisher: Richard Mackie
Formerly The Ormsby Review, The British Columbia Review is an on-line book review and journal service for BC writers and readers. The Advisory Board now consists of Jean Barman, Wade Davis, Robin Fisher, Barry Gough, Hugh Johnston, Kathy Mezei, Patricia Roy, Maria Tippett, and Graeme Wynn. Provincial Government Patron (since September 2018): Creative BC. Honorary Patron: Yosef Wosk. Scholarly Patron: SFU Graduate Liberal Studies. The British Columbia Review was founded in 2016 by Richard Mackie and Alan Twigg.
"Only connect." – E.M. Forster
Please follow and like us: