1838 'The woman behind the art'
Emily Carr: Life & Work
by Lisa Baldissera, with an introduction by Sara Angel
Toronto: Art Canada Institute, 2021
$40.00  /  9781487102326
Reviewed by Valerie Green
*
Most people in Victoria, throughout British Columbia and across Canada are of course familiar with the works of artist/writer Emily Carr. Her artwork is acclaimed both nationally and internationally.
This book about her by Lisa Baldissera digs a little deeper into both her character and her exceptional artwork. It thoroughly examines and interprets the woman behind the art.
Beautifully produced by the Canadian Art Library in a hard cover, colour book, Baldissera has told Emily's life story in both text and paintings. Emily was a woman who was intensely observant, always eager to learn from many art genres and who travelled widely. As a young woman in Victoria, Emily did not receive the acceptance she deserved, but ironically went on to be internationally acclaimed, most especially after her death.
The book shows the artist's adventurous spirit that allowed her to depict all aspects of British Columbia's beauty with landscapes that were both unique and spiritual. In many ways she was a woman far ahead of her time.
This exceptional combination of text in combination with Emily Carr's artwork will function as a reference book for those studying her. With its excellent Glossary, the author's own Notes on each section of the book and a list of credits for all the paintings, it is a joy to walk through Emily's life this way. In the beginning, her biography allows the reader to follow her early years, her studies in California, England and France, her First Nations work and her writing life.
Other sections of the book show Emily Carr's Key Works, her Significance and Critical Issues and her Styles and Techniques. This last section is particularly thought-provoking showing how her style changed through the years as her work evolved. For instance, she once described her artwork in California as "humdrum and unemotional – objects honestly portrayed, nothing more,"  but by 1933, her concept of her work was "unity in movement." By then she also believed that Van Gogh had had the same idea.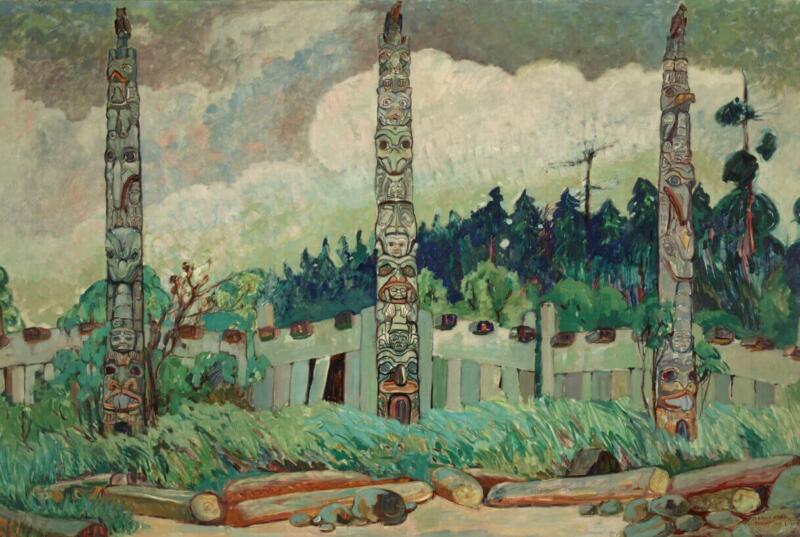 Throughout the rest of her life, Carr continued to explore ". . .  spiritual forces aesthetically through her art," while her writing conveyed her own life in her own magical words. She had a compelling lifelong interest in West Coast Indigenous people which had begun in her travels to Haida Gwaii, then in Sitka where, ". . . walking among its Tlingit totem poles and towering spruce, Carr decided that she would be one of the few women artists to reject pastoral and domestic scenes in favour of making art that documented her province's landscape and heritage." She later wrote: "I was going to picture totem poles in their own village settings as complete a collection of them as I could."  Because of this and many of her other beliefs, Carr found herself "at odds with the imperialism that viewed Indigenous culture as primitive." This book remains a promise by the author to show this collection in admiration and respect for Emily Carr's strong beliefs to represent both sides of Canada's heritage.
Towards the end of her life, Emily Carr suffered from numerous health issues. "After her heart attack in 1937, Carr found that her health increasingly interfered with her ability to work outdoors in the landscape." Her works from her final years show the depths of a spiritual connection in the forest, some painted in Mount Douglas Park in Victoria. She continued with her spiritual quest and her persuasive beliefs to the end of her life  ". . . a quest that would reflect her search for oneness in art and religion."
She died on March 2nd, 1945, at the James Bay Inn in Victoria at the age of seventy-three. Her childhood home in Victoria, now known as Carr House on Government Street, is today a National Historic Site.
Today all her artworks can be viewed in various art galleries and museums across Canada, and these too are listed in the book. However, during her lifetime, Carr often felt her art career was a failure. She struggled with isolation and a profound feeling of rejection. However, this book shows just how much Emily Carr gave to the world of art and literature and it is particularly ironic therefore that "her vision of Canada is now iconic."
Author Lisa Baldissera has worked in curatorial roles in Western Canada since 1999 and is currently the Director of Griffin Art Projects in North Vancouver, B.C. This book will be treasured by all art lovers who will undoubtedly add it to their collection.
*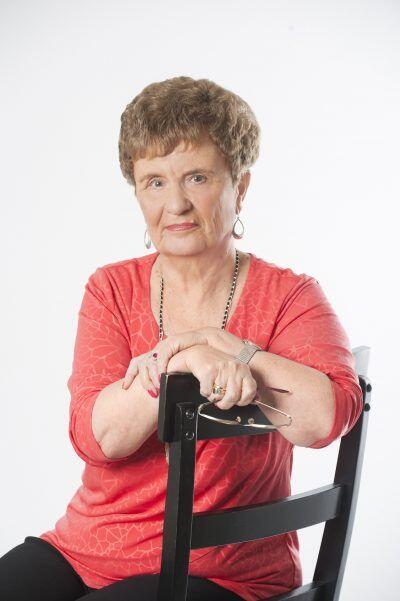 Valerie Green was born and educated in England, where she studied journalism and law. Her passion was always writing from the moment she first held a pen in her hand. After working at the world-famous Foyles Books on Charing Cross Road, London, followed by a brief stint with M15 and legal firms, she moved to Canada in 1968. There, she married and raised a family, while embarking on a long career as a freelance writer, columnist, and author of over twenty non-fiction historical and true-crime books. Her debut historical novel Providence was recently published by Hancock House as volume 1 of The McBride Chronicles, a four-generational family saga bringing early BC history alive. Editor's note: Valerie Green has recently reviewed books by Jane Cawthorne, Meg Tilly, Betty Annand, Jill Frayne, Mike Phelan, and Jocelyn Reekie  for The British Columbia Review.
*

The British Columbia Review
Interim Editors, 2023-24: Trevor Marc Hughes (non-fiction), Brett Josef Grubisic (fiction)
Publisher: Richard Mackie
Formerly The Ormsby Review, The British Columbia Review is an on-line book review and journal service for BC writers and readers. The Advisory Board now consists of Jean Barman, Wade Davis, Robin Fisher, Barry Gough, Hugh Johnston, Kathy Mezei, Patricia Roy, Maria Tippett, and Graeme Wynn. Provincial Government Patron (since September 2018): Creative BC. Honorary Patron: Yosef Wosk. Scholarly Patron: SFU Graduate Liberal Studies. The British Columbia Review was founded in 2016 by Richard Mackie and Alan Twigg.
"Only connect." – E.M. Forster
Please follow and like us: