1804 A purrfectly useful guide
Purr: The Science of Making Your Cat Happy
by Zazie Todd, with a foreword by Pam Johnson-Bennett
Vancouver: Greystone Books, 2022
$32.95  /  9781771648141
Reviewed by Kirsten Bell
*
Mark Twain once said that 'If man could be crossed with the cat, it would improve man, but it would deteriorate the cat'. This quote highlights a key difference in our perception of cats and dogs. As I've previously discussed, dogs are prized for the ways they are similar to us. In many societies, they hold a unique place in the animal kingdom: one that is halfway between human and animal. Cats on the other hand, while less universally revered, are prized amongst cat lovers for the ways they are different from us.
No one gets a cat thinking they are about to become the object of its slavish devotion. Even for those who love them (and I count myself amongst their number), we basically consider them to be adorable psychopaths. This sentiment is evident in Mark Twain's chosen monikers for his many cats, which included names like 'Beelzebub', 'Satan' and 'Pestilence', and in the success of books like How to Tell if Your Cat is Plotting to Kill You. At best, cats are considered to be capricious and mercurial; at worst, they are perceived as self-absorbed and aloof. For this reason, cats are often deemed to be easier — and certainly less demanding — pets than dogs.
In her new book Purr: The Science of Making Your Cat Happy, Zazie Todd, a BC-based psychologist specializing in companion animal psychology (which is also the name of her blog), challenges these widely held stereotypes. A core message of her book is that we do our feline friends a serious disservice by thinking that they don't require the same level of care, knowledge and attention as dogs. As she notes, "We have so many stereotypes about cats as loners and jerks and just difficult animals that it's as if no one sees the actual cat in front of them".
Todd's goal in Purr is to correct these prevailing misconceptions via a scientific approach to understanding the needs of cats. In her words, "The aim of this book is to bring some of that science to cat owners and to show how it can help us not only to understand our cats better but also to be better cat guardians". While cats are less well studied than dogs (to no one's surprise, they are less compliant research subjects), over the course of 14 chapters Todd digests a large body of research in an engaging and accessible way — humanized (or, rather, catified) via anecdotes about her two cats, Melina and Harley. Each chapter ends with an "Apply the science at home" section, which succinctly spells out its key takeaways.
The book itself is cleverly organized so that it follows the trajectory of an owner's experience of their cat – from getting a feline, setting up a home for it, training it, grooming it and taking it to the vet, feeding and socializing it, etc., right up to old age and dealing with end-of-life care. Although of clear benefit to people about to embark on life with a cat (there's even training plans in the Appendix!), there is much in the book that would be of use to existing cat owners — even those who pride themselves on having a deep understanding of their pets.
For my own part, I no longer have a cat. In one of life's great ironies, I am deeply allergic to the creature I most adore — something I quickly discovered after I got my first cat, Spike, as an adult. Of course, by that point, it was too late; I would not have given him up for the world. I suffered through eight years of severe allergy-induced asthma and constant sinus issues, and was devastated when he died prematurely of lymphoma. I certainly would have benefited from the chapter on the end of life, because I agonized over when to get him euthanized. The book made me feel like I'd judged the timing correctly, which was something of a relief. However, other parts of the book made me realize how bored Spike must have been for much of his life.
Having had two pet cats killed by baiters when I was growing up in Australia, I made the decision to keep Spike indoors. After we moved from Australia to Canada, that became a necessity, as we lived in condos in downtown Vancouver, with no outdoor space to speak of. In hindsight, it's clear that I could have done far more to create a stimulating environment for him — Todd provides an extraordinary amount of useful information here. For example, I had no idea there was such a thing as a puzzle feeder, where your cat has to problem solve to obtain his or her food. I probably would have forced fewer cuddles on him, too (but then again, maybe not; I'm basically Elmyra from Tiny Toon Adventures).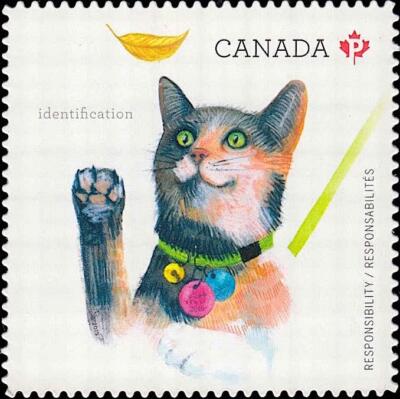 While I read this book with a certain amount of guilt, I console myself with the knowledge that 20 years ago, when I first got my cat, there were few books of this kind. As Pam Johnson-Bennett notes in the foreword, animal professionals have long been focused more on dog training and health than that of cats. But cat owners today don't have that excuse and Todd has done a superb job of explaining human-feline relationships in a simultaneously science-based but useful way (which, in my experience, is a very difficult balance to get right).
Todd's powers of persuasion are such that for the first time ever upon spotting my neighbour's cat, Tilly, I did not try to foist a pat on her this morning – something she rarely appreciates, but I keep doing because very occasionally she lets me (mostly, I just get hissed at). I'm reasonably confident that with the tips I've learned from Todd, I may yet move from 'unsuccessful cat seducer' to 'semi-competent cat whisperer' where Tilly is concerned. So it turns out that while you can teach a young cat new tricks, you can also teach an old dog new tricks, for which I'm grateful to Todd (because I know Tilly is!).
*
Kirsten Bell is an Australian and Canadian anthropologist living in London (the one in England, not the one in Ontario). The author of numerous academic books and articles, her first venture into popular anthropology, Silent but Deadly: The Underlying Cultural Patterns of Everyday Behaviour  (London: Caw Press, 2022) was reviewed in The British Columbia Review by Tom Koppel. She also has a free Substack of the same name, where you will find her anthropological reflections on both dogs and cats, amongst other topics.
*
The British Columbia Review
Interim Editors, 2023-24: Trevor Marc Hughes (non-fiction), Brett Grubisic (fiction)
Publisher: Richard Mackie
Formerly The Ormsby Review, The British Columbia Review is an on-line book review and journal service for BC writers and readers. The Advisory Board consists of Jean Barman, Wade Davis, Robin Fisher, Barry Gough, Hugh Johnston, Kathy Mezei, Patricia Roy, Maria Tippett, and Graeme Wynn. Provincial Government Patron (since September 2018): Creative BC. Honorary Patron: Yosef Wosk. Scholarly Patron: SFU Graduate Liberal Studies.
"Only connect." – E.M. Forster