1795 Move over, Miss Marple
Crime Wave: Women of a Certain Age. A Canada West Anthology
by Elizabeth Bass, Karen L. Abrahamson, and J.E. Barnard (editors), with a foreword by Gail Bowen
Vancouver: Sisters in Crime (Canada West Chapter), 2022
$24.27 / 9781777246655
Reviewed by Ginny Ratsoy
*
Stories are not chapters of novels. They should not be read one after another, as if they were meant to follow along. Read one. Shut the book. Read something else. Stories can wait. — Mavis Gallant.
Much as I admire Mavis Gallant's work, the above advice is not something I normally heed. To this reader, anthologized stories yield more than the sum of their parts when they are read over just a few sittings — even if the parts are ostensibly disparate.
However, circumstances dictated an atypical approach to Crime Wave: Women of a Certain Age. Although I read these stories by 16 individual female western Canadian writers over weeks, I found myself searching for connections — beyond the winning concept that the individual protagonists are older women. My work was cut out for me: "crime fiction" is a broad term encompassing work about criminal motives, acts, and detection including but not limited to murder, and 16 different writers are, well, 16 different minds. The range of approaches in the collection is impressive — from hard boiled to Rom Crime. Still, I will categorize a sampling of the fare, focussing first on the tougher, sometimes gritty, stories and moving to lighter, even comic, works.
"Natural Consequences" by Laurie Wood is a topical, hard-hitting story about a mother's revenge for the suicide of her daughter, which was precipitated by a former friend's leading her down a dark electronic web of extortion. The mother's revenge is violent and she is unrepentant.
"Tethered," a poignant story by Marcelle Dubé of High River, Alberta, finds retired teacher Esther returning to a spot in a park named for a young boy who was killed there some 70 years earlier. It is Esther's regular haunt in more ways than one: not only does she frequent it out of guilt for what she didn't reveal about the murder at the time, but she also converses with her old chum, Lois (in ghost form) there regularly. Lois, her conscience, reminds her of her sin of omission and of the boyfriend Esther later relinquished to Lois. Now 80 and alone, Esther has led a life restricted by her guilt. One day in the present in the park, she conflates young men she sees with the memory of that summer: she recalls watching Jimmy reluctantly selling things for Sammy until he refused to do so and was stabbed. Despite guarded warnings from Lois's ghost and the delinquents, she cannot stay away from the park. When Esther intrudes on an argument between the present-day pair, her reaction, coupled with informing the police, untethers her from her previous guilt. This well-crafted story, compassionate and evocative, is deserving of its recent Derringer Award nomination.
In R.M. Greenaway's "Grace," revenge is focal. The unnamed narrator, a Grade 5 student, appears to be bullied by the somewhat older Grace. Grace is consumed by revenge — for the narrator being granted a larger role than her in the school play and against the narrator's neighbour, who has complained to the narrator's father about the duo. Grace concocts a physical trap on the property of the "old and ugly" neighbour in a short piece that illustrates the unintended consequences of ill-doing when those abetting a crime do not speak up. In typical Greenwood fashion, the dark story packs a wallop.
Revenge and bullying also inform Shelley Adina's "The Air Affair," although the tone is lighter and the outcome rosier. In 1895, happily widowed Lady Langford and her Aunt Milly, on an airship between London and Paris, encounter the latter's old school foe. Caroline damaged Milly's academic trajectory 40 years earlier — causing her lasting psychological damage. Now an author — ironically, of a book on educating young women — Carolyn bestows a copy of her work on the pair. After a Paris stop over, the pair board a ship for Italy, only to find Caroline again a fellow passenger. Milly confronts Caroline, accusing her of plagiarizing Milly's school work, but Caroline is not duly contrite. Soon, Milly is missing, and Lady Langford, searching the nether regions of the ship, discovers her aunt, bloodied and stuffed into a cargo compartment. Fear not; revenge proves sweet in "The Air Affair."
Debra Henry's "Almost Invisible," the most topical of the stories, is set in Victoria, a popular crime city in the collection. Lest we forget, the early Pandemic brought to light the sorry state of elder care in Canada, and Henry's coterie of Raging Grannies target a privately-run but publicly-funded seniors' home to protest. However, when protagonist Maggie arrives there, she discovers fellow Granny Janice has just been murdered, and a resident declared the unlikely culprit.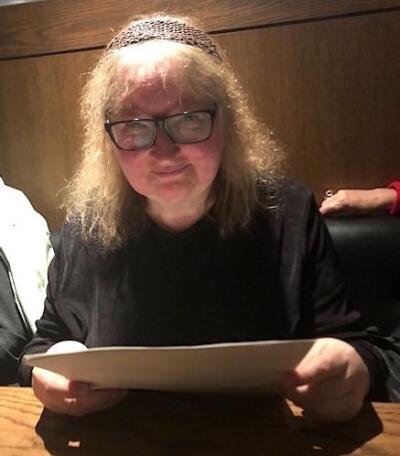 The clue to solving this murder lies not with the authorities, but with the activists and other residents. Ostensibly considering the home as a residence for her mother, Maggie, aided by Granny Fran and insider Rosemary, cases the joint, which boasts an elegant dining room and impressive movie theatre, but poor, expensive actual health care. After emerging with too many suspects, including administrators who appear to be defrauding residents, they uncover evidence at Janice's funeral of a history of corrupt administration. The underdog residents and Grannies identify the real culprit. In this case, taking matters into one's own hands — particularly when one goes unnoticed by the powerful — pays off.
Narrated by Rosemary, a prim nurse at an English hospice, Winona Kent's "Terminal Lucidity" is unexpectedly light, given its setting. The ne'er–do-well nephews of patient Beryl are chomping at the bit to pry out of her the location of the stash of booty her late husband netted from a heist before she goes. Rosemary, nearing retirement and having known the family for decades, is a doting and observant nurse, especially because she is aware of the history of bullying the nephews inflicted on both women — going back to her own childhood. Whether delirious or lucid, Beryl manages to ignore the requests of the nephews, but reveals the location to a visiting priest, and the nephews overhear. In a neat and surprising reversal, it turns out that Beryl, even in her dotage, can give as good as she gets, as can Rosemary.
England is also the setting of Merrilee Robson's "The Pompeii Beauty" — and a major theft is at the plot's core. Here again, a first-person female elder narrates. Astrid is over qualified to be a cleaner in the museum near Hadrian's Wall, but it puts food on the table while she awaits her pension. With her Classics background, Astrid is excited about the Pompeii exhibit, which evokes the scene immediately before the eruption and is crowned by a bust of a young woman, complete with some original jewels. When a man dressed as a Roman soldier disturbs her cleaning, but security guard Gordie doesn't see him on the camera, she can only conclude that a Roman ghost has visited her. While cleaning the bust, Astrid has her second visitation: the Pompeii beauty comes alive, and informs Astrid that the blue bracelet in the display case was a gift from her lover. Astrid plays Cupid. In a charming ending, Astrid and Gordie face hours of police interrogation, but the theft remains a global mystery — to all but the retiring cleaner.
The term "romantic crime" takes on a different cast in P.J. Donison's "Third Time's a Charm," which pairs a seasoned realtor with an undercover cop. Vancouver Island is in the midst of multiple murders of realtors, and Lola and Stan discover the next one is frighteningly close to home. Thanks to curious intrepid buyers, who achieve their purpose after two near misses, Lola scores a big sale — or two.
In another BC-set Rom Crime, "No Traps, No Spray," C.J. Papoutsis' divorcée narrator is successfully humanely eliminating Victoria's rodents and insects. In one neighbourhood, the elderly Mrs Tidsbury warns her off a new client, citing "strange goings-on" inside. Undeterred, Grace meets the handsome, newly retired Angelo (Angel), who recently bought the pest-ridden house (sight unseen) to return to his hometown, teach music at the university, and give private piano lessons. Grace discovers grey squirrels, silver fish, and spiders.
On a subsequent visit, also preceded by Mrs Tidsbury's warning, she discovers a skeleton, which causes her to scurry home, call the police, and drink brandy. Even after Angel explains that the police say the skeleton is over 50 years old, and therefore he is not responsible, Grace is ambivalent about the job. However, when mounting evidence confirms Angelo's story, Grace relents, and the two become closer as they unite to trap rodents and detect a murderer. The budding romance is side tracked, though, when the police inform Angelo of the identity of the skeleton, Mrs Tidsbury fills in the gory blanks, and the detecting pair see the elderly meddler in a new light. Only when they solve the crime can the romance proceed.
Whether unrepentant avenger or fantasy Cupid, all of the female protagonists of a certain age in this anthology recognize their agency. I found my quest to detect further linkages satisfying and enlightening. Kudos to the editors for the concept and execution.
*
Ginny Ratsoy is Professor Emerita at Thompson Rivers University. Her scholarly publications (co-authored and edited and co-edited books and numerous peer-reviewed articles) have focused on Canadian fiction, theatre, small cities, third-age learning, and the scholarship of teaching and learning. In addition to counteracting ageism by maintaining a growth mindset through freelance writing and community engagement, she promotes later-life learning through her involvement as a board member, coordinator, and instructor for the Kamloops Adult Learners Society. Her recent course,  "Canadian Short Fiction: National Literature and Serving the Story," brings together work by Miriam Toews, Maria Reva, and the aforementioned Mavis Gallant. Editor's note: Ginny Ratsoy has recently reviewed books by Gregor Craigie & Kathleen Fu, Cynthia Flood, Reed Stirling, Maria Tippett, Gillian Ranson, and Jo Owens for The British Columbia Review.
*
The British Columbia Review
Interim Editors, 2023-24: Trevor Marc Hughes (non-fiction), Brett Josef Grubisic (fiction)
Publisher: Richard Mackie
Formerly The Ormsby Review, The British Columbia Review is an on-line book review and journal service for BC writers and readers. The Advisory Board consists of Jean Barman, Wade Davis, Robin Fisher, Barry Gough, Hugh Johnston, Kathy Mezei, Patricia Roy, Maria Tippett, and Graeme Wynn. Provincial Government Patron (since September 2018): Creative BC. Honorary Patron: Yosef Wosk. Scholarly Patron: SFU Graduate Liberal Studies.
"Only connect." – E.M. Forster