1785 Lost in Sambisa Forest
Between Good and Evil: The Stolen Girls of Boko Haram
by Mellissa Fung
Toronto: HarperCollins Canada, 2023
$36.99 / 9781443456081
Reviewed by Isabel Nanton
*
Canadian Journalist Mellissa Fung has written an important book which amplifies her documentary Captive, the story of three Nigerian girls captured by Boko Haram (which translates as "Western education is forbidden") in northeastern Nigeria. A victim of abduction and assault herself in Afghanistan where she was working as a CBC reporter in 2008, Fung wrote Under an Afghan Sky (HarperCollins, 2012) of that experience and with other authors like Louise Penny currently works to help women escape from the Taliban-ruled country.
Between Good and Evil: The Stolen Girls of Boko Haram empathetically reveals the experiences of girls abducted in northeastern Nigeria and taken into the Sambisa Forest by the jihadists. Fung's focus is on three young women, Zara, Gambo, and Asma'u, as well as their families, their ordeals, and subsequent efforts to re-integrate into Nigerian society in the face of extreme social stigma.
Fung is above all a fine journalist and compelling storyteller, revealing the kidnapped girls' worlds to the reader through powerful dialogue and visual description, with her own kidnapping experience opening doors to life experiences which might not otherwise have been shared. "How people cope in conflict," she told Monocle, has always interested her in a career of reporting stories in hostile environments.
"Every time I hear of a taking, I think of the taken," says Fung in her introduction, her own experience as a hostage stoking her outrage. In 2019 the Red Cross tallied 20,000 people had been lost in the Sambisa Forest, where when Nigeria become independent of Britain in 1960 was a biodiverse game reserve bulging with wild animals and 62 bird species, now a place of terror. Between 2016 and 2020, Fung made several trips to Nigeria, working with local journalist Kabir Anwar who became her guide and connection to the girls and their families and allowing her to create a narrative that "takes the reader into their collective nightmare," at times in harrowing detail.
When Boko Haram descends on a village, typically the men are given the choice of fighting with the jihadists, or being shot, while the women are taken into the forest to be "married" to the militants, cook, and produce children. The callous killing and concurrent laughing by men picking off victims trying to run away is one of the vivid details Fung uses to convey the pervasive fear and emotional and physical chaos.
Not one long litany of horror, the book's narrative arc is well paced. Instead, visceral and shocking details — Gambo is lashed for trying to escape, then "married" to a fighter Mohammad — made this reader catch her breath at such extreme cruelty. Likewise Asma'u (12), raped when "married" to her young husband, has still not experienced puberty so has to endure his scorn that she is not producing children. "Why are you not with child?" he would bellow before administering another beating. Then, because she was so petite, his colleagues want Asma'u to become a suicide bomber. As Fung writes, the mostly teenage children worry constantly about their families and just want to be reunited with them, leaving the forest with "nothing but the scars on their bodies and in their souls."
However, the book does offer optimism in the face of all this darkness in the person of Aisha, youngest of ten children and her father's only daughter; he heads up the hunters who are trained to track down and apprehend terrorists by penetrating the forest on rescue missions. While the Nigerian government regularly bomb Sambisa in an effort to flush out the militants, Aisha (herself a veteran of two Boko Haram attacks) and her fellow hunters take back the struggle on the ground.
It is Aisha's story which concludes the book. Fierce yet human, she marries Muhammadu for love and they have a daughter, Sa'adatu, who features in one of the book's B&W pictures. Meanwhile, the aftermath chapters examine how escapees become "pariahs" in their own communities, with neighbours fearing that girls who have spent time in the forest are potential terrorists. There are rehabilitation programs with professional counselling for a few of the girls while "others danced their way out of sadness," but most Sambisa survivors suffer continually from PTSD. Many rescued girls return to the forest, one three times, where she is eventually shot. All mourn lost education opportunities.
In her Epilogue, Fung writes that her trauma-sensitive reporting is to "ensure the world doesn't forget about the victims of Boko Haram." This she has achieved in Between Good and Evil.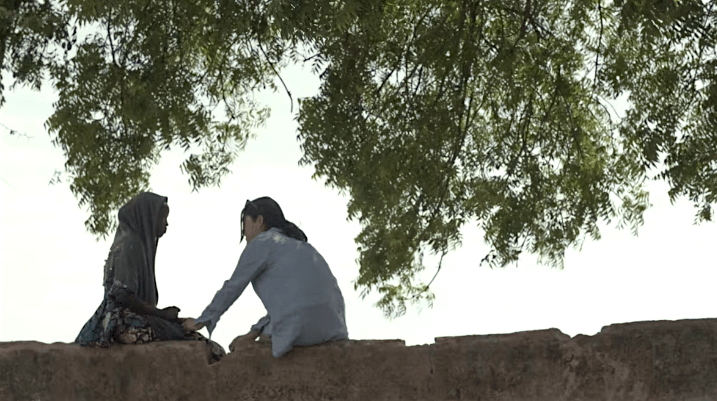 *
Kenyan-born author and Cambridge Press Fellow Isabel Nanton is author of the Sierra Club Guide to BC, Adventuring in British Columbia (Sierra Club Books, 1996, with Mary Simpson). She specializes in writing about East Africa and Western Canada. She has reviewed books for the The Globe and Mail, The Vancouver Sun, and Old Africa magazine in East Africa. Editor's note: Isabel Nanton has also reviewed books by John Schreiner & Luke Whittall, Joe Martin & Alan Hoover, Diana Lary, and Kogila Moodley for The British Columbia Review.
*
The British Columbia Review
Publisher and Editor: Richard Mackie
Formerly The Ormsby Review, The British Columbia Review is an on-line book review and journal service for BC writers and readers. The Advisory Board consists of Jean Barman, Wade Davis, Robin Fisher, Barry Gough, Hugh Johnston, Kathy Mezei, Patricia Roy, Maria Tippett, and Graeme Wynn. Provincial Government Patron (since September 2018): Creative BC. Honorary Patron: Yosef Wosk. Scholarly Patron: SFU Graduate Liberal Studies.
"Only connect." – E.M. Forster
Please follow and like us: