1761 Pacific highways and byways
Incredible Crossings: The History and Art of the Bridges, Tunnels and Inland Ferries that Connect British Columbia
by Derek Hayes
Madeira Park: Harbour Publishing, 2022
$46.95 / 9781550179903
Reviewed by Ron Verzuh
 *
Pacific Highways and Byways: Travelling Through BC History by Boat, Train, Road or Armchair
Pick a road, any road. Chances are you'll be travelling through an aspect of the history of British Columbia's transportation system, as recounted in historian Derek Hayes's massive compilation of our many highways and byways. With hundreds of photographs, maps and other illustrations, it appears to include every bridge, tunnel and ferry that every existed in BC. It is that exhaustive.
Hayes clearly loves his work and he tackles it with an artistic eye for seeing the beauty within these great, and often controversial, constructions. Whether he's displaying the majesty of the Alex Fraser Bridge through a car sunroof, capturing a wooden bridge with a fisheye lens in Quesnel or selecting aerial views of the tunnel work through Thompson River canyon country, Hayes sees many of his bridges as "works of art" and it's difficult to disagree.
There is also art in a historic postcard of a great span, a wide-angle portrait of a high beam or a graffiti covered metal girder. In fact, construction art appears throughout the book. Hayes expertly sets his photos to take advantage of cloud formations and stunning scenery to add artistic flare. A photo of "the world's longest wildlife bridge" set against a towering mountain near the Alberta-BC border is among the many scenic shots.
Hayes also adds a dizzying amount of historical detail to his work. With his plentiful images goes an often-detailed history of the events that shaped the intricate BC roading network. Perhaps the most famous of these is the collapse of Vancouver's disastrous Second Narrows Bridge in 1958. It killed 18 workers and led to a serious investigation of what went wrong. Appropriately, it became known as the Ironworkers' Memorial Bridge.
As Hayes notes, he "tried to focus on bridges that have a story" and he set out to tell that story especially of the older bridges and not the "soulless flat creatures" of more modern times. So, along with the descriptions of bridge, tunnel and ferry construction, we learn of lesser-known events, such as King George VI "refusing to meet with indigenous people" at the opening of the Lion's Gate Bridge to North Vancouver.
Hayes also offers detailed accounts of bridges that didn't survive, those like Granville Street Bridge in Vancouver that were built three times, and bridges that never made it past the plebiscite stage for political or financial reasons. Rather than demolish them, some bridges like the Doukhobor suspension bridge built in 1913 across the Kootenay River near Castlegar are now preserved as historic sites.
He also identifies "the most famous historical bridge in British Columbia" built at Hagwilget by local Gitksan-Wet'suwet'en people in the Bulkley Valley. When the second bridge was completed, writes Hayes, "it was tested by sending women loaded with packs across it while the men were below with long poles ready to prop up the walkway if necessary."
There are images of today's whimsical foot ferries in Vancouver and Victoria Harbours, but this history does not miss the pageantry of the old sternwheelers that plied the lakes and rivers of the Okanagan and Kootenays. The old SS Moyie, for example, is among the last of the great inland sailing vessels that linked rail to road through the first half of the 20th century. It's now being refurbished as a museum in Kaslo. The SS Sicamous is also a museum in Penticton.
Speaking of whimsical, a 46-metre-high bridge over the Nanaimo River Canyon not far from a bridge built for the now idle E&N railway, claims to be "a purpose-built bungee jumping bridge" opened in March 2006 as "North America's first legal bridge for this purpose."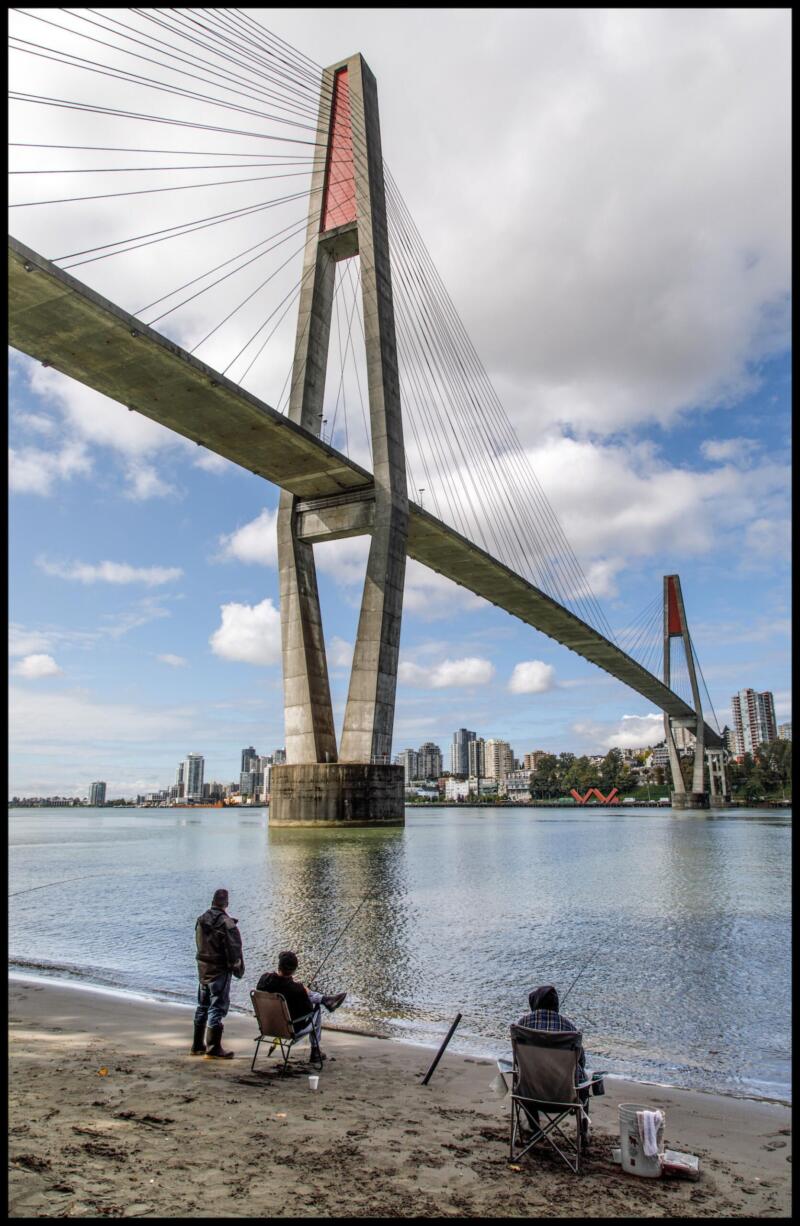 Incredible Crossings is also an encyclopedic exploration of the many superlatives that mark this unique history. For example, the Alex Fraser Bridge across the Fraser River was for 19 years the longest "cable-stayed bridge" in the world. SkyTrain's Skybridge at 616 metres is the second longest in the world. The Golden Ears Bridge in Langley was the "longest extradosed [girder and cable construction] bridge in North America." The main span of the Knight Street Bridge in Vancouver was the longest in the world. The highest bridge in Canada at 175 metres crosses the Similkameen River near Princeton.
Quesnel boasts the "longest wooden-truss pedestrian bridge in the world." There is even "a contender for the prettiest bridge in British Columbia." It's the Baxter Bridge over the Shuswap River, also called the Trinity Bridge. Talk of demolishing it has been hushed by public outcry. Hayes laments that "no one seems to think that some of these old bridges might be worth saving as historical items for recreational use." We know at least one person who sees the value and he shows us why.
There are also odd-ball images like the CNR's Lulu Island Bridge and the breathtakingly high wooden trestles that carried logging trains through seemingly impassable gorges and high passes.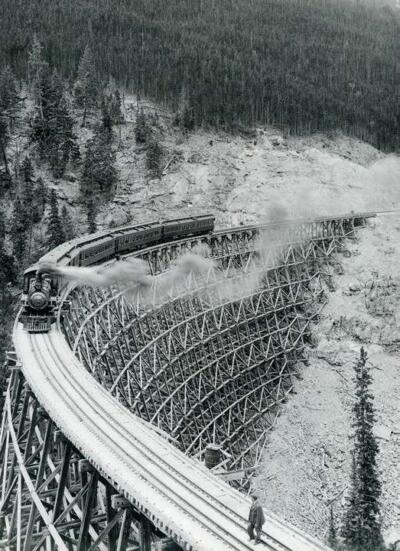 Fame came to some as with the Kawkawa Bridge over the Coquihalla River. It was used in the Rambo movies starring Sylvester Stallone. In 1981, Lillooet's old suspension bridge was replaced by the "Bridge of the 23 Camels." You'll have to read the book to get the skinny on why.
Then there are the humorous accounts of bridge openings. Take the old Port Mann opening on June 12, 1964. Hayes recalls BC highways minister "Flyin' Phil Gaglardi crossing the new bridge, racing at 113 km/h to Chilliwack and back, and bragging that the Port Mann meant you could get there in 45 minutes "without breaking the speed limit." Hayes adds that "You can't." But that was Flyin' Phil, a man who rarely missed a chance to brag.
To characterize the book as a technical manual would be a disservice. It is much more. Yes, we learn of the various techniques used in bridge building, tunnel construction and safe ferry operations. I, for one, got an education in the complicated trusses, wood bridges, and "reaction ferries." But this is much more.
It doubles as a travel book for the curious with a desire to learn about the past on their road trips. It is a return to the romance and sometimes danger of BC's pioneer years and an homage to all those workers and engineers who built today's roading system into a showcase of the province's beauty and a testament to the innovation of its people.
Hayes provides a bridge index that allows readers to select a specific region. In my case, it was the West Kootenay where the Columbia and Kootenay Rivers as well as many lakes and tributaries dictated spanning of one kind or another. Even the suspension foot bridge to Zuckerberg Island, a Castlegar city park at the confluence of the Kootenay and Columbia Rivers, gets a mention.
Have you picked your road yet? There are a lot to consider. Rest assured that the one you choose will have been thoroughly explored in Incredible Crossings, your handy companion whether you are travelling beautiful BC by boat, train, road or armchair.
*
Ron Verzuh is a writer, historian and documentary filmmaker. His forthcoming book Printer's Devils (Caitlin Press, 2023) tells the 30-year social history of the Trail Creek News, a feisty pioneer newspaper in Trail. His recent book, Smelter Wars: A Rebellious Red Trade Union Fights for its Life in Wartime Western Canada (University of Toronto Press, 2022), was reviewed by Bryan D. Palmer; an earlier book, Codenamed Project 9: How a Small British Columbia City Helped Create the Atomic Bomb (2018), was reviewed by Mike Sasges. Editor's note: Ron Verzuh has recently reviewed books by Keith G. Powell, Derryll White, & Erin Knutson, Lily Chow, Jean Barman, Sarah Berman, Wayne Norton, and Mark Hume for The British Columbia Review, and he has contributed an essay on trade unionist Harvey Murphy. Ron lives in Victoria.
*
The British Columbia Review
Publisher and Editor: Richard Mackie
Formerly The Ormsby Review, The British Columbia Review is an on-line book review and journal service for BC writers and readers. The Advisory Board consists of Jean Barman, Wade Davis, Robin Fisher, Barry Gough, Hugh Johnston, Kathy Mezei, Patricia Roy, Maria Tippett, and Graeme Wynn. Provincial Government Patron (since September 2018): Creative BC. Honorary Patron: Yosef Wosk. Scholarly Patron: SFU Graduate Liberal Studies.
"Only connect." – E.M. Forster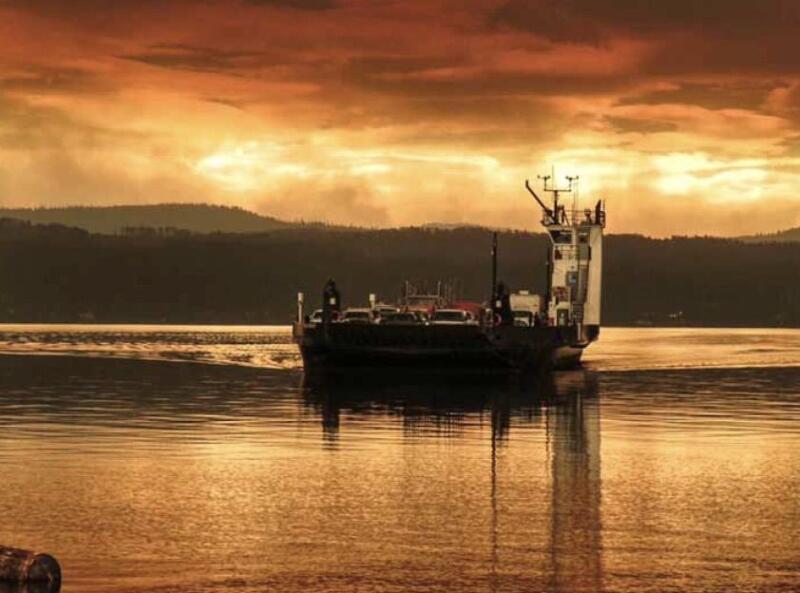 Please follow and like us: