1750 Out of the woods
Forest Walking: Discovering the Trees and Woodlands of North America
by Peter Wohlleben and Jane Billinghurst
Vancouver: Greystone Books, 2022
$24.95 / 9781771643313
Reviewed by Jodi Lundgren
*
Immerse yourself in a forest and use all of your senses to pay attention, advises Peter Wohlleben in this information-packed guidebook, a follow-up to his best-selling The Hidden Life of Trees. Expressing his fascination with and "love of the natural world" through vivid description, Wohlleben alludes once or twice to the problem of climate change and the possibility of its mitigation if "[o]ld, intact forests [are] left to live their lives in peace," but his aim for "this little book" is much more modest: if it "has inspired you to go out hiking in the woods, then I have achieved my goal." He elaborates:
[F]orests are not being used nearly as much as they should be. I'm not talking about the depredations of the timber industry, which does altogether too much in too many places. I'm talking about the adventures, great and small, waiting to be discovered amongst the trees. And to find them, there's just one thing you need to do: take a walk in a forest.
Using the first-person point of view, Wohlleben draws heavily on his experiences as manager of a community forest in Hümmel, Germany; in intermittent third-person passages, Jane Billinghurst — Wohlleben's English translator, who is credited as co-author — relates experiences and observations she amassed during research trips across North America. Though it takes some getting used to, the alternating perspectives create a unique shared voice.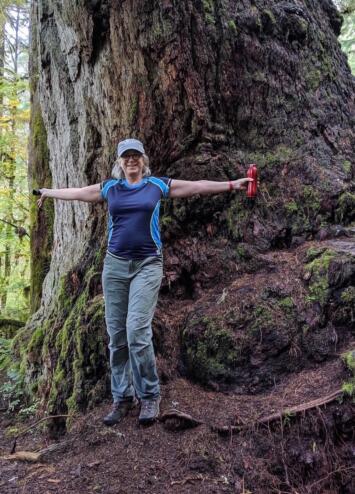 A third voice offered an additional counterpoint when Billinghurst promoted the book in BC at the Victoria Festival of Authors in October 2022. WSÁNEĆ knowledge-keeper and poet Philip Kevin Paul joined her to lead a forest walk in Mary Lake Sanctuary. While Billinghurst pointed out organic features mentioned in the book — such as old man's beard, slime-mould, and a piece of bark full of "holes where the beetles exited as they chewed their way out of their larval nurseries" — Paul localized and Indigenized the event by sharing WSÁNEĆ wisdom and history. This ingenious programming decision acknowledged Indigenous peoples' precedence and presence in North America, providing an important and much-needed supplement to the book.
In its introduction, Wohlleben defines a forest as a "community" in which "trees of different ages and different species grow in the places they choose and that suit them best." The first challenge in taking a forest walk, then, is to find such a place. Once "you step into a forest," Wohlleben recommends shutting one's eyes to intensify a focus on sounds, to which "woodland creatures" are much more attuned. (After all, "What use is it to scan your surroundings with a watchful eye if you can't see past the tree trunks a few yards in front of you?") Forest sounds are just one of the recurring motifs that weave their way melodiously through the book, even as the short chapters of deceptively meandering prose progress logically from tree roots ("the source of life not only for individual trees but for plant life in general on this planet"); to trees' shapes; and to their leaves, nuts, seeds, and bark. The focus then shifts to organisms that live on trees, including the decomposers who bring the life cycle full circle, and eventually to creatures that live among the trees, often in complex interdependencies.
Humans' experience in the forest comes to the forefront in the second half of the book. Wohlleben encourages visitors to watch and listen for forest animals, going as far as to recommend riding a horse, both for the added height and because "wildlife such as deer are less likely to run away when they see you on horseback." An experienced leader of school tours as well as survival trips for adults, he offers detailed instructions for everything from "how to make chewing gum from spruce resin" and how to carve a "willow whistle" to how to identify animal tracks, find food (such as spruce cambium and pill bugs) and make a fire. It turns out that human safety outdoors is threatened less often by large predators than by small insects: "Increased forest fragmentation […] and large deer populations mean disease-infected ticks will become more common and widespread in the future." Accordingly, Wohlleben also offers extensive tick-related advice.
As he nears his conclusion, Wohlleben sounds a rare note of lamentation. "In our modern world, a combination of carefully managed forests and protected areas where trees age naturally represent a good compromise. Unfortunately, such harmonious combinations are hard to find." Since humans seem to need extra incentives to retain wooded areas, Wohlleben identifies uses beyond the educational and recreational, such as "memorial forests" in cemeteries and "wooden furniture." He describes a desk he had designed and built by "craftspeople [who] work with small-scale, local loggers to find special pieces of wood they can fashion into furniture that reflects the region of its making" and notes that "such enterprises exist in North America, as well."
Coincidentally, this review was written on just such a custom-built desk, made of salvaged Douglas fir purchased from a defunct sawmill on Vancouver Island by Paul Fisher, a.k.a. The English Cabinet Maker. I whole-heartedly echo Wohlleben, who writes that "when this wonderful piece was finally installed in my office, I was overjoyed. My desk exceeded my expectations." Although it undeniably requires privilege to afford such a piece, Wohlleben notes, "Apart from the fact that more and larger forested areas should be protected, there's nothing intrinsically bad about using wood. This natural material brings a little of the forest into our homes."
Readers who are already outdoorsy or who are fortunate enough to see trees and wildlife around their own homes will find the book enriching. Personally, I have developed an even deeper regard for the dead tree — a snag — outside the window of my home office, the pileated woodpeckers who peck it, and the nuthatches who nest in it, not to mention the hummingbirds in a neighbouring bush who "use lichen to line their nests" and to camouflage them. Forest Walking may also inspire people who need a nudge to get into the woods, especially in winter or at night. Those convinced that the sixth mass extinction is already irreversibly underway will no doubt find the book too lightweight, but even if humans' past indifference to the natural world has hastened the demise of most of the earth's life forms, Wohlleben and Billinghurst show that it is still a meaningful and worthy practice to notice, observe, and appreciate these organisms — to honour them with the tribute of our attention.
*
Jodi Lundgren belongs to the Open Learning Faculty at Thompson Rivers University, where one of the courses she facilitates is "Literature and the Environment." She loves to hike and backpack in the forests and on the beaches of Vancouver Island, and her young adult novel Gone Wild (Lorimer Kids, 2015) is set on the Juan de Fuca Trail. A settler of English and Danish descent, she lives on the traditional territories of the Lək̓ʷəŋən and W̱SÁNEĆ peoples. Visit her website here.
*
The British Columbia Review
Publisher and Editor: Richard Mackie
Formerly The Ormsby Review, The British Columbia Review is an on-line book review and journal service for BC writers and readers. The Advisory Board consists of Jean Barman, Wade Davis, Robin Fisher, Barry Gough, Hugh Johnston, Kathy Mezei, Patricia Roy, Maria Tippett, and Graeme Wynn. Provincial Government Patron (since September 2018): Creative BC. Honorary Patron: Yosef Wosk. Scholarly Patron: SFU Graduate Liberal Studies.
"Only connect." – E.M. Forster
Please follow and like us: