1739 The art of editorial illustration
On editorial illustration
by Mariken Van Nimwegen
*
"You were an editorial illustrator? So you did the cartoons in the newspaper?"
Well no, I say. Cartooning is a genre of drawing that's usually part of the editorial pages where it satirizes a current news item, either local or international, and tends to be positioned close to the paper's daily 'official' editorial opinion column. What's considered 'editorial illustration' is something else: it consists of visual commentary that adds one or more ideas to the background-to-the news story it accompanies. The drawing is usually placed on the page opposite the editorial page, also known as the Op-Ed page, but can appear in the paper anywhere an opinion article — as opposed to a news story — can be found.
Before retirement, I did this kind of work for the Vancouver Sun for many years, but nowadays these art distinctions are rapidly disappearing along with the demise of the printed daily papers. Cartooning survives to some extent but editorial illustration has all but vanished. By lack of a broadsheet paper and its ample space for 'wrap-around' lay-outs, the artistry of an illustration of this kind, closely intertwined as it is with the story that generated it, is hard to 'read' on a tiny smartphone format. And the so-called printed 'legacy media,' now seriously diminished, no longer care to allocate space for it.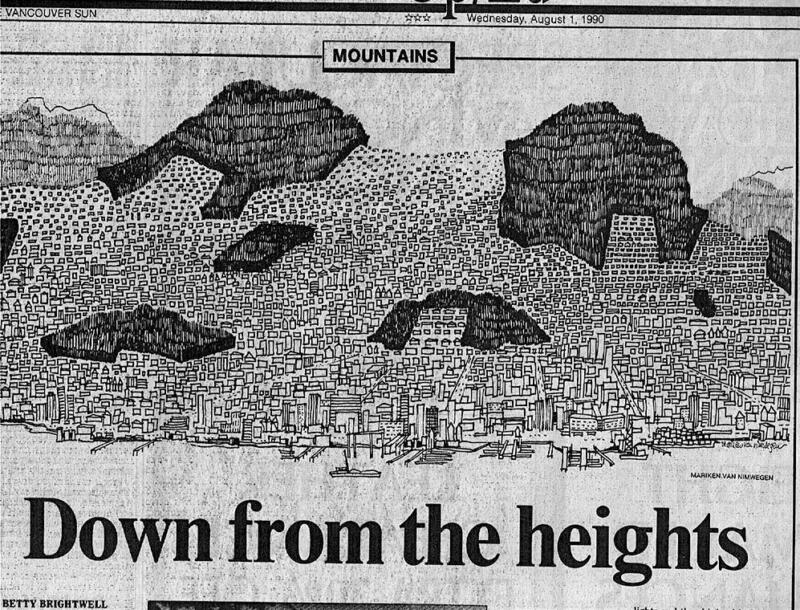 In 1970, Jean-Claude Suarès, an illustrator and the art director of The New York Times started the tradition of editorial illustration. He came up with the idea to commission America's top illustrators to submit visual commentary to the paper's opinion pages in the form of a hand-drawn image. These drawings were meant to not only accompany a specific passage of text but also to interpret an entire article while eliciting an emotional response from the readership. Marrying drawings with ideas re-defined the role of graphic art and proved a successful innovation in 'newspaperism.' It didn't take long for many papers across the western world to adopt the practice, which flourished right up to around 2000.
Then Photoshop arrived and became part of the newspaper business' inevitable transformation into — and love affair with — digital technology. Hand-drawn art began to disappear and us editorial artists became computer denizens who first had to figure out this new medium and spend an entire shift on a computer-generated image (in 'Adobe Illustrator 1.0,' remember the days?) that we could have drawn by hand in ten minutes. In came the 'mosaic or scrapbook approach' to photographic illustration where already existing images of all objects and people mentioned in the story had their contours routed, lifted out of whatever background they were in originally and pasted into one image, the superficial 'everything and the kitchen sink' method, devoid of empathy or history to make the work meaningful. Mind you, there also had been plenty of manual illustrators who did nothing more than this. They adhered strictly to the literal meaning of the word 'illustration' by faithfully depicting everything written about in the story, without any further visual ideas to add to and enrich the subject.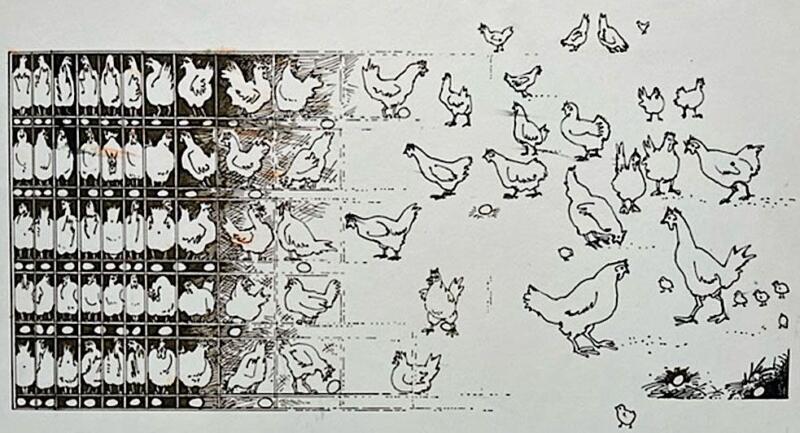 This kind of illustration, for lack of conceptual approach, would be called 'page embellishment' and newspapers utilized this too, primarily in the various 'lifestyle' pages to lighten up a text-heavy page. In my days, I created plenty of those cute little decorative 'vignettes' as well. So, apart from press photography of course, in terms of drawing for newspapers we have cartooning (in-house cartoonists at the Vancouver Sun were Roy Peterson, Len Norris and Graham Harrop. We also had the syndicated artist Kerry Waghorn who created caricatures of people in the news), editorial illustration (usually commissioned on a free-lance basis to various people) and decorative inserts done by staff, but one other remnant of hand-drawn illustration still survives: court drawing. Canada prohibits photography in courtrooms to this day, so artists who can sketch good likenesses of the characters at hand and do it fast, are still sent out by papers — and television — to depict the juiciest, most spectacular court cases. I liked the inherent action of doing that, too: I enjoyed listening to the lawyers' often elaborate 'back and forth' while drawing.
But my heart was in editorial illustration as described above because it beautifully combined my interests in contemporary culture, history, literature and politics, as well as my world-travel experience. And it was a healthy challenge, always, to come up with an idea and execute it in a drawing within the fast-paced deadlines of the daily newspaper: take the print-out of the story home in late morning, pace through the house, ruminate at a window, do a little research, find my 'Eureka,' create the drawing and take it into the paper's office by late afternoon the next day so it could go to press overnight for the early morning's edition.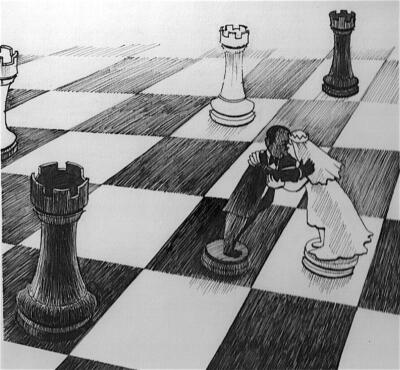 Aware of the nature of working for a mainstream daily paper, my personal philosophy was to never allow the 'artistry' to upstage the 'readability' of the drawing, and to stay within the general culture's shared imagery rather than go into an abstract, non-representational style. Most editorial artists are able to draw virtually anything; many veer toward caricature and vast exaggeration for effective expression, and play with perspective and proportion toward surreal effect while combining one or more concepts in surprising ways. All this is delivered in simple black and white ink or graphite, preferably in lines rather than half-tones for the kind of strong contrast required due to the technology of printing on coarse wood pulp paper (a mere 65 dots per inch). My reportorial style of drawing and my anthropological interest in detail suited this work well.
Surprisingly, the editors hardly ever interfered with my drawing submissions. I was almost never told what to do or asked to change the image I came up with, unless it was a specific project of a page-full of articles on the same theme designed by the graphics editor. The truth was that a newspaper mainly consisted of 'word people,' not 'picture' ones. Generally, there was a disconcerting indifference to visual content; its worth was poorly appreciated among the ranks and we'll never know whether the readership paid concerted attention to the drawings given our insiders' accepted understanding of a reader's eyes spending an average of three seconds on a newspaper page. To a scanning audience, headlines rule!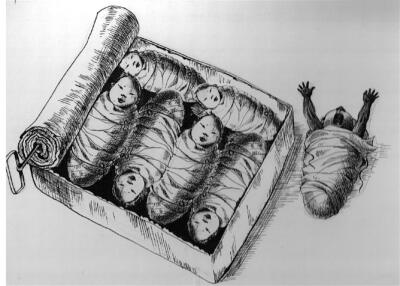 And by the way, reporters don't write the headlines for their own stories. They're done later by 'deskers,' often under deadline stress and hardly allowed proper time to read the story in full. Mismatched or misleading headlines were a huge source of complaints from reporters, so it was only natural that The Sun and Province reporting staff would hold the 'Award for Funniest or Worst Headline of the Year,' a booze-addled party at the Press Club. Our press photographers too, proud of their professional expertise, used to complain bitterly and often about the ways in which their photos were sized and placed on the page or worse, cropped to suit the available space (a perfect composition cropped! Heresy!), and I had to fight from time to time for proper placement and accreditation of my illustrations as well.
The Vancouver Sun may not have been The New York Times, but it was still the largest newspaper of western Canada; as for my skills as an illustrator, of course I wasn't anywhere near the league of the famous artists employed by Suarès, but I was happy and am still delighted that in being allowed to do this type of work, I was part of the tail-end of the printed dailies' heydays.
*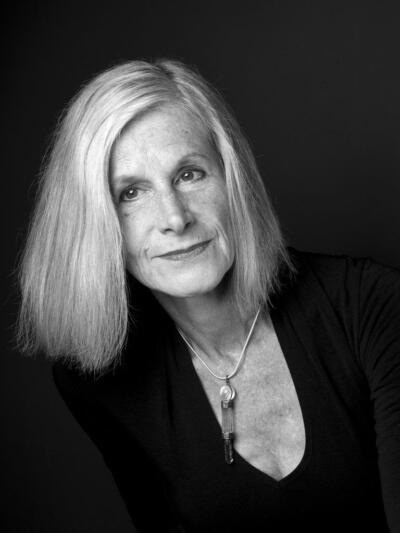 Mariken Van Nimwegen is a member of Simon Fraser University's 2001 Graduate Liberal Studies cohort; she graduated in 2006. Visit her website here. Editor's note: "These were some of the best years of her life," Mariken writes of her time at GLS. She has also contributed an essay, "Dear Readers of History, and all that Jazz," in the British Columbia Review and the GLS "Letters from the Pandemic Series."
*
The British Columbia Review
Editor and Publisher: Richard Mackie
Formerly The Ormsby Review, The British Columbia Review is an on-line book review and journal service for BC writers and readers. The Advisory Board consists of Jean Barman, Wade Davis, Robin Fisher, Barry Gough, Hugh Johnston, Kathy Mezei, Patricia Roy, Maria Tippett, and Graeme Wynn. Provincial Government Patron (since September 2018): Creative BC. Honorary Patron: Yosef Wosk. Scholarly Patron: SFU Graduate Liberal Studies.
"Only connect." – E.M. Forster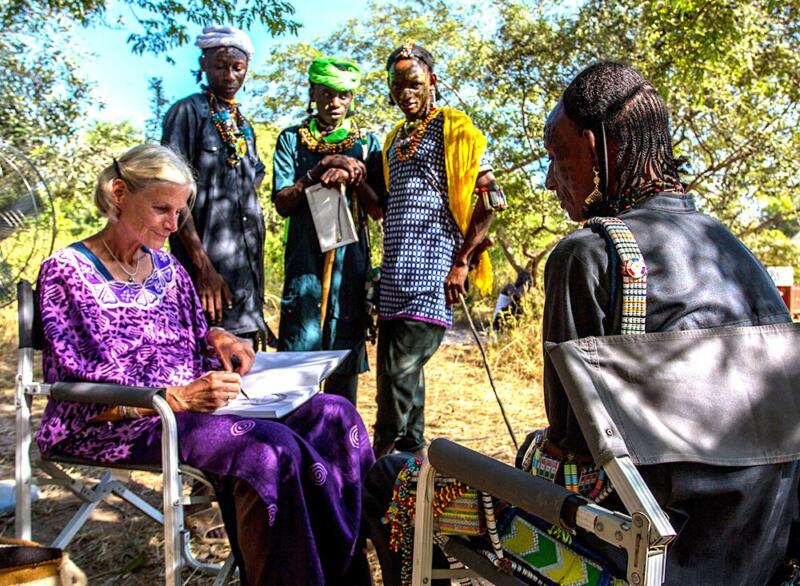 Please follow and like us: