1699 Many a life line
Rescue Me: Behind the Scenes of Search and Rescue
by Cathalynn Labonté-Smith
Qualicum Beach: Caitlin Press, 2022
$26.00 / 9781773860947
Reviewed by Mike Starr
*
"Behind the Scenes of Search and Rescue" is what the subtitle promises and is exactly what you'll get with Rescue Me. Author Cathalynn Labonté-Smith did over 60 interviews with Search and Rescue (SAR) members across Canada and the United States. The result is a fascinating look at SAR, by means of interviews with some of the most experienced people involved, and 69 of their stories.
Growing up on Vancouver's North Shore, I was aware of North Shore Rescue (the busiest SAR in Canada), and living now on BC's Sunshine Coast I have become aware of Marine Search and Rescue, but I was surprised to learn about specialized cave rescue groups, mounted (using horses) rescue groups, and groups or individuals who specialize in swift water, diving, ropes, rescues on ice, and others. Each type of environment has its own particular challenges and requires specialized knowledge, which means specialized training for the SAR members. The sheer number of hours required for training surprised me, especially given that most SAR members are volunteers.
The use of dogs in searches seems to be important in many regions, and especially dear to Labonté-Smith, who is a dog owner. At her public readings, the author often arranges to have a trained SAR dog in attendance. "People come to see the dogs!" she says. There may even be plush toy SAR dogs for sale at these events, to raise funds for the local SAR group.
Labonté-Smith introduces us to each SAR member and gives some background on how they got involved, then reports a few of their most memorable cases. There are fascinating stories of cave missions where hundreds of volunteers, many of whom have specialized training in cave rescues, are mobilized to bring one injured caver to the surface. Some of the stories, like the rescue of people from a bus that was balanced precariously on a cliff, elevated my heart rate!
All ground SAR members in BC are volunteers, except for staff from Parks Canada for incidents in national parks, police officers, and a few other situations. Volunteers purchase their own personal expedition equipment, and most SAR groups raise funds to purchase required equipment for their search teams. Some jurisdictions provide some of the equipment that the groups require. In 2022, the Government of BC provided about six million dollars to BC SAR groups, allocated to equipment, training, education and critical incident stress management programs, and operations of the BC SAR Association, which represents the over 3,000 ground SAR members belonging to 79 SAR teams in the province.
This is the first year that SAR groups in British Columbia have received what they call "sustainable funding" from the government, and it must be said that the situation in BC (other than for the cave rescue group, which receives none of the funding that regular ground SAR receives) is much better that in many other jurisdictions. Even in BC, however, SAR groups must raise about half of their own funds. Besides the usual kinds of fundraising that all charitable organizations do, grateful rescued subjects or their families will sometimes donate to the SAR group (and some of the proceeds from sales of Rescue Me are going to SAR groups in BC).
In story after story, Labonté-Smith tells how SAR volunteers spend hundreds and sometimes thousands of hours per year on training activities and often-dangerous calls. Some jurisdictions will pay for mileage, some will purchase equipment, but usually SAR personnel are unpaid. Why is it that most first-responders are paid (with the exception of volunteer firefighters), but SAR responders are not? As an example of the nonsensical contrast, a mountain biker is injured in the forest. An ambulance is called and waits in the parking lot, while SAR members take a stretcher and lots of ropes, winches and other equipment into the forest. After administering first aid and stabilizing the subject, SAR members engage in two hours of highly technical work to secure the subject to the stretcher and transport them up a steep ravine, then through rough forest trails to the parking lot. Then the volunteer SAR team hands off the subject to the paid paramedics to continue administering first aid and drive the subject to hospital. Why are the paramedics paid and the SAR members are not, even on a per-call basis? What does this say about how our society values their services?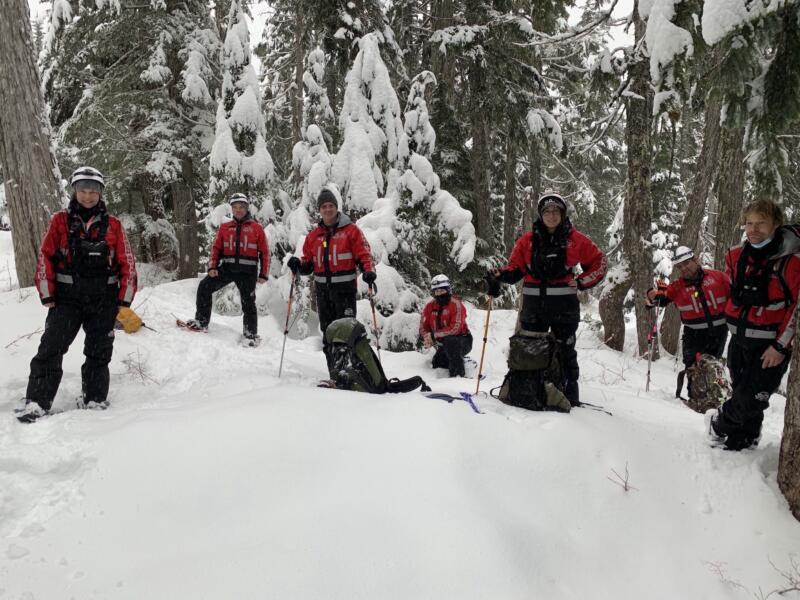 Reading about the searches that resulted in rescues is heart-warming. There are intrinsic rewards to SAR work, especially when searches are successful and families are grateful, but many searches become recovery missions, where bodies are brought back to grieving families or, even worse in some ways, searches that end without a resolution (the subject is never found). Involvement in SAR can have profound effects on members, and even on their families. Labonté-Smith reports some cases of emotional breakdowns, and a divorce related to time spent away from a spouse on SAR activities. This work is emotionally, as well as physically, taxing, and SAR members sometimes need to use the services of a Critical Incident Stress Management program, which was developed especially for SAR members.
The cases in the book are recounted in a matter-of-fact way, but readers with a vivid imagination will experience the drama. If your imagination needs some help, you can find a five-part documentary television series on Knowledge Network called Search and Rescue: North Shore.
Labonté-Smith hopes that readers will heed the warnings contained in these cases. Some SAR members are involved in community education efforts that prepare people to go out into the wilderness. The information given to attendees may prevent them from getting lost, or at least influence them to share a trip plan before leaving and to take the right supplies so if they do become lost they will be prepared to survive until they are found. In the final words of this book, Labonté-Smith hopes that members of the public may "be educated about outdoor safety so that they don't become cautionary tales, rather they become role models and mentors."
The author says she has begun work on a second volume of SAR stories. I will be first in line to buy the book, and I hope to read more stories that pierce the stoic surface of SAR members. Yes, they are heroes, but they are also humans who are often called on to operate in extreme physical and emotional environments. I want to read about both the heroism and the humanity.
*
Mike Starr (M.A. Canadian Studies, Trent 1992), retired in 2017 from Parks Canada, where he had spent 24 years as an interpreter, planner, and manager at three different national historic sites, most recently Fort Langley. He now does writing and editing from his home on the Sunshine Coast. Contact him at mike@prose-star.ca Editor's note: Mike Starr has also reviewed books by Geoff Dembicki, Arno Kopecky, Michael Kaehn, Cecilia Morgan, Caitlin Gordon-Walker, and Mary Tasi & Wade Baker for The British Columbia Review.
*
The British Columbia Review
Publisher and Editor: Richard Mackie
Formerly The Ormsby Review, The British Columbia Review is an on-line book review and journal service for BC writers and readers. The Advisory Board consists of Jean Barman, Wade Davis, Robin Fisher, Barry Gough, Hugh Johnston, Kathy Mezei, Patricia Roy, Maria Tippett, and Graeme Wynn. Provincial Government Patron (since September 2018): Creative BC. Honorary Patron: Yosef Wosk. Scholarly Patron: SFU Graduate Liberal Studies.
"Only connect." – E.M. Forster
Please follow and like us: