1663 BC Review 2022 fundraiser
A note from Richard Mackie:
Dear Friends, Colleagues, and Readers of The British Columbia Review,
In February 2022 we changed our name from The Ormsby Review to The British Columbia Review — we are one and the same, though our registered name under the BC Societies Act continues to be The Ormsby Literary Society. The change in name has brought more readers to our site. Every day an average of 300 people look at 1000 pages — daily! Readers, authors, publishers, and bookstores rely on us increasingly for the latest from BC writers.
On behalf of the Board of Directors and Advisory Board (listed below) of The British Columbia Review, I must remind readers of our need for financial support. This request for private donations is done annually to keep the review in a healthy state. We are most grateful to the 111 donors who contributed to our 2021 fundraiser — up from 96 in 2020.
Unlike publications with a paywall, The British Columbia Review is free. We have other sources of income, mainly advertising and public support from government agencies. We are supported by 27 publishers from across Canada whose banner ads appear on all our pages. We have been fortunate to receive grants in 2022 from Creative BC and the Department of Canadian Heritage which, with private donations from our friends, allow us to offer a payment of $100 per book to book reviewers. Five out of ten reviewers accept the offer. We spend $15,000 a year on honoraria alone.
If you're a regular reader you'll be familiar with our unrivalled coverage of BC literature, history, and culture generally. Each year we publish at least 300 insightful book reviews, essays, and memoirs relating to British Columbia  — books, literary profiles, and cultural and historical issues whether they are expressed through fiction, poetry, non-fiction, or the personal essay. In this, we strive to remain at the forefront of supporting authors and publishers of fine work with respect for the plurality and diversity of their voices. Our main categories are fiction, poetry, history, and non-fiction, and we also link to Indigenous, Asian-Canadian, Black, and LGBTQ2 authors and topics in our homepage categories.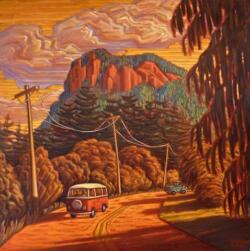 For the last few difficult years The British Columbia Review's service to the communities that make up British Columbia has proved especially necessary. Shut-in readers are challenged to learn about what is taking place within the world of BC books and authors, and The British Columbia Review provides a guide.
In providing this community service, The British Columbia Review is now asking its readership to show its support financially. Please consider making a donation by PayPal, Interac e-transfer, or cheque through our secure donate button on our website.
Cheques made out to the Ormsby Literary Society may be sent to:
Ormsby Literary Society
c/o The British Columbia Review
1865 Kitchener Street
Vancouver, BC
V5L 2W5
We can mail you a receipt, but it won't be tax deductible.
Finally, may I also invite you to join the 560 people who subscribe to The British Columbia Review? Sign up here to receive an email with every third Ormsby post. There is no cost to this.
Thanks for your support in this  annual fundraising campaign for The British Columbia Review.
Yours sincerely,
Richard Mackie
Publisher & Editor
The British Columbia Review
*
Board of Directors, Ormsby Literary Society: Joanne Arnott, Daniel Francis, Trevor Marc Hughes, Renee Sarojini Saklikar, Byron Sheardown, LiLynn Wan, and Eldon Yellowhorn.
Advisory Board, The British Columbia Review: Jean Barman, Wade Davis, Robin Fisher, Barry Gough, Hugh Johnston, Kathy Mezei, Patricia Roy, Maria Tippett, Graeme Wynn.
We acknowledge the Indigenous peoples of British Columbia whose traditional territory we occupy and whose natural resources still sustain us.
*
The British Columbia Review
Publisher and Editor: Richard Mackie
Formerly The Ormsby Review, The British Columbia Review is an on-line book review and journal service for BC writers and readers. The Advisory Board consists of Jean Barman, Wade Davis, Robin Fisher, Barry Gough, Hugh Johnston, Kathy Mezei, Patricia Roy, Maria Tippett, and Graeme Wynn. Provincial Government Patron (since September 2018): Creative BC. Honorary Patron: Yosef Wosk. Scholarly Patron: SFU Graduate Liberal Studies.
"Only connect." – E.M. Forster
Please follow and like us: