1661 Poets for the planet
Worth More Growing: Youth Poets Pay Homage to Trees
by Christine Lowther (editor)
Qualicum Beach: Caitlin Press, 2022
$22.00 /  9781773860978
Reviewed by Heidi Greco
*
In the spring of 2022 Caitlin Press released their amazing themed anthology, Worth More Standing: Poets and Activists Pay Homage to Trees. Edited by Christine Lowther, that book was part of a legacy project for her tenure as the Poet Laureate of Tofino. Its 240 pages included work by several current or previous Poets Laureate, some GG and other award winners, as well as a slew of other writers, both familiar and less so.
This autumn, Caitlin published a second volume, Worth More Growing: Youth Poets Pay Homage to Trees, the companion which completes Lowther's ambitious project. Contributors here are school-age writers, with the work arranged according to each poet's grade, from K-12.
Many of the poems use the names of trees not only as their title, but also as their starting point. As the Table of Contents reveals, there are poems for the Maple Tree, Oak Tree, Sitka Spruce, Birch and others. Several riff on the notion of 'my' tree, and many are clearly guided by teachers with the gift to inspire.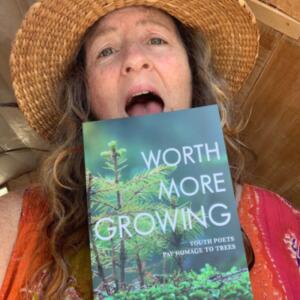 Some of the poets explore form, including the challenging (to me at least) palindromic poem, which can be read in the traditional manner — line-by-line, downward, but then read again, line-by-line, in an upward direction. There's also an acrostic, a very successful concrete poem, and even a few that employ rhyme.
Although the themes are primarily ones that celebrate the beauty and strength of trees, a number of the writers lay bare their concerns for the future of the planet, as do these final lines from a poem by Alyssa Liu, a student in Grade Five:
I want to be a tree to protect people
from the big summer sun.
The editor's selections often move in interesting ways: a poem about a tree that seems unclimbable is followed by a piece about a tree that's "comfortable" and "easy to climb." I also appreciate the occasional bursts of musicality, the only element I wish there were more of. My favourite of these, written by Harcus Yang, a student in Grade One, is a line that makes me want to sing: "A fiddle tree is a whale shaped tree."
I can't pretend that every poem in here is brilliant. But these young writers certainly have their hearts in the right place. They are the Greta Thunbergs of British Columbia, a new generation of environmentalist-poets who represent our collective hope. These are writers who themselves are works-in-progress. But maybe that in itself offers a good reason to buy this book for some young poet-in-the-making. Reading these poems might provide them with a springboard for their own writing and might even give them permission to say, "I can do better!"
For all of our sakes, let's hope that when they say that, they will be able to put the words into action — and not only with their writing, but with changing the ways we treat our blessed planet.
*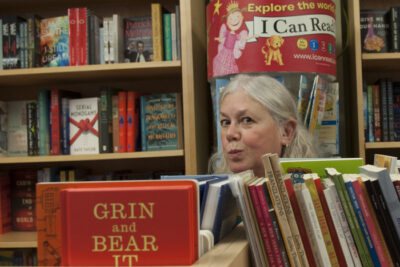 Heidi Greco lives in Surrey, where some would contend she can often still be found to be tilting at windmills. Editor's note: Heidi Greco has recently reviewed an exhibit by Douglas Coupland and books by Rhona McAdam, Richard Lemm, Souvankham Thammavongsa, Marguerite Pigeon, John Gould, and Joanna Lilley for The British Columbia Review. Three of her books have also been reviewed here: Glorious Birds: A Celebratory Homage to Harold and Maude (Anvil, 2021), by Linda Rogers; From the Heart of it All: Ten Years of Writing from Vancouver's Downtown Eastside (Otter Press, 2018), by Yvonne Blomer; and Practical Anxiety (Inanna, 2018), reviewed by Andrew Parkin.
*
The British Columbia Review
Publisher and Editor: Richard Mackie
Formerly The Ormsby Review, The British Columbia Review is an on-line book review and journal service for BC writers and readers. The Advisory Board consists of Jean Barman, Wade Davis, Robin Fisher, Barry Gough, Hugh Johnston, Kathy Mezei, Patricia Roy, Maria Tippett, and Graeme Wynn. Provincial Government Patron (since September 2018): Creative BC. Honorary Patron: Yosef Wosk. Scholarly Patron: SFU Graduate Liberal Studies.
"Only connect." – E.M. Forster