1653 Minding a vital musician
The Longest Suicide: The Authorized Biography of Art Bergmann
by Jason Schneider, with a foreword by Michael Turner
Vancouver: Anvil Press, 2022
$24.95 / 9781772141962
Reviewed by Catherine Owen
*
As I turn the shiny pages of this necessary biography of Canada's enfant terrible, or "punk poet laureate" as he's more often billed, songwriter and performer, Art Bergmann, I'm taken back to the 90s when I was in my twenties, married to a renegade versifier and a frequent attendee at shows at The Town Pump, The Railway Club and The Wise Hall in Vancouver. I believe it was at the former venue that I saw Bergmann for the first and only time. He struck me with his raging energy, his craggy voice, a darker presence than Joe Keithley, say, whom I saw, with and without DOA, much more frequently as his children attended school in Burnaby with my offspring and my partner would organize events that included him, such as 2000's "A Two and Three Zeroes" art extravaganza at Café Deux Soleils on Commercial Drive, featuring Joe, Robert Priest, Jamie Reid and other denizens of the 90s alt-scene.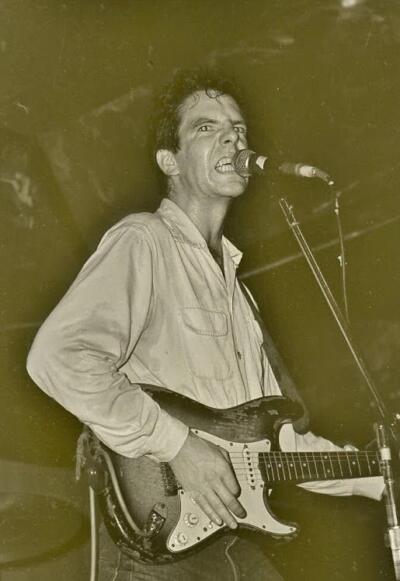 Although I never saw him perform again, Bergmann seemed to be a shadowed figure on the edges of everything, like Jean Smith from Mecca Normal or Chi Pig from SNFU. Jason Schneider's accessible biography, possibly unfortunately titled, as "suicide" connotes only negativity (and maybe even a 'blaming the addict' mentality), begins with a peppy, personalized preface by Michael Turner, also taking me back to the days of the Malcolm Lowry Room. Schneider then delves into Art's childhood, providing a quick sketch of his parents: Frank and Edith, Russian Mennonites who raised their five boys supportively with hard work and a dutiful attitude, before lunging into a deep and sordid account of his adolescence in Surrey and its environs. His nascent musical project was the Mt Lehman Grease Band, a group that regularly terrorized town halls with Art screaming out lyrics such as "Pissin', shittin', jackin', blowin', rubbin' my load on the bathroom wall" (p. 24).
Not long after they changed their name to the Shmorgs and in 1977, made their first album just as the scene shifted to a punkier one. In bold text littered throughout the biography, Art's memories are recorded, providing a direct perspective on the erratic nature of his relationship with the music industry, from bar owners to fellow musicians to producers. During the later 70s, Bergmann recounts: "I'd been fired from so many bars for playing my own music" (p. 36). Around the same time, he was having run-ins with men who "queer" bashed in the West End, beating "the shit out of us with crowbars and tire irons" (p. 39), playing the funky Smilin' Buddha Cabaret on East Hastings with his next band, the K-Tels, where "it stunk to high heaven" (p. 44) and shortly after, with the re-named The Young Canadians, being the reason this group split up too, in 1980, calling himself a "bitch" and underscoring how "Narcissism was my disease" (p. 53).
Schneider's contextualization of the era is valuable for demonstrating how the concerts happening in Vancouver in 1979, and especially The Clash, literally set the stage for a range of bands to form and persist, Joe Keithley underlining that, "It kinda was the show that really opened up the scene" (p. 40). Schneider is a colourful documentarian of this wild time, his selection of details punctuated by cool photos of bands and posters.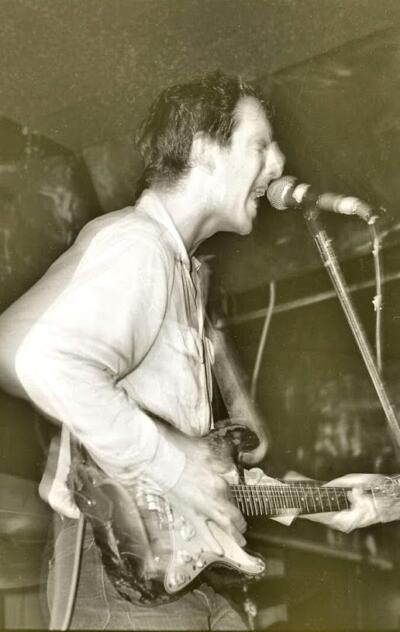 By Chapter 5, the background shifts to heroin for a section, its laws, distribution and impact on the Lower Mainland musical community. The drug is first mentioned early in the book as a "freedom from oppression" that "could be achieved through religion…but heroin offered a more expedient path" (p. 25). Although the reasons why Bergmann wanted to try heroin aren't explored here, by the 80s, the fact that it was a habit is evident, laced throughout his work with I Braineater, his next band Los Popularos, and despite a sober stint as a "jug hound" in the oil industry, a return to the drug with Poisoned. During these years, the collision between potential connections and Art's seeming indifference to truly becoming what one considers a success becomes marked. In 1986, he is quoted as saying: "There was never any plan towards securing a record deal. I thought it was a fun game to play" (p. 77) and the "surefire bet" (p. 77) of interest from both Paul Hyde of the Payola$ and Bob Rock, producer of multi-platinum albums like Bon Jovi's Slippery When Wet, dwindled when Bergmann, even under his own name, couldn't sign due to being "just too alternative" (p. 80), according to Sam Feldman. John Cale eventually took on the project but it ended up being disastrous, Art summing the experience up by stating: "The whole session, I wanted to slash my wrists" (p. 82).
The eventual album, Crawl with Me, still ended up producing a few videos and selling "about 20 000 copies," scarcely a total failure, but there's a recurrent sense that a toxicity accrues around many of Bergmann's recordings and performances, due in part to his addiction. By 1990, Art's band had changed again, now the Showdogs. His bands play with bigger acts like 54-40, Midnight Oil and the Boomtown Rats but he still eludes the true spotlight, likely relating to his politicized lyrics, the fact that his collaborators often "severed ties" (p. 107) with him, his aggressively drunk stage presence and his attitude to fame, claiming in 1991, "I don't know what a hit single is" (p. 102) and in 1995, "it's kind of hard to tie me up and point me in one direction" (p. 114). Even though, in that same year, he won a Juno for Best Alternative Rock Album for What Fresh Hell is This? (he'd been nominated as Most Promising Male Vocalist in 1989), he continued to have few funds and little general lauding, although his true fans would regularly accord him such epithets as "greatest living treasure in Canadian music" (p. 93).
Chapter 9 recounts the tale how he met and married Sherri Ivers (Decembrini) (who tragically died this year after a fall), a sweet love story of shared affection, damage, and adventure. In the role often accorded to women in these bonds, she rejuvenated him, infused him and brought him back from a "precipice" (p. 101), even though she struggled with her own addiction. By 1997, they'd both kicked heroin together, moving to Toronto for a time, and eventually to a farm in Airdrie, AB, so Sherri could be close to her new granddaughter (she'd become a mother with another man at 16). Art, meanwhile, kept being plagued with a dearth of finances, shitty deals, rude collaborators, and then, even worse, deteriorating discs in his spine that required surgery. One bright spot was the support of the Great Lake Swimmers' Tony Decker, who obtained Art a show at the Queen E Theatre in 2009, which led to later Vancouver shows, an EP Songs for the Underclass, and even a tour.
As the biography concludes, Schneider quotes Bergmann talking about how his writing of songs that dealt with feminism and colonization are the only way he has had a "positive effect" as otherwise he "never had any power" and dealt for decades with "awful, awful people in the music industry" (p. 136), just a few years before he was named to the Order of Canada in 2021. The bio ends a bit abruptly with less of the current music scene fleshed out than the former and the final line is a toss away, stating that the future will always just be "tense" for Art. Apart from this, a few typos, and the omission of Heather Haley's (well quoted in early chapters as a school friend and Peter Draper's girlfriend) more potent role as the lead singer of the ground busting band The Zellots, The Longest Suicide emerges as an essential, if possibly too straightforwardly chronological, account of a vital musician, thinker and human whose true success is in remaining ever-faithful to his belief system as he refuses the "fucking mortgage" (p. 129) and lives his life to the fullest within the rock and roll arena where the "big battle between good and evil" (p. 92) continues to be waged.
*
Catherine Owen was born and raised in Vancouver by an ex-nun and a truck driver. The oldest of five children, she began writing at three and started publishing at eleven, a short story in a Catholic Schools writing contest chapbook. She did her first public poetry readings in her teens and Exile Editions published her poetry collection on Egon Schiele in 1998. Since then, she's released fifteen collections of poetry and prose, including essays, memoirs, short fiction and children's books. Her latest books are Riven (poems from ECW 2020) and Locations of Grief (mourning memoirs from 24 writers out from Wolsak & Wynn, 2020). She also runs Marrow Reviews on WordPress, the podcast Ms Lyric's Poetry Outlaws, the YouTube channel The Reading Queen and the performance series, 94th Street Trobairitz. She's been on 12 cross-Canada tours, played bass in metal bands, worked in BC Film Props and currently runs an editing business out of her 1905 house in Edmonton where she lives with four cats.
*
The British Columbia Review
Publisher and Editor: Richard Mackie
Formerly The Ormsby Review, The British Columbia Review is an on-line book review and journal service for BC writers and readers. The Advisory Board consists of Jean Barman, Wade Davis, Robin Fisher, Barry Gough, Hugh Johnston, Kathy Mezei, Patricia Roy, Maria Tippett, and Graeme Wynn. Provincial Government Patron (since September 2018): Creative BC. Honorary Patron: Yosef Wosk. Scholarly Patron: SFU Graduate Liberal Studies.
"Only connect." – E.M. Forster
Please follow and like us: