1643 The politics of provincehood
British Columbia in the Balance, 1846-1871
by Jean Barman
Madeira Park: Harbour Publishing, 2022
$36.95 / 9781550179880
Reviewed by Ron Verzuh
*
A Governor, a Bishop and a Lady: BC History's Exciting Cast of Characters Tell Us How It All Began
I recently spend a chilly morning visiting the Parliament Buildings in Victoria in search of the Douglas Obelisk as a way of transporting myself back to the BC of noted historian Jean Barman's book on the province's rocky beginning.
It was rocky partly because of the constant threat of American annexation. Transporting back to 1846, the year of the Oregon Treaty ("54.40 or fight"), we witness the British and American governments agreeing on the 49th Parallel as the continental boundary dividing what would become BC and the Oregon Country (later Oregon and Washington).
The pioneer Hudson's Bay man James Douglas was governor of the Colony of Vancouver Island from 1851 to 1864 and he proceeded to build his empire amidst a majority Indigenous population, an often-undisciplined influx of Americans headed to the Fraser gold fields and later to the Cariboo rush, and the coming white settlers.
As Barman shows, this was gold country in the early years and Douglas had to juggle the interests of many newcomers, including encouraging them to become British Columbians. His job got complicated by the demands of the Colonial Office. And the London bureaucrats had a single interest: suck as much revenue from the new territory as possible for Queen Victoria.
Douglas did his best to placate the Colonial office mandarins, but his job meant he had to borrow from them to keep developing the wilderness location. Once the loan was secured, so was the Colonial Office handcuff on Douglas. Barman tells that story by using lengthy extracts from ensuing intercontinental correspondence.
Let's pause here to explain that readers used to hearing the dominant voice of the narrator will find Barman's style quite different. Her use of extensive quotations, sometimes a page or longer, can seem overdone at times, but getting the story directly through "minuted" letters has the power of immediacy and exposes the true nature of events.
Minuted correspondence, incidentally, refers to the annotated notes that stayed with the correspondence. As Barman notes, they explain much about why things were done as they were. The Colonial Office kept a tight grip on any decisions, especially those that involved revenues for the mother country.
Reading through Barman's account, we find a who's who of Douglas's contemporaries, many of them familiar as place names in modern Victoria and Vancouver. There is Douglas Street, of course, but also Vancouver's Seymour Street after Frederick Seymour, the mainland colony's first governor. There is Helmcken Street after Dr John Sebastian Helmcken, speaker of the colony's first House of Assembly, who married one of Douglas's five daughters. Then there was Colonel Richard Moody who almost bankrupted the colony with his lavish appetite and his incompetence at leading the ill-performing contingent of Royal Engineers that the Colonial Office forced on Douglas.
These are some of the men who served as the political pioneers of BC. And they were all men, but Barman doesn't stop with them. She delves into the story of Indigenous women, many of them wives of white fur traders and miners.
Douglas, by the way, was married to an Indigenous woman, Amelia, and was part Black himself giving him insight into the local Indigenous and immigrant cultures that were starting to flow into the colony in search of gold and agricultural land. He understood better than the far-off Colonial Office ever could the dominant First Nations population as well as an increase in African Americans seeking refuge during the American Civil War.
When Douglas was dismissed in 1864, and replaced by Arthur Kennedy, the Colonial Office lost a man who knew the terrain and "with a bit of bullying kept any of the players, with the pithy exception of Colonel Moody, from overacting their parts" in the drama of pioneer BC.
Moody's extravagances, particularly his dietary preferences, undermined Douglas's efforts for they were eating into his meagre budget.
Douglas was the link to keeping the territory afloat and guiding it to provincehood, but it again it wasn't a smooth road. The worst of it was the steady intervention of the Colonial Office in London. We meet some of the people who tried to steer Douglas's decisions and control the purse strings that Douglas needed to loosen. He needed money for roads and competent staff members. Not to mention Moody's hefty salary for badly managing a contingent of the Royal Engineers.
Ultimately, two colonies were founded, the new one on the mainland, and Douglas was soon dealing with more interventions from London. As the obelisk notes, Douglas had a shaping impact on the modern province, but it came at a cost. Kennedy and Seymour were outsiders who were beholden to the Colonial Office and would do its biding.
But these weren't the only founding pioneers to make a mark on the BC wilderness. George Hills gets a chapter of his own to describe his "moderating" influence on the colony. But the Anglican bishop could sometimes could run afoul of local racial sensibilities. He also learned that converting Indigenous people was less about convincing them of Christianity's tenets as it was them "using what was offered them as strategically as possible."
Bishop Hills's canoe travels also taught him to value Indigenous women. "The Indian women take a full share of labour," he wrote in his diary. "Even more is carried by them than by men . . . They were paddling with as much strength." Later, his mission would include dealing with the horrible treatment of these same women by gold miners. Some of the women were thrown into prostitution through destitution or forced into it.
Barman credits Indigenous women with ensuring that the colony survived at all. Without their actions in "persuading newcomer men to stay longer . . . there might well have been no British Columbia." The bishop likely would have shared this view.
His diary reveals a man troubled by the absence of religious behaviour "amongst civilized people. There is no recognition of it. Sunday is a day of business & pleasure & revelling," he commented. "Most of the mining class are open profaners of the name of God & many are what we call 'free thinkers'."
The distraught bishop must have been relieved to welcome Lady Jane Franklin and her amanuensis and niece Sophia Cracroft, when they came in search of any signs of her disappeared husband Sir John Franklin, whose ill-fated 1847 expedition to find a Northwest Passage was still a mystery. Cracroft sent home detailed letters describing their travels in the colony and Barman makes excellent use of them.
Cracroft remarked on the people of colour they encountered and the racism they endured. The captain of the Victoria Pioneer Rifles Corps, a Black regiment, visited them, for example, and "proceeded to speak very feelingly of the prejudices existing here even against their colour." The captain blamed the "strong American element."
Back at the obelisk, I looked around at the impressive Parliament Building and thought of the mud- and blood-stained colony of old. Around me were the reminders of what existed here in the 1860s. Beside me was the magnificent harbour, where gold and lumber were shipped to enrich risk-taking investors in Britain. The Esquimalt naval base, off in the distance, protected those investments and guarded against possible American military intrusion. Beyond were the many settlements, Metchosin, Langford, Colwood, View Royal, that would grow with the colony.
As I moved away, I imagined the wood-plank sidewalks of the early period in the capital city. In my mind's eye were the lumber mills across the harbour and the hustle bustle of commerce along Government, Blanshard and Douglas Street. (Richard Blanshard, by the way was briefly Douglas's predecessor.) Musgrave Street is too far to see in Oak Bay, but it is a steady reminder of the role Governor Anthony Musgrave played in sewing the two colonies together and getting BC ready to join the rest of Canada.
Barman ends her book with this thought: "There had not been perfection but there had been survival, and the newly minted province of British Columbia was set in place in 1871." Thanks to this veteran BC historian, and her careful reading of the first-hand accounts of how it came about, we are richer in the historical knowledge of our past.
*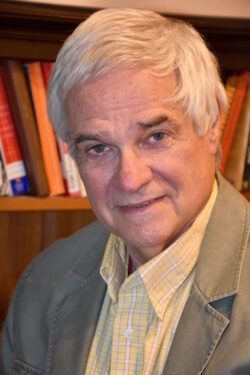 Ron Verzuh is a writer, historian and documentary filmmaker. His forthcoming book Printer's Devils (Caitlin Press, 2023) tells the 30-year social history of the Trail Creek News, a feisty pioneer newspaper in Trail. His recent book, Smelter Wars: A Rebellious Red Trade Union Fights for its Life in Wartime Western Canada (University of Toronto Press, 2022), was reviewed by Bryan D. Palmer; an earlier book, Codenamed Project 9: How a Small British Columbia City Helped Create the Atomic Bomb (2018), was reviewed by Mike Sasges. Editor's note: Ron Verzuh has recently reviewed books by Sarah Berman, Wayne Norton, Mark Hume, Michael Gates, Jesse Donaldson & Erika Dyck, and Michael Cone for The British Columbia Review, and he has contributed an essay oon trade unionist Harvey Murphy. Ron lives in Victoria.
*
The British Columbia Review
Publisher and Editor: Richard Mackie
Formerly The Ormsby Review, The British Columbia Review is an on-line book review and journal service for BC writers and readers. The Advisory Board consists of Jean Barman, Wade Davis, Robin Fisher, Barry Gough, Hugh Johnston, Kathy Mezei, Patricia Roy, Maria Tippett, and Graeme Wynn. Provincial Government Patron (since September 2018): Creative BC. Honorary Patron: Yosef Wosk. Scholarly Patron: SFU Graduate Liberal Studies.
"Only connect." – E.M. Forster
Please follow and like us: