1615 Laying down a trickster beat
Bent Back Tongue
by Garry Gottfriedson
Qualicum Beach: Caitlin Press, 2022
20.00  /  9781773860961
Reviewed by Harold Rhenisch
*
Garry Gottfriedson is a Secwépemc rancher and teacher. He got started in poetry by performing at pow-wows many decades ago. In Bent Back Tongue, he moves in a space that is anger and love joined in the land. "The brush is the bullet," he writes. "The keyboard types political poetic policies" (from "Dismantling").
There is beauty and brotherhood there, mixed with a lot of pain: colonization, the Canada Indian Act, residential school, love lost, family strife, addiction (even to poetry), violence, and grief over the 215 children buried in the orchard at tk'emlúps and revealed by ground-penetrating radar in May, 2021.
As a Secwépemc man indigenous to the Secwépemculecw, to his people's land, he is the land. For him, poetry rises from it. When he mentions poetry, he is talking about that source. "I am made from the bones of my ancestors," he told me.
There is deep love and trust there. Whatever has happened to that land cut up with highways, railway lines, cities, farms, mines, dams, subdivisions and whole books of laws and regulations, it is still speaking with little separation. "The wet weight of rain" slips from Gottfriedson's tongue,
whispering the names of insects crawling
across his skin-scape, living beneath the heaviness
of men stomping…. (from "Blocked Ears")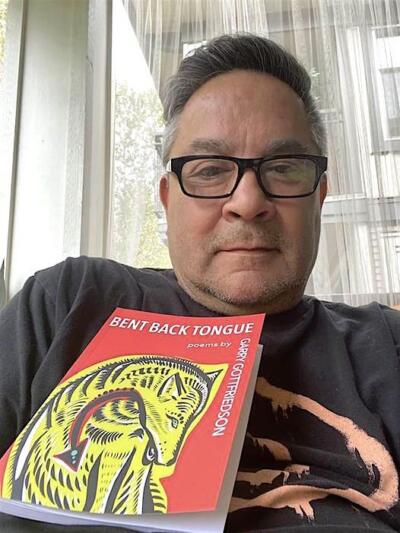 "Why not," he writes, "return to the desire to thrive?" (from "Cactus and Wild Roses").
The question invites intimate friends, lovers, family and all his readers, Secwepemc and otherwise to get under or at least touch this skin. There is, Gottfriedson writes, no room for ethnocentrism. We are strong together.
Not that he is sugar coating anything. This isn't romantic poetry. It doesn't come from a particularly Western or Canadian tradition. In 1987, Gottfriedson was awarded a fellowship to study with Alan Ginsberg and Marianne Faithfull at the Nairopa Institute. Thirty years ago, he mentioned the one thing he learned from Ginsberg: "First thoughts, best thoughts." There's a lot of that directness in this book.
There is also a lot of Faithfull's way of standing at a microphone and singing beautifully, in a voice raspy from addiction and cigarettes, of honest personal and universal hardship. She sings powerfully of people broken by the collision of their innocent bodies with modern city life. Her confession about addiction, "Times Square" (1983), could be an anthem to this book. If you don't know Faithfull's work, I recommend watching her video of it to get in the mood for Bent Back Tongue. You could read Gottfriedson first. The correspondence works the other way, too.
"I was made to say it like it is," writes Gottfriedson in "Rationale." And he writes it in English, not a language that has traditionally been put to expressing the subtleties of Secwépemc life. Yet here it is, in poems written for people used to Secwépemc manners of subtlety, ceremony and directness, in a culture Gottfriedson has often said, "was never broken. We just didn't talk about it."
He's talking about it now, but don't expect Secwépemc secrets. This is a book for all people. "It's a trickster book," says Gottfriedson. "Meanings change. Our trickster, Senuxelecw, is also a transformer. He changes things. That's what I am hoping for, to transform perspectives. A trickster has many sides. So does a poem. There are many souls within a text."
Bent Back Tongue came about when Gottfriedson travelled across Canada, gathering material for a book on the effects of residential schools. "There are as many missing Indigenous men as there are missing Indigenous women and girls," he says. "We all want to support the women and girls. It's difficult with men, because we don't talk about this stuff."
On his trip, Gottfriedson did talk. "It was hard," he says. "Men need to be open and vulnerable." A lot of the urban First Nations and Métis men he spoke to are in here, most addressing a kind of trickster "you" that is often a specific person, a listener, a reader and everyone at the same time. The technique creates simultaneous distance and intimacy.
Gottfriedson met with Indigenous professors at universities in Toronto, "in all fields, concentrating on different elements" of the Indigenous story, "with different perspectives," as well as drag queens, transgendered men, CIS men, and "men who had moved to Toronto to survive and are still struggling with masculinity." This is also part of what Gottfriedson includes among "things as they are." "I was looking at First Nations masculinity in a modern country," he says, "the varieties of different men, with different subcultures and challenges."
These stories will come out in a different volume. Some of the ones that struck most deeply and sparked the first thoughts of poems get their first reading in Bent Back Tongue. The poem "N-O," for example, opens with a simple chant of what a man says "no" to, then comes clear.
I stood before you
voicing that word "no"
for all the men who have said "no"
before me without shame.
At that moment, he writes, "my world opened up before me without guilt." He then returns to the opening chant, but this time lays it down with a trickster beat. At this point, "no" is a word of peace and a word of war, a war of strategy and of standing ground. The poem has transformed itself. "Understanding comes."
As Gottfriedson explained it to me, a man has to define his own path, even if it means hanging onto pain, even if he's hurting himself with it. The book's "Bent Back Tongue" appears in this poem, licking every piece of loved ones out of him after they did not allow him this essential freedom. It's like a dog, even a wild one, a coyote, healing its wounds by licking them.
Healing and voice are the heart and skin of this book. Both feel. The world enters the heart. It writes on the skin. In "Finger Painting," a song for his skin, he writes in drum-like rhythms that he is:
so good at falling in love
with others who can't love me back
so good at being the prey
so good in addictions
and you are so good
at not committing to a completed work of art.
It's a powerful irony of self-awareness for a First Nations man who believes in "first thoughts" and whose identity is his people's land, whose skin is the transportation hub, trading centre and river village tk'emlúps.
An example of a "completed work of art," of human and land together in one moment, is "Morning Light." In it,
the tiny blue sounds of rain
dripping from the tin roof
catches my attention
I study its inconsistency
the time it takes to reach ground
morning light travelling within it
the sum of it all
say things my heart can't.
In some poetries, that would be metaphor and image, uniting experiences of mind and body into insight and imagination and regenerating in readers. For Gottfriedson, he starts as the insight and image and licks his bones clean from those who deny him touch with the ancestors who have made them.
This physical intimacy is repeated socially in Toronto, a long way from the Secwépemculecw. Here, touch is less direct, yet as loud as the city. "There was this one young man who came off the Rez in Northern Ontario because there was no work for him there," says Gottfriedson. "He flew to Toronto. He didn't know the culture, but he knew a bit about construction, so got a job in that."
Gottfriedson explains how when men started hitting on this young man, he didn't know what to do. "It would never happen on the Rez," says Gottfriedson. "He was confused. He started fighting, until people took him aside and told him that was just the way here."
The resulting poem, "Blue Collar Dudes," is a rough jumble of shouts and breathless exhalations of tongue and breath. It is one of Gottfriedson's strongest trickster works. It opens with a "hell NO!" It passes through ambiguous noise — perhaps racist yet full of life-affirming desire. It ends by re-visioning the energy of all the men involved: "Construction is a manly thing." A trickster can howl and laugh at the same time.
And on that note of hope, reconciliation and challenge, the book affirms the sub-text of its opening, "Canada Day, July 1, 2021," a day of grief and hope at tk'emlúps:
Canada, you have claimed this July day
to boast the day of colonial takeover
a perpetual death warrant for my people
and a day in which you have held
your own citizens in scorn
when in fact, they are blameless
to your contempt and cover-ups
and bear your sins.
Gottfriedson's scouring tongue has laid bare the skin of a different country, one in which
The kind-heartedness of Sikh and other
strangers shedding tears with us
reminding us of this simple word
tsqelmucwílc — "I have returned to being human"
and for this I celebrate.
Gottfriedson offers that possibility of both accepting and extending humanity.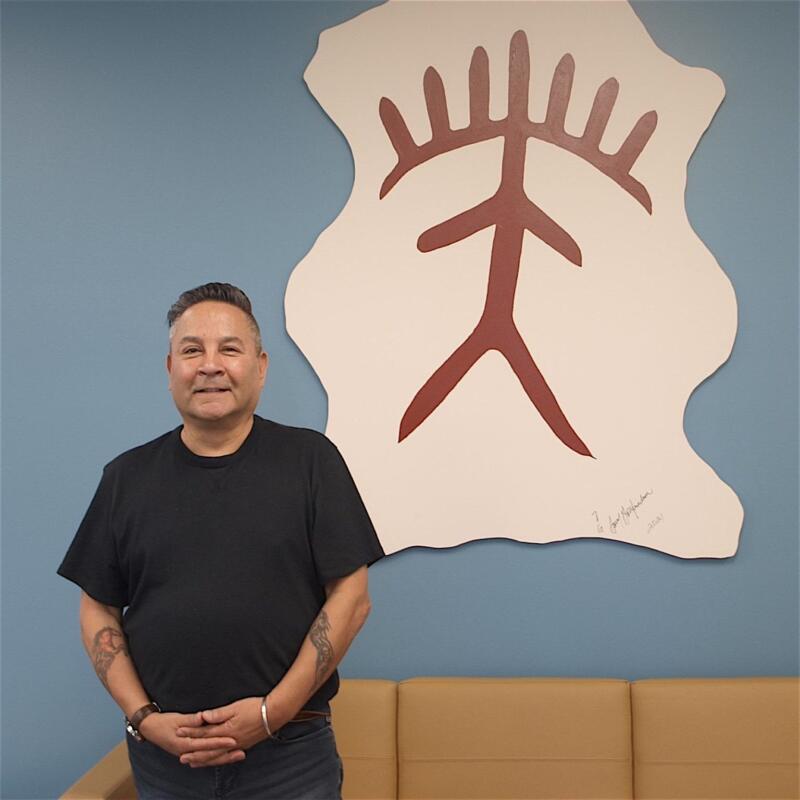 *
Harold Rhenisch was raised in the grasslands of the Similkameen Valley and has written some thirty books from the Southern Interior since 1974. He won the George Ryga Prize for The Wolves at Evelyn (Brindle & Glass, 2006), a memoir of German immigrant life from the Similkameen to the Bulkley valleys. His other grasslands books are the Cariboo meditation Tom Thompson's Shack (New Star, 1999) and the Similkameen orchard memoir, Out of the Interior (Ronsdale, 1993). He lived for fifteen years in the South Cariboo and has worked closely with the photographer Chris Harris on his Cariboo-Chilcotin books published by Country Lights: Spirit in the Grass (2008), Motherstone (2010), and Cariboo Chilcotin Coast (2016), as well as The Bowron Lakes (2006), and he writes the blog "Okanagan-Okanogan: One Country without Borders," from his home in Vernon. For seven years, he has toured the grasslands of Washington, Oregon, and Idaho while working on Commonage, a history of the Okanagan region set in its American context, highlighting the American history of Father Charles Pandosy and situating the roots of the Commonage land claim in the North Okanagan in American colonial practice in Old Oregon. Harold lives in Vernon. Editor's note: Harold Rhenisch has recently reviewed books by Susan Smith-Josephy & Irene Bjerky, Bill Barlee, Fred Braches, Raphael Nowak, Karl Koerber, and Norbert Ruebsaat for The British Columbia Review. His recent book Landings (Burton House, 2021) was reviewed by Luanne Armstrong.
*
The British Columbia Review
Publisher and Editor: Richard Mackie
Formerly The Ormsby Review, The British Columbia Review is an on-line book review and journal service for BC writers and readers. The Advisory Board consists of Jean Barman, Wade Davis, Robin Fisher, Barry Gough, Hugh Johnston, Kathy Mezei, Patricia Roy, Maria Tippett, and Graeme Wynn. Provincial Government Patron (since September 2018): Creative BC. Honorary Patron: Yosef Wosk. Scholarly Patron: SFU Graduate Liberal Studies.
"Only connect." – E.M. Forster
Please follow and like us: