1612 Bigger than adolescence
When We Are Broken: The Lake Elegy
by Luanne Armstrong
New Denver: Maa Press, 2020
$30.00 / 9780987838414
Reviewed by Diana Hayes
*
Luanne Armstrong, a prolific writer who has published twenty-five books of fiction, memoir, and poetry, has crafted a soulful and meditative narrative in her book, When We Are Broken – The Lake Elegy. Here, we are invited into her Kootenay Lake environment through rich, poetic observations, reflections, and photographs, capturing the beauty and harshness of farm life and the environs under the looming "cold blue of the Selkirks."
"Part of my life's work," she says, "has been to truly understand the place where I live…." Near her family's farm in this southern lake region of British Columbia, she paints a wild and seasonal tableau of flora and fauna, of mountains and sky, of human and non-human existence. The pervading spirit of place, the genius loci, is a driving force in Luanne's work, as is the challenge and grief that surround the reality of aging. She takes on both these primary themes with grace and candour.
While reading and re-reading When We Are Broken — her book being an intimate invitation to ponder and reflect — I recalled the spirit of place explored by other writers such as Lorna Crozier, in her memoir, Small Beneath the Sky, Sharon Butala in The Perfection of the Morning, and Wild Stone Heart, and Theresa Kishkan in her novellas Winter Wren and The Weight of the Heart (reviewed here by Miranda Marini and David Stouck — Ed.) Each of these accomplished writers takes on the unique, distinctive, and cherished aspects of belonging — the soul of a place, which is shared in abundance in Luanne's When We Are Broken.
As a photographer myself, I am particularly pleased with Luanne's inclusion of her photographs, documenting the seasons and wilderness of her rural landscape, so well paired with her prose contemplations which often flow like the lyrical cadences of poetry. The book's format is 10" wide and 8" tall, which provides ample perspective for full frame images. In these pages I join her on her daily sojourns, through the years and varied weather. Here, she brings me closer to the earth and to the "line between mountains and sky."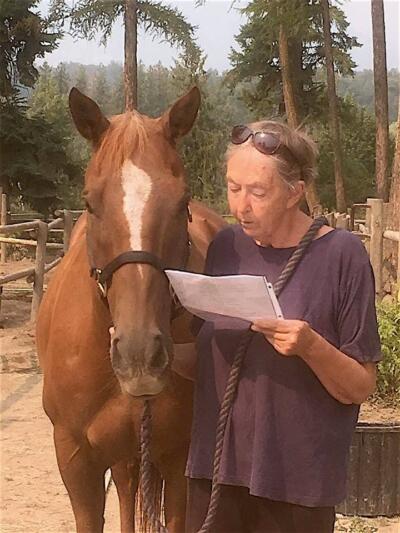 This beautiful volume, seventy pages in length, with the apt subtitle The Lake Elegy, is a book of reflections, inviting ghosts and memories and recalling the harshness of a rural landscape. She still lives on her family's farm on Kootenay Lake, in the original log home where she has dwelled most of her life. We experience the seasonal landscape on her daily walks, often accompanied by her ageing white cat and two working farm dogs. As I read further into the book, after summer had passed and October arrived, the red and golden leaves of my own deciduous trees began to fall. "Death's beady eyes peer everywhere," she reminds me. "When you are old, your life is full of ghosts … the memories that people a house."
We meet Luanne's father during her childhood years, out fishing the lake in her grandfather's boat. "All my life, God has sat on that granite mountain with my grandfather; they laugh together, just out of my sight." We feel the chill of a cold winter walk where we find, "the plants with their small slow present lives…, the lake pulsing like a heart…." Here, "we plan how to shed this world with grace … how to live in this moment, think of peace, go most easily from all we have done and loved."
Now, at 72, Luanne is grappling with chronic illness and debility, brought on by two motor vehicle accidents experienced seven years previously. Ageing, she says, "is a bigger identity crisis than adolescence … hardly talked about or written about." This central theme draws me closer to the hearth of my own mortality.
Luanne is "preoccupied by the multiple complexities of ageing," her children say. When We Are Broken offers a sage and honest look through that naked closing chapter of life that we all must face. "I hate old age," she laments. "In my secret broken heart, I rage against it." We can all join her in this sentiment, especially when ageing often comes with the high price of infirmity.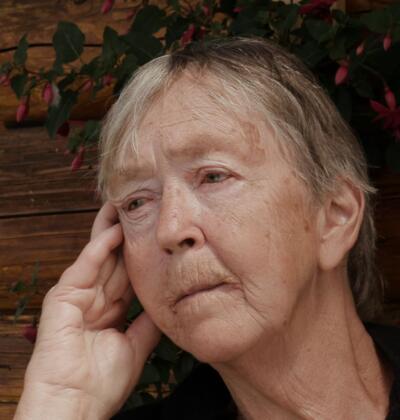 She finds solace through her affinity and deep connection with the natural world; all the creatures, four legged and winged, feral and tamed, wild and gentle. "I am so heartened by the new work and discoveries of the sentience, the intelligence, the communication, the cultures, of the non-human." Luanne is acutely present to animal and plant languages, and this attunement forms a large part of the book's idiom and its strength.
Memories tumble and crescendo: stark images reflected in nature's cycles, a cold brisk walk in the dead of a Kootenay winter, feeling the familiar mix of sadness and belonging, the ticking of time, the eternity of the stars.
She brings her meditations to a close with a heartfelt poem, full of questions:
I reach out, touch nothing except questions:
Have you read enough poems?
Have you looked in terror at the night sky?
and ending with:
Are you ready yet?
Are you ready?
Are.
you.
Ready? 
Her photograph of the lake shimmers on the verso page. The sky is heavy with cloud, but light makes its way through to form a generous reflection on the still water.
Inside a place I know so well and can never know at all, there are no promises here, and no surprises. I will miss it all.
I am forever grateful to Luanne for inviting me on these soulful, all season walks through the pages of When We Are Broken. I too am preoccupied with aging and mortality, and her wisdom brings clarity and openness to the process and offers courage in the face of it all.
*
Diana Hayes is author of six poetry books, including Gold in the Shadow (Rainbow Publishers, 2021), Labyrinth of Green (Plumleaf Press, 2019), and This is the Moon's Work (Mother Tongue Publishing, 2011). Deeper Into the Forest, a spoken word/music CD, was produced at Allowed Sound Studio in 2020 with musician and sound engineer, Andy Meyers. Her poetry has been widely anthologized and most recently included in Sweet Water: Poems for the Watersheds (Caitlin Press, 2020) (reviewed by John Swanson — ed), YCC-POP – Poetic Portraits of People, and Poems in Response to Peril. She launched Raven Chapbooks, an indie publisher for small edition poetry chapbooks in 2019. She has lived on Salt Spring Island — the traditional and unceded territory of the Hul'q'umi'num' and SENĆOŦEN speaking peoples — since 1981. Visit her website here. Editor's note: Diana Hayes' book Gold in the Shadow: Twenty-Two Ghazals and a Cento for Phyllis Webb (Rainbow Publishers, 2021) is reviewed by Isabella Wang. She also contributed to Love of the Salish Sea Islands (Mother Tongue, 2019), reviewed by Theresa Kishkan.
*
The British Columbia Review
Publisher and Editor: Richard Mackie
Formerly The Ormsby Review, The British Columbia Review is an on-line book review and journal service for BC writers and readers. The Advisory Board consists of Jean Barman, Wade Davis, Robin Fisher, Barry Gough, Hugh Johnston, Kathy Mezei, Patricia Roy, Maria Tippett, and Graeme Wynn. Provincial Government Patron (since September 2018): Creative BC. Honorary Patron: Yosef Wosk. Scholarly Patron: SFU Graduate Liberal Studies.
"Only connect." – E.M. Forster
Please follow and like us: