1610 A star map to higher ground
Spíləx̣m: A Weaving of Recovery, Resilience, and Resurgence
by Nicola I. Campbell
Winnipeg: HighWater Press, 2021
$32.00 / 9781553799351
Reviewed by Linda Rogers
*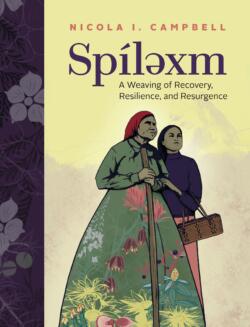 When my friend, author, singer and educator Karen Lee White went north to celebrate the life of a beloved elder, the family women braided her long silver hair. "That is your next book cover," I said, the symbol of reconciliation as all the threads of grief and joy past and present are woven into a greater beauty.
That is what Nicola I. Campbell does in her encyclopaedic book Spílexm, a braiding of impressionist detail, personal and societal history that is at once a survival document and a blueprint, essential knowledge for all, Indigenous and non-Indigenous, who intend to go forward together.
Writers channel the phenomenal and spiritual worlds they process as frames in a film, every one unique and yet the same as we are all telling one story, life on Earth. Sometimes Campbell's experience in many layers of being: child, woman, victim, victor comes as a song, sometimes a poem or essay as she patiently catches them in her catalogue of sensation as she is directed by experience and intuition to separate, then plait, the genres.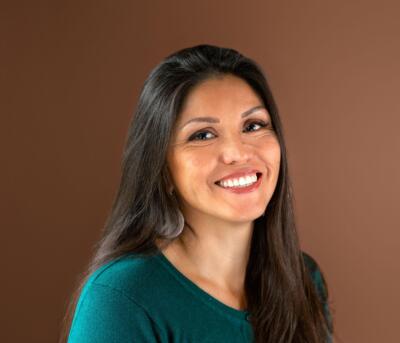 Because Campbell's is a big story of loss and love, she has decided to parse it into appropriate moments of didacticism and lyricism, offering up the complete story of an Indigenous woman navigating a difficult moment in history, when for almost the first time she and her fellow cultural workers have been afforded opportunity to walk through an open door into the light of personal revelation. Her gift to herself and her readers is for the record: poetry, memoir and necessary reportage, and language recovery.
We have all experienced confrontational moments, as Indigenous people enduring racism, as mixed-bloods lost in a confusion of identities, and as settlers in the process of understanding the sins of the past and experiencing the shunning our predecessors imposed on First Nations. The world is in conflict over opposing memory and learned behaviours none of which take us to the goal of reconciliation as the colonial past is necessarily recorded and left behind, and we hopefully move on to a braver new world, where everyone knows their name.
This book is a star map as we travel the higher ground, searching for the empirical data that guides us to the goal of universal love. One book can't do all of that but we do need spirit guides like Campbell, Chief Robert Joseph (Numwayat) and Nelson Mandela to take us through pain to a better place.
The child narrator experiences grief but it is her familiarity with the natural world, the life blanket that embraces every being that grounds the fears that are always present. In his time of ageism, as wealth and standards of beauty guide the false culture, she reminds us in the sensations of her early existence, of the resilience of nature and the value of wisdom held by elders. "Ask by the graveyard," one advises, "for when the elders die they take with them an encyclopedia of knowledge."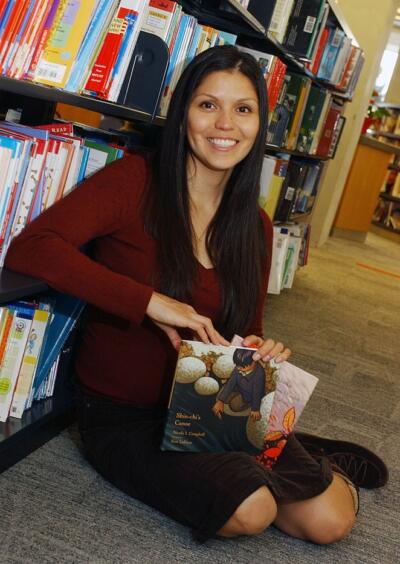 There are so many stories of deep cleaning in Indigenous households, scrubbing that removes the stains. Only a few escaped the dragnets of school and foster parenting. For example, Campbell writes, "Auntie grew up with her grandmother because she didn't go to Indian Residential School. She has knowledge of our plants and medicines because the priests and nuns didn't scrub away her memories."
Those whose grandmothers had the Indian bleached out of them at what amounted to sanctified child prisons and whose settler grandmothers grew up with an adversarial mindset, nature as the feared unknown, all benefit from Campbell's phenomenal style, detail upon detail shaping organic information into archetypes that endure. The recent Nobel winner, France's Annie Ernaux, has a similar method of building memory in objective correlatives, and at least one critic has argued that her style lacks soul. Campbell has soul to spare in her gathering of the familiar.
Some of it is beautiful, the songs, the bread, wind whispering in the grass, and some of it terrible, rage baked in memories driven down by addiction, the anodyne. No one easily forgets the oppression of lips reeking of alcohol, the laughter of slaves, and that is why there is ritual absolution, weaving of past and present in blankets of forgiveness, strength in braided hair and guttural sounds that hide in the throat and the mind despite ruthless de-programming by church and state:
Temxulax tmix temexw
weave ourselves back together
All that is sacred
hearts spirits minds bodies
earth wind sky water
life force spirit language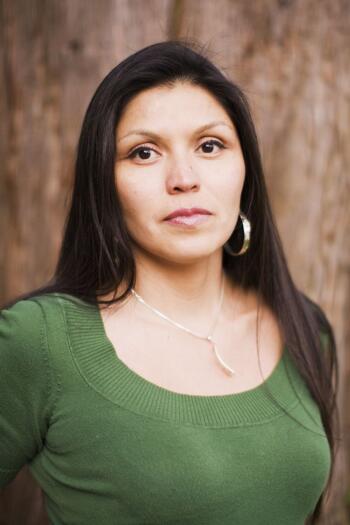 Language lives in Campbell's recipe for recovery as she sprinkles the old words, spice box of earth, in the dough that is shaped by memory and desire to make strong descendants and enlightened co-inhabitants of the land that was theirs before it was stolen. "As Indigenous people we carry the burden of our ancestors, but we also carry their strength. Their courage. Their resilience."
As the narrator recounts her stories, the how and why of her people and her own personal history, she builds the warp on a sacred loom. The woof is her poetry aka prayer, the songs of her people, sacred language, sacred music, none of it desecrated like the liturgies of the oppressors, Christian soldiers who declared intimacy with the Creator and did not even recognise his/her face reflecting on troubled water.
We are anxious people living in anxious times. Some anxiety requires greater breath, greater creativity to breathe through it. The storyteller loses her brother and the breath is knocked out of her, just as it has been for her people, the stunning blows that almost let the air out of entire nations. Now she knows: walk on, paddle on, write on. To go forward is to heal.
The best thing? I can paddle away the sorrow.
*
Linda Rogers is honoured to review this book that explains in the language of everyday and Indigenous orthodoxies, the stories of loss and recovery that are our shared history. Her own recent work includes Yo! Wik'sas, a children's book with artist Chief Rande Cook (Exile Editions, 2019), Mother the Verb, the Swan Sister Treasure Book (Friesen Press, 2022, reviewed here by Cathy Ford), and Hallelujah! She's Back. Editor's note: Linda Rogers has recently reviewed books by Robert Joseph, Jody Wilson-Raybould, Carol Shields & Nora Foster Stovel, Mandi Em, Sue Goyette, and Cid V. Brunet for The British Columbia Review.
*
The British Columbia Review
Publisher and Editor: Richard Mackie
Formerly The Ormsby Review, The British Columbia Review is an on-line book review and journal service for BC writers and readers. The Advisory Board consists of Jean Barman, Wade Davis, Robin Fisher, Barry Gough, Hugh Johnston, Kathy Mezei, Patricia Roy, Maria Tippett, and Graeme Wynn. Provincial Government Patron (since September 2018): Creative BC. Honorary Patron: Yosef Wosk. Scholarly Patron: SFU Graduate Liberal Studies.
"Only connect." – E.M. Forster
Please follow and like us: