1609 Nuu-chah-nulth high bow canoes
Making a Chaputs: The Teachings and Responsibilities of a Canoe Maker
by Joe Martin and Alan Hoover
Victoria: Royal British Columbia Museum Press, 2022
$24.95 / 9780772680273
Reviewed by Isabel Nanton
*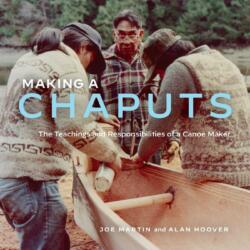 With a Pacific coastline that stretches 25,725 km (15,985 miles), British Columbia has for eons relied on water transport and for centuries First Nations' canoes plying coastal waters linking remote communities. In their book about the making of Western Red Cedar canoes, carver Joe Martin and author Alan Hoover honour this ancient tradition, sharing many insights in this slim 82 page visually-pleasing book with excellent photographs.
In order to differentiate the two men's voices in the text, Martin's conversational words are in serif font in black, while Hoover's are in blue sans serif font, enabling the reader to share in their individual expertise, Martin's as a master carver and Hoover's as a museum curator and author of other books about Indigenous North America: Martin's warm-hearted, low-key style juxtaposing well with Hoover's historical insights.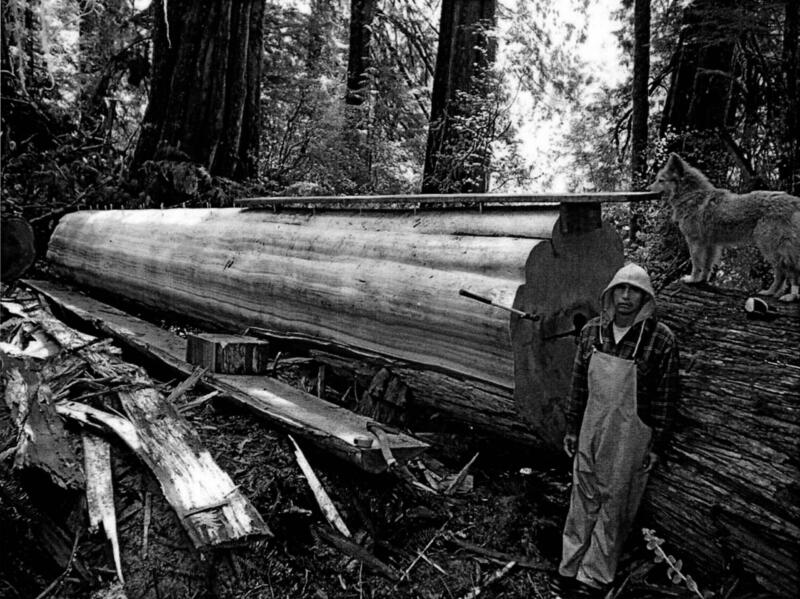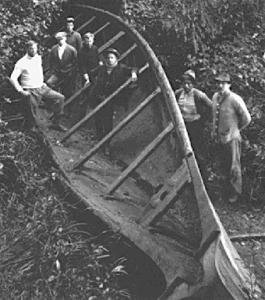 Born 69 years ago in Tofino, Martin came home by canoe as a newborn to his home at Opitsaht village on Meares Island, directly across from Tofino. He is a member of the Tla-o-qui-aht First Nations, a tribe of the Nuu-chah-nulth First Nations, premier whalers of this Pacific coastline.
The distinctive high bow canoes (which enable landing on surf beaches) are key to Martin's people's culture, so males of the tribe were taught from a young age how to make a canoe, his late father Chief Robert Martin passing on his canoe carving skills and knowledge to Martin and his brothers. Later in the text a photo of a 65-ft giant Nuu-chah-nulth canoe with a beam of six foot illustrates just how mighty some of these canoes were.
Before he talks shop, giving readers a detailed breakdown in the final chapter of how to build a dug-out canoe, Martin takes us on some of his earlier journeys such as a 1981 circumnavigation of Nootka Island when he ate seal, seafood and deer. His serious carving career started when, with his brothers and father, they carved three canoes during the successful blockading on Meares Island, which subsequently prevented logging by MacMillan Bloedel.
The book is dedicated among other people to Martin's late brother Bill who suffered through the residential school system and was at his "happiest" when "carving canoes in the forest." Later in the book, Hoover provides residential school history in tandem, while Martin talks about a reconciliation canoe carved in 2017 requested by non-Indigenous people working with coast Salish carvers as a gift to another nation.
Possibly one of Martin's most famous canoes was "Hummingbird," created for the Makah Nation (with three Makah apprentices) of Neah Bay in Washington State, used in their successful May 1999 grey whale hunt, shared with the peoples in a potlatch.
As canoes take their place in modern times as gifts and potent agencies of reconciliation, healing, and reclamation of tradition, we also learn of two 34 ft and 22 ft Martin-carved canoes now helmed by Martin's daughters Gisele and Tsimka, who conduct eco-cultural tours in the traditional territory of the Tla-o-qui-aht Nation, sharing with visitors and pulling together through the water, a revival that is "medicine to our people," says T'a'amin citizen Scott Gallogos.
Riveting this reader is the recipe for creating a Western Red Cedar Dugout canoe, which is placed with vivid pictures in the book's final 30 pages. As Martin explains it, the need for a red cedar with straight grain entails considering the weather where the tree grows since winds can result in a hollow cedar. Square test holes are carved to ascertain suitability. Trees are also chosen according to "cultural protocols and natural law," taking in awareness of surroundings such as proximity to eagles' nests, bear dens, and salmon streams.
Details intrigue, for example how power saws are lubricated with vegetable rather than petroleum oil so as not to harm the surroundings, and how Martin steams canoes over 20 ft long, otherwise the bottom is too straight and hard to steer. In this part of the canoe-making recipe, 150 red-hot rocks are put in 20 cm of water in the bottom of the canoe, covered and sealed with a tarpaulin for 45 minutes, with the stern and bow lifted during the process placed on scissor jacks, with metal spreaders in the centre of the canoe "stretching" it in width from 38 inches to 48 inches.
The seaworthiness of this distinctive design is well-served by these descriptions and it is easy to imagine Nuu-chah-nulth whalers out on the open ocean where the Chief threw the first harpoon to secure his people's food. Making a Chaputs provides a welcome and understated account of the maintenance of Nuu-chah-nulth canoe-making technology.
*
Kenyan-born author and Cambridge Press Fellow Isabel Nanton gratefully paddled many of the Pacific coast waters as she wrote the Sierra Club Guide to BC, Adventuring in British Columbia (Sierra Club Books, 1996, with Mary Simpson). She specializes in writing about East Africa and Western Canada. She has reviewed books for the The Globe and Mail, The Vancouver Sun, and Old Africa magazine in East Africa. Editor's note: Isabel Nanton has also reviewed books by Diana Lary and Kogila Moodley for The British Columbia Review.
*
The British Columbia Review
Publisher and Editor: Richard Mackie
Formerly The Ormsby Review, The British Columbia Review is an on-line journal service for BC writers and readers. The Advisory Board consists of Jean Barman, Wade Davis, Robin Fisher, Barry Gough, Hugh Johnston, Kathy Mezei, Patricia Roy, Maria Tippett, and Graeme Wynn. Provincial Government Patron (since September 2018): Creative BC. Honorary Patron: Yosef Wosk. Scholarly Patron: SFU Graduate Liberal Studies.
"Only connect." – E.M. Forster
Please follow and like us: