1591 Short poems, deep pauses
Small Talk
by Christopher Levenson
New Westminster: Silver Bow Publishing, 2022
$23.95  /  9781774032152
Reviewed by Al Rempel
*
Christopher Levenson's latest book, Small Talk, is a collection of short poems that is poignant, insightful, or humorous, and filled with observations that resonate with lived experience. Levenson has decided to showcase his small poems — selected from his twelve previous books and various journals — and let them stand on their own. Often ignored or glossed over, short poems can have a unique impact, and can celebrate the petit moments of daily life. Levenson groups his collection into four categories but invites his readers to dip into his poems at random.
Levenson is well-practiced in his craft; rarely does a description fall flat or a line-break seem misplaced. Giraffes are "living geometry / moving in unison"; a wombat is "a tightly packed weekend bag" and in "Yaletown," the high-rises like "glaciers stacked / cascade in slow motion / into False Creek below." Consider the poem "Balcony," perhaps a homage to William Carlos Williams' famous poem, "The Red Wheelbarrow," quoted in full here:
In November red Chinese lanterns
fill a yellow watering can
abandoned to the rain

Levenson evokes a strong and new-to-me image of a freshwater spring in Morecambe Bay, UK, among "tough islands of marsh grass, thrift, and rotting bones – / overwhelmed twice a day in the relentless battleship tones / of the estuary tide."
Levenson unpacks familiar observations, these small aha moments we all might have, in ways we might not have thought about. Prairie dogs in Wyoming pop out of the ground like tent pegs, "raising grubby empires / of earth, like us, mangy optimists / enjoying the transient sun." The heron "looks collapsible, some kind of / trick photographic contraption" until it takes flight over the water with "steady wingbeat."
From inside a dark office, the sunset is only seen when the lights are off: "The woods are stained with russet / The river is bleeding." But all goes black when the lights are turned on. In "Skyscraper," the "sheer / effrontery" of glass reflects oaks, clouds, and "a veering gull – / contact prints of details that otherwise / I would have forgotten to see."
Levenson isn't afraid to tackle deep or difficult subjects with just a few lines. From a boy shot in Liberia ("he was not simply an extra / he played the title role") to the bombing of Nagasaki to the startling image of the leader of an unnamed revolution being delivered "a large bundle … a ragged clump of blood and bone mixed with gravel. / 'Your daughter'… 'Our plastic bombs / have not been taught yet to discriminate.'" God comes knocking in the poems "While you were out" and "Night vision," and in "Profile," the narrator sees himself as "proportion, shading, mass … merely the first rough draft / of a human being," the kind of insight and self-regard a poet gains from a fully lived life.
The poems in Small Talk that pack the most power are the understated ones, either in their poignancy or in their humour. In "At the cinema, Good Friday," the narrator slouches in anonymous, "to sit by myself in the plush dark. / It is Good Friday, I wait / for the show to begin." In "Catch of the day," the poem sees "memories, netted like fish / quivering with light," and ends with "No point in having more paintings than you have walls." Shipping containers are stacked "like toddlers' building blocks / abandoned at bedtime" in the Halifax harbour; there's "No telling / what lurks inside, or who," a powerful reminder of human trafficking.
As for humour, I'm guessing Levenson imagines a roomful of artists and intellectuals in the poem "At the party," quoted here in full:
Like icebergs we stand around
brilliant, but mostly submerged.
No one approaches.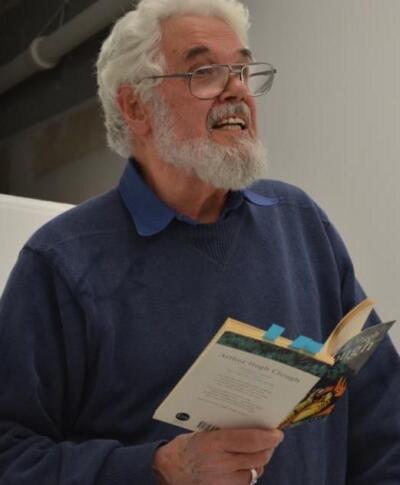 And in "Ecology," love is a renewable resource, in contrast to natural gas: "sweet, light, crude, whatever." These are poems that made me smile inside, as if I was sharing a secret smirk with the poet. The poems that don't work as well for me are the ones that try too hard to be funny or ironic, as in "Commercial break" or "The rules of war," often with an affectation punctuated by question marks or exclamation points. However, other readers may enjoy their snide sarcasm.
While the title Small Talk is meant to underscore the shortness of Levenson's poems in this collection, I don't think that the obvious connotation of "polite conversation about unimportant topics" is what he meant, and it stands at odds with the cover image somewhat: a simple scene of two older women sitting down for tea and deep in conversation. The best of Levenson's work is very meaningful, however small the package it comes in. Levenson also states in his foreword that he wants his book to invite an arbitrary approach, to have readers open the book at random, a purpose that I think would have been better served by not grouping his poems according to subject matter as he did. These small objections aside, Levenson has achieved what he set out to do: to highlight his short poems and "give the reader momentary pause." Feel free to dip in.
Editor's note: Christopher Levenson reads from Small Talk here, October 19, 2022.
*
Al Rempel's books of poetry are Undiscovered Country (Mother Tongue Publishing, 2018), This Isn't the Apocalypse We Hoped For (Caitlin Press, 2013), and Understories (Caitlin, 2010). He also has four chapbooks, the two most recent published by the Alfred Gustav Press: Behind the Bladed Green, Deerness, Four Neat Holes and Picket Fence Diaries. Rempel's poems have appeared in various journals and anthologies across Canada, and some of his poems have been translated into Italian. His video poem collaborations have been screened internationally. For more information, please visit his website.
*
The British Columbia Review
Publisher and Editor: Richard Mackie
Formerly The Ormsby Review, The British Columbia Review is an on-line journal service for BC writers and readers. The Advisory Board consists of Jean Barman, Wade Davis, Robin Fisher, Barry Gough, Hugh Johnston, Kathy Mezei, Patricia Roy, Maria Tippett, and Graeme Wynn. Provincial Government Patron (since September 2018): Creative BC. Honorary Patron: Yosef Wosk. Scholarly Patron: SFU Graduate Liberal Studies.
"Only connect." – E.M. Forster
Please follow and like us: