1584 The mighty Fraser
Damages: Selected Stories 1982-2012
by Keath Fraser, with an introduction by John Metcalf
Windsor, ON: Biblioasis, 2021
$22.99 / 9781771962933
Reviewed by Bill Paul
*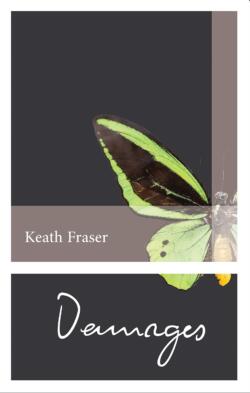 Last year marked the publication of Keath Fraser's highly anticipated collection of short stories, Damages: Selected Stories, 1982-2012, with an introduction by John Metcalf. The fiction collected in this volume has all the features that his readers have come to enjoy: descriptive, inventive language full of "rambling associations" and loquacious, complex characters who seem familiar. Fraser's writing is thoughtful and compact. To be rewarded, the reader must pay close attention.
The stories move through the passage of time and unfold like intricate drama acted out on a stage. Many of the stories are concerned with the forgiving nature of family relationships and friendships. The middle-class characters reminisce, have regrets, express gratitude and gradually try to come to terms with their decisions and shortcomings. Fraser's fiction asks the question: what are the ties that bind us?
The fractured nature of relationships is a recurring theme in the stories. In "Le Mal De L'Air," an unresolved tension exists in the relationship of a childless, married couple, Ruth and Miles. Ruth is an interior designer. Miles works as an engineer "taking soil borings of riverbanks." Fraser writes: "At least they were talking again. Yet with less commitment than in years past to the idea that they should help one another, could help one another."
The story ends with Miles staring out a hotel window in London, England. A week or so earlier while vacationing in Greece, he'd woken up next to Ruth and discovered she'd died unexpectedly of food poisoning. The story slows down at this point. Miles thinks of his deceased wife: "She used to sit in St. Pancras sniffing the furniture polish wishing she could play the organ. Suppose you go to Woburn Place, if the sun comes out, and light a candle. The scent of wax."
In "Foreign Affairs," Silas is a 50-year-old former employee of the Department of External Affairs whose career is cut short by a diagnosis of Multiple Sclerosis ("his lapses in fluency were in fact symptoms of a disease"). Silas's friends and caregivers come in and out of his life. His illness and his struggles with loneliness are depicted in convincing detail. The story is a meditation on the tentative nature of friendship.
A family celebration at a nature park in India is the setting for "The Anniversary." The main characters are an older couple, Rachel and Harold. Harold's the narrator, observing his wife: "Who are all these people," she says. "Not that we see any people, not yet. Just murmuring voices. Inside propagating foliage, ears come before eyes. Noses before either…. I know they can't be here for our whichever anniversary, Harold, so what's the grand occasion?" Both "Foreign Affairs" and "The Anniversary" are well-constructed stories filled with scenes that are poignant and comical.
Fraser's writing is playful and perceptive: a stream of impressions (painterly in their detail) and concise, pointed conversations between characters. The stories include a variety of references, wordplay and sub-plots that loop around and reconnect to the main story. He pays particular attention to light and how it can frame and add nuance to a scene ("Moonlight beckons, reflecting off her hood, off a leather dash, pouring through open sun roof onto ebony seats and rugs, creamy on her arms.")
In each story a character's circumstances is carefully and sympathetically explored. Fraser's characters have a tendency to reflect at length. In "The Emerald City," a story set in Vancouver, the main character is married to Arlene but is sleeping with Kendra. He and Kendra have a son named Arlo ("orphan of our pleasure") but Kendra's husband, Jay, hasn't been told that Arlo is not his biological son. The reader forms an attachment to these people and hopes the best for them.
Some of the characters in these stories make their home in Vancouver but at different stages in their life find themselves on another side of the world. In "The Anthologist Takes A Holiday," Edward Attal ("Is he naive, too trusting…") runs a non-profit organisation called Canada Africa Strategic Aid. A character similar to Attal is Dr. Bartlett. In "Bones" Bartlett is a chiropractor who discovers he's out of his depth volunteering at an unnamed Asian country in the early 1980s.
Both men, Attal and Bartlett, are idealists who maintain a firm belief about the "unmarketable truth there is injustice in the world." In each story the men suffer a crisis of confidence. For Attal the moment arrives after a casual relationship with a woman he meets in Tanzania ends abruptly. As he disembarks from a boat in the port of Dar es Salaam, "the gang plank rattled but he did not hear it."
Many times the storyteller starts in the present tense and then slips back into the past. Perhaps the narrator is describing their relationship with their father and soon the writing becomes a series of half-remembered incidents. A honeymoon may be remembered with a certain nostalgia. Or a character recalls a smell or the significance of a lyric from a Joe Cocker song. In one story a couple recalls an encounter with a menacing dog amidst "September sunlight."
Another example is a story set in the mid-1980s, "Telling My Love Lies." William is a thirty-three year old gay man, an opera singer working for regional theatres. The story turns on his loving relationship with his father who suffers from Alzheimer's Disease. But there's also a parallel story: a misfortunate canoe trip that the younger William and his close friend Michael went on to Mallard Lake. William's memories are muddled, his interpretation of what happened unclear.
One of Fraser's strengths as a writer is his ability to find a character's rhythm of speech. In "Memoir" a husband remembers a time spent with his girlfriend on Vancouver streetcars during the 1950s. The narrator comments: "It had been on the streetcars, under a raincoat, that I had learned to canoodle. This is what a wild time had meant after the war, when privacy for high-schoolers was a raincoat to hide under from naked bulbs and the drafts of folding doors."
The protagonists in the stories work at shoring up their relationships. Sisters, sons, husbands and family friends think through situations, grapple with their feelings and learn to live with predicaments that are unchangeable. In "Sturgeon," Fraser writes about the relationship between a successful real estate agent, a woman nicknamed Bi, and her twin brother, Bryce. Bi worries that her brother is in denial about his failing restaurant business.
After talking with him on her cell phone Bi looks out the window of her Mercedes SL. She's driving in the Fraser Valley near Mission. Fraser writes: "She isn't indifferent. Can't afford to be and survive herself. He should come out and tell her the truth. That his dream is gone, along with ripe old age, his kids' kids touting him as a way better cook than their grandma."
Fraser's writing is not that well known in Canada. Perhaps Damages: Selected Stories 1982-2012 will bring him the wide readership that he deserves. One reviewer called him a "cult figure' in Canadian fiction. What Fraser said at the Kingston Conference on the short story in 1986 still holds true today: "For me pleasure is the ability to bury a reader in a story even if we don't understand it all. Have respect for the mystery. A fiction is more than understanding, it's perception and delight."
*
East Vancouverite Bill Paul enjoys photography and reading fiction and non-fiction. Editor's note: Bill Paul has also reviewed a book by John Farrow and contributed a photo-essay, Trevor Martin's Vancouver, to The British Columbia Review.
*
The British Columbia Review
Publisher and Editor: Richard Mackie
Formerly The Ormsby Review, The British Columbia Review is an on-line journal service for BC writers and readers. The Advisory Board consists of Jean Barman, Wade Davis, Robin Fisher, Barry Gough, Hugh Johnston, Kathy Mezei, Patricia Roy, Maria Tippett, and Graeme Wynn. Provincial Government Patron (since September 2018): Creative BC. Honorary Patron: Yosef Wosk. Scholarly Patron: SFU Graduate Liberal Studies.
"Only connect." – E.M. Forster
Please follow and like us: