1576 South coast cruising
Vancouver, Howe Sound & the Sunshine Coast, Including Princess Louisa Inlet & Jedediah Island. New, Revised Fourth Edition. A Dreamspeaker Cruising Guide No. 3
by Anne Yeadon-Jones and Laurence Yeadon-Jones
Madeira Park: Harbour Publishing, 2022
$49.95  /  9781550179859
Reviewed by Kenneth Campbell
*
To explore British Columbia's intricate coastal waterways safely and enjoyably by boat depends on critical local knowledge. While nothing beats first-hand experience, most boaters rely on a variety of resources to plan and enhance their journey.
Several official publications produced by the Canadian Hydrographic Service assist boaters with safe navigation. Paper or digital nautical charts provide detailed information including ocean depths, landmarks and aids to navigation that help mariners plan safe passage. Sailing Directions expand on the charts with comprehensive descriptions of the entire coastline, including each bay and point along with light beacons, prominent features and possible anchorages. The BC coast is covered in two volumes, which recently have been published as print or digital copies. However, beginning in March 2022, they are only available digitally. Other publications include the yearly Tide and Current Tables and monthly Notices to Mariners.
But what about a more informal, less technical guide that goes beyond how to get there, one that that suggests what to do when you arrive at your chosen destination? That's where the Dreamspeaker Cruising Guides shine. All the guides in the series, including the recently revised Vancouver, Howe Sound & the Sunshine Coast, show and tell both key information such as where to anchor or get fuel, and other features that enhance the visitor's enjoyment.
Anne and Laurence Yeadon-Jones have been exploring BC's coast since their arrival in Canada from England in 1988. Joining them in their new home of Vancouver was their 36-foot fibreglass sloop Dreamspeaker, built by South Hants Engineering, UK, in 1979. "Once we had settled in," they wrote, "it was time to do a little adventuring along Canada's reputed western Pacific seaboard. … We were both pleasantly overwhelmed by the cruising opportunities that the vast and intricate coastline of BC had in store for us."[1]
As they explored, they developed their local knowledge of this coastline, experiencing the myriad bays and inlets, safe anchorages, dangerous passages, sandy beaches and welcoming pubs. They began to share their knowledge in magazine articles and, in 1998, in their first volume of what would become the Dreamspeaker Cruising Guides. Now there are seven guides in the series covering the BC and Washington coasts from the northern tip of Vancouver Island to Puget Sound.
Vancouver, Howe Sound & the Sunshine Coast encompasses the regions in the title — the waterways along the south coast mainland from the Canada-United States border north to Jervis and Princess Louisa Inlets. It also includes what the authors call the "missing link" from their first two volumes (Gulf Islands and Vancouver Island and Desolation Sound and the Discovery Islands) — the stretch of Vancouver Island between Nanaimo and French Creek, as well as Lasqueti Island.
The guide is not a replacement for essential navigational tools such as marine charts, GPS and tide charts. It presumes boaters know how to sail from one destination to another. This is made clear from the beginning: "Caution: This book is meant to provide experienced boaters with cruising information about the waters covered. … None of the information contained in this book is warranted to be accurate or appropriate for any purpose other than the pursuit of great adventuring and memorable voyages" (p. 6). However, the Yeadon-Joneses do include a page of suggestions for crossing the Strait of Georgia.
The Yeadon-Joneses provide more than simply detailing nautical information, as important as that is. Full of diverse local knowledge that can only be gained through experience, it is like their invitation to share their adventures through their personal sailing logs or journals.
The book is generally well-organized and easily accessible, though the early section is a bit quirky. The copyright page, usually on the inside cover, follows the table of contents at page 8, and some introductory materials such "Emergency Procedures & How to Use This Book" that applies to the whole book are in the first chapter about Vancouver.
There are fourteen chapters, grouped by region. These are broken down into specific Feature Destinations. At each successive level, maps and shoreline plans keep the boater oriented. For example, each Feature Destination page includes a thumbnail map that locates the destination within the broader region. It also gives the appropriate marine charts to use, as well as advice on approaching the bay or inlet. Other important information such as anchorages, marinas, fuel docks and pump-out locations are clearly laid out at the top of each destination. These are accompanied by detailed shoreline plans, photographs and informative text.
Anne's engaging text gives a brief background to the locale, as well as hints for unique ways to enjoy your time there. While most of the descriptions give general information, some recall their specific experiences. "A family of otters was gleefully at play when we slipped into the uninhabited Finnerty Islands and dropped our hook one sunny summer morning. The small temporary anchorage we named 'Otters Pool.'" (p. 175).
Laurence's hand-drawn shoreline plans bring the guide to life. They map out each location in a lively hand-painted style. They contain a wealth of information, such as specific spots to anchor and set out stern lines, the composition of beaches (sandy, muddy or gravel) and forest trails to hike. They also show settlements and remnants of historical usage by indicating old pilings, floats or cabins.
Intriguingly, Yeadon-Jones adds personal touches that add to the feeling of a personal journal. Many of the maps show one of Anne's rowing expeditions in their dinghy Tink, as she explores shallow waters. They often illustrate and name sailboats, presumably of their friends and acquaintances, as they approach or are at anchor.
The guide is further enhanced by Lawrence's numerous colour photographs that either show off the natural beauty of the region, or depict highlights of a Feature Destination.
Other than small changes to some of the typesetting, the new edition looks the same as the previous 2016 version. However, there are a number of significant updates in the text and maps that will be important for boaters using the guide to plan their trip. While the natural features remain unchanged, the social and commercial attractions at the destinations do not.
Probably the most important revisions are those identifying marinas and fuel docks that are no longer in operation. You wouldn't want to plan a stopover to discover a once-trusted location was not available. Perhaps almost as important are the pubs and restaurants that have either closed or new ones that have opened up. Other changes include updated phone numbers for important agencies such as coast guard and other agencies.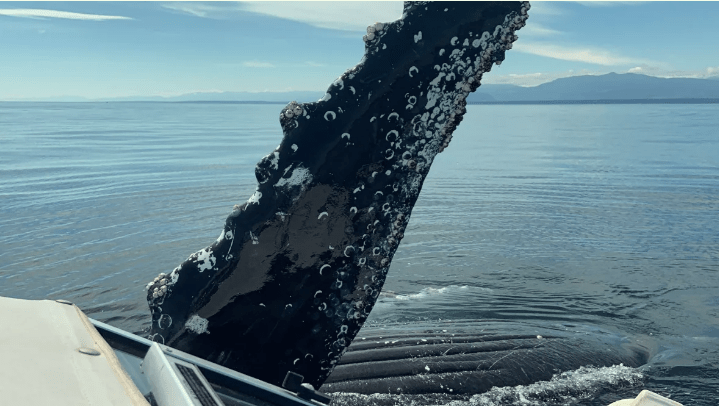 This edition has added two new alert features. One is a humpback whale warning, reflecting the increased chance of boaters to encounter large whales in the coastal waterways (p. 8). The other alert is an expanded discussion of the bridges across the Second Narrows in Vancouver Harbour, with an explanation of how to request the rail bridge be raised (p. 39).
There are some places where text could be updated or added. For example, in Feature Destination 3.5, Community of Deep Cove, the text explains that, "the earliest residents were the Tsleil-Waututh" (p. 42). However, the only detail noted about this First Nation is that Chief Dan George, the movie star, came from Tsleil-Waututh Nation. As respected as Dan George was and is, it may be time to update with a more contemporary item relevant to the location and the people.
In introductory remarks about transportation options to reach Vancouver, the section on trains mentions the Amtrak route from Seattle, but leaves out VIA Rail's Canadian.
Another curious omission is any mention of the Salish Sea. This name for the combined waters of the Strait of Georgia, Strait of Juan de Fuca and Puget Sound has been officially applied by both Canada and the US since 2010. It would seem there is a place in the guide to acknowledge that boaters are travelling through the Salish Sea.
This guide is sure to be a welcome update for sailors, cruisers and kayakers who regularly travel these waterways, or a prized resource for those who are for the first time being "pleasantly overwhelmed" by their coastal explorations. By keeping the guide updated, the authors and publishers reassure boaters that the information and local knowledge it contains are reliable.
The guide also has something to offer non-boaters. With its descriptive text, photographs, and particularly the shoreline plans, it gives armchair travellers an opportunity to explore otherwise unreachable parts of our coastline. As well, this and other guides in the series provide a unique visual record of far-flung communities, settlement sites and hidden getaways for the future reference.
Endnotes:
[1] Anne and Laurence Yeadon-Jones, Voyage of the Dreamspeaker (Harbour Publishing, 2003), p. 13
*
Kenneth Campbell is an historical researcher and curriculum developer based in Victoria. He has had the privilege of working closely with a number of First Nations organizations to develop curricular materials for over twenty years. Editor's note: Kenneth Campbell is the author of North Coast Odyssey: The Inside Passage from Port Hardy to Prince Rupert (Sono Nis Press, 1993), and is the keeper of the online database Wooden Boats of BC. He has also reviewed books by Hetxw'ms Gyetxw (Brett D. Huson) and David Giblin for The British Columbia.
*
The British Columbia Review
Publisher and Editor: Richard Mackie
Formerly The Ormsby Review, The British Columbia Review is an on-line journal service for BC writers and readers. The Advisory Board consists of Jean Barman, Wade Davis, Robin Fisher, Cole Harris, Hugh Johnston, Kathy Mezei, Patricia Roy, Maria Tippett, and Graeme Wynn. Provincial Government Patron (since September 2018): Creative BC. Honorary Patron: Yosef Wosk. Scholarly Patron: SFU Graduate Liberal Studies.
"Only connect." – E.M. Forster
Please follow and like us: