1572 Food for the soul
Larder
by Rhona McAdam
Qualicum Beach: Caitlin Press, 2022
$20.00 / 9781773860831
Reviewed by Heidi Greco
*
Although Canada may be a very big country, its literary community is relatively small. And if you narrow that group further to the community of poets – or, further yet, to BC poets – as a reviewer (and poet myself) it's pretty hard to find a poet you haven't yet met. Thus, full disclosure: I've not only met Rhona McAdam, I've quoted her poems in workshops I've led, broken bread in her kitchen, even walked beside her and her dog.
All that aside, I admire this book. From its lavishly gorgeous cover (a still life of fruit in a bowl by a little-known female painter who lived during the 1600s) to its closing expressions of gratitude, reading it is a rich, almost fattening experience.
Exemplifying this is an excerpt from perhaps my favourite poem in the book, "Gravy:"
Who'd want to live
in a world without gravy,
which makes all things
equal on the plate,
which gives potatoes
a smooth ride, which
comforts the meat
it came from.
The word larder is an old-fashioned one, from days before refrigerators. Built far from any chimney or other heat source in a home, the larder was a cool room or cupboard for food, dedicated to the storage of meat and fish and other perishables. The poems in this book, nearly all of them food-themed, constitute a very well-stocked larder of words and ideas.
McAdam holds several post-secondary degrees, including a master's degree in Food Culture & Communication from the University of Gastronomic Sciences in Italy. She's earned a certificate in natural nutrition and teaches culinary courses. So, food is clearly a topic she knows plenty about.
Yet she never lords it over the rest of us who may be simple consumers of food, not always aware of the nutritional content of our meals. Even when writing about an Italian specialty meat from Parma, the language she uses is straightforward as porridge on the stove on a wintry morn.
Culatello
On the flatlands beside the Po
black pigs graze beneath the slender trees,
growing fatter than the land.
This clarity of language is a hallmark of all her work, not just the poems in this book. She combines clarity with imagination – and another element essential to great poetry: sound. This poem, "Wild Bees" exhibits all of those qualities. Written from the point of view of those wild bees, it begins 'We, we multitude…" and continues:
Priming our baskets
with pollen.
A day's work
and a day's work and a day and a day
more. All this purpose
purpose purpose.
The weeds the woods
the garden.
Those single single
destinations, never mix this
with that.
…Our one season this
duty, duty.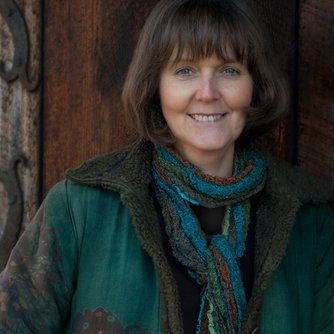 As with the bee poem, not all of the poems focus on food. She has two beautiful ones about dogs she has owned (or perhaps dogs who have owned her). This harmony with animals and nature is elemental in her work, always there, as when she's writing about being taken aback by the sight of a that ray-like ocean fish, the skate – and, while considering whether 'fish feel pain' observes:
…this
swift knife
the living descent of the torso
wingless, a piece-meal for something.
On shore
the basket of wings
twitches, like the limbs
of a sleeping dog.
or, in a happier vein, when she offers us a piece as fanciful as one translated from Spanish about a table that '…often dreamt it was an animal.'
And beyond she goes, to considering age and the changes our bodies keep surprising us with, to remembering parents and considering all the 'what if's.' In truth, she eggs us on to think; the philosophies she espouses are ones that make sense, as in this, another stanza from "Gravy."
If gravy were the world
there'd be no war,
just happy islands
in a savoury sea; we'd all
be warm enough in our blanket
of brown. There'd be no need
for knives; we could curl forever
in the wombs of ladles.
Whether she's writing about gravy or the surprise of cheese's origin story, these poems may well whet your appetite – not only for something yummy to eat, but also for more poetry.
*
Heidi Greco lives in Surrey, where some would contend she can often still be found to be tilting at windmills. Editor's note: Heidi Greco has recently reviewed an exhibit by Douglas Coupland and books by Richard Lemm, Souvankham Thammavongsa, Marguerite Pigeon, John Gould, Joanna Lilley, and Laura Matwichuk for The British Columbia Review. Three of her books have also been reviewed here: Glorious Birds: A Celebratory Homage to Harold and Maude (Anvil, 2021), by Linda Rogers; From the Heart of it All: Ten Years of Writing from Vancouver's Downtown Eastside (Otter Press, 2018), by Yvonne Blomer; and Practical Anxiety (Inanna, 2018), reviewed by Andrew Parkin.
*
The British Columbia Review
Publisher and Editor: Richard Mackie
Formerly The Ormsby Review, The British Columbia Review is an on-line journal service for BC writers and readers. The Advisory Board consists of Jean Barman, Wade Davis, Robin Fisher, Cole Harris, Hugh Johnston, Kathy Mezei, Patricia Roy, Maria Tippett, and Graeme Wynn. Provincial Government Patron (since September 2018): Creative BC. Honorary Patron: Yosef Wosk. Scholarly Patron: SFU Graduate Liberal Studies.
"Only connect." – E.M. Forster
Please follow and like us: