1568 Lucía and Manuel
Atacama
by Carmen Rodríguez
Halifax and Winnipeg: Fernwood Publishing (Roseway), 2021
$22.00 /  9781773634777
Reviewed by Alma Lee
*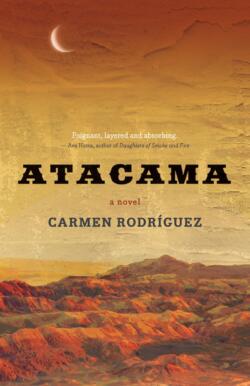 In the north of Chile in the early 1920s, in a small mining town called Tacna, strikes are taking place in response to crushing control by the military and wealthy fascistic oligarchs. Atacama is a historical novel, but it reveals in beautiful prose the story of the conflict that existed between common people (read anarchists or Bolsheviks), and the ruling class (the military and corrupt politicians). Atacama is set on the border between Chile and Peru.
In the telling of horrific conflict, love and politics, the story covers a seventy-year time span. Author Carmen Rodríguez has a way in writing that portrays straightforward historical detail in a style that reads like poetry.
The two characters at the centre of the book are Lucía Céspedes, a beautiful young woman, the daughter of a high-ranking military commander; and Manuel Garay, a poor young man from a family of anarchists, an activist who is determined to stand up for what is right.
The two first meet when they are children slipping into their teenage years, on the beach at Acna. Lucía is escaping from her controlled, privilege life, while Manuel is digging for clams, mussels, and anything from the sea to help feed his family.
We are given glimpses and details of their respective lives throughout the telling of their stories. Lucía is brought up by her adoring father (the Commander) and a beautiful but somewhat empty-headed mother. The real mother to Lucía is Mercedes, her nanny and confidant, the one person Lucía loves unconditionally. Manuel lives with his large family in poverty. He is brought up to feel responsible, and as the male in the household to provide — hence his beachcombing for food from the sea.
Lucía's blissful life reaches a turning point during one of her escapist adventures with three of her friends. Carmen Rodríguez portrays the treachery of the rainy season with increasing tension, as the river swells and overflows. The young girls hear thunderous sounds as the river gathers strength, pouring boulders down from the mountains. And in the river is a horrifying flood of the dead bodies of hundreds of Peruvians.
Mercifully the four friends are safe. Lucía returns home to face her strict father who gives her a beating for leaving the house without permission. He beats Mercedes too, and sends her back to her village. Lucía is sent to live with her aunt in Iquique, a coastal city many kilometres north of Tacna.
This is the first time that both Lucía and readers get a clear picture of who the Commander really is, a picture that leads Lucía  on a harrowing journey. She comes to understand later that her father deliberately created the flood to kill Peruvians who lived on the border between the two countries.
The sight of their death haunts Lucía for the rest of her life.
Life changes dramatically for each of the protagonists at this point in the novel. Lucía has always danced, and she truly finds herself through this art form. Manuel has a strong sense of social justice, and in school he finds he can write good stories. He is hired as a reporter for a left-wing newspaper. They both do a lot of travelling including, for Manuel, as a stringer in Spain during the Civil War.
Through the telling, Atacama gives the reader concise and detailed information abut what happened in Chile during these unsettled times. Carmen Rodríguez dives deep into the various regimes that lead to Chile becoming the democracy it is today. She is an excellent writer and storyteller, taking the reader on a journey that is harrowing, passionate, and compassionate. After reading this book, you will surely want to read others by her.
*
Alma Lee was the founder and first Artistic Director of the Vancouver Writers Festival. She is, needless to say, an avid reader whose "guilty pleasure" is reading crime fiction. She was also the founding Executive Director of The Writers' Union of Canada and of The Writers' Trust. She also worked as an associate producer in charge of script development at Universal Studios when they had a production office in Toronto. She currently lives in Vancouver and, although no longer at the Vancouver Writers Festival, she continues to read – and to be involved with the literary community. Editor's note: Alma Lee has also reviewed books by Dietrich Kalteis, Sam Wiebe, William Deverell, and C.C. Humphreys for The British Columbia Review.
*
The British Columbia Review
Publisher and Editor: Richard Mackie
Formerly The Ormsby Review, The British Columbia Review is an on-line journal service for BC writers and readers. The Advisory Board consists of Jean Barman, Wade Davis, Robin Fisher, Cole Harris, Hugh Johnston, Kathy Mezei, Patricia Roy, Maria Tippett, and Graeme Wynn. Provincial Government Patron (since September 2018): Creative BC. Honorary Patron: Yosef Wosk. Scholarly Patron: SFU Graduate Liberal Studies.
"Only connect." – E.M. Forster